How we grew over 1,100 pounds of vegetables in one Summer! Learn how to grow your own food to last you all year long! Start your own vegetable garden now!
Well 2016 is almost over and it's been a good year for gardening and growing vegetables. This year we started a new adventure that included building a garden in Upstate New York and then growing our hearts out.

Every year we keep a weight chart to track how many pounds of vegetables we grow. Every harvest weekend we visit the garden, lug pounds of vegetables home in the car and into the apartment and then weigh each vegetable. It's a fun way to keep track of what vegetable grew good, or not so great and is a easy way to compare year to year.
Last year's totals were: 458 pounds
This year's totals were (drum roll please): 1147 lb 6 oz
OMG. That's over half a ton of vegetables!
So let's look at individual totals:
Bok Choy 54 lb 1 oz
Lettuce 19 lb
Collard Greens 7 lb 15 oz
Kale 9 lb 2 oz
Sugar Snap Peas 12 lb 10 oz
Broccoli 9 lb 12 oz
Onion 29 lb 2 oz
Cabbage 29 lb 4 oz
Green Beans 13 lb 11 oz
Yellow Wax Beans 6 lb 1 oz
Potatoes (White) 19 lb 15 oz
Potatoes (Red) 7 lb 14 oz
Carrots 8 lb 6 oz
Jalapeno 5 lb 3 oz
Cucumbers 15 lb 14 oz
Tomatoes (Cherry) 77 lb 15 oz
Tomatoes (Beef) 118 lb 6 oz
Tomatoes (Roma) 150 lb 15 oz
Cauliflower 5 lb 15 oz
Tomatillo 63 lb 12 oz
Green Peppers 4 lb 14 oz
Brussels Sprouts 8 lb 7 oz
Corn 34 lb 5 oz
Pumpkins (Munchkin) 29 lb 15 oz
Pumpkins (Pie) 46 lb 6 oz
Pumpkins (Big Moose) 60 lb 8 oz
Pumpkins (Giant/Surprise) 287 lb 12 oz
Watermelon 30 lb 2 oz
Soy beans 2 lb 11 oz
Black beans (dry) 4 lb 11 oz
Yellow beans (dry) 1 lb 4 oz
Radishes 12 oz
So let's talk specifics. Is it fair that I'm counting 287 lb 12 oz of pumpkins that were surprises (meaning that they weren't planted on purpose, but the compost seeds somehow got tracked in the garden)? Yes, totally fair. Why? Because these mammoth surprise pumpkins completely took over our garden unexpectantly and we had to nurture them to maturity and then carry them back to NYC. In fact it's almost January and I have about 150 pounds of pumpkins still hanging out in our apartment. So yes, I'm totally counting them in the garden yield list as that was alot of work!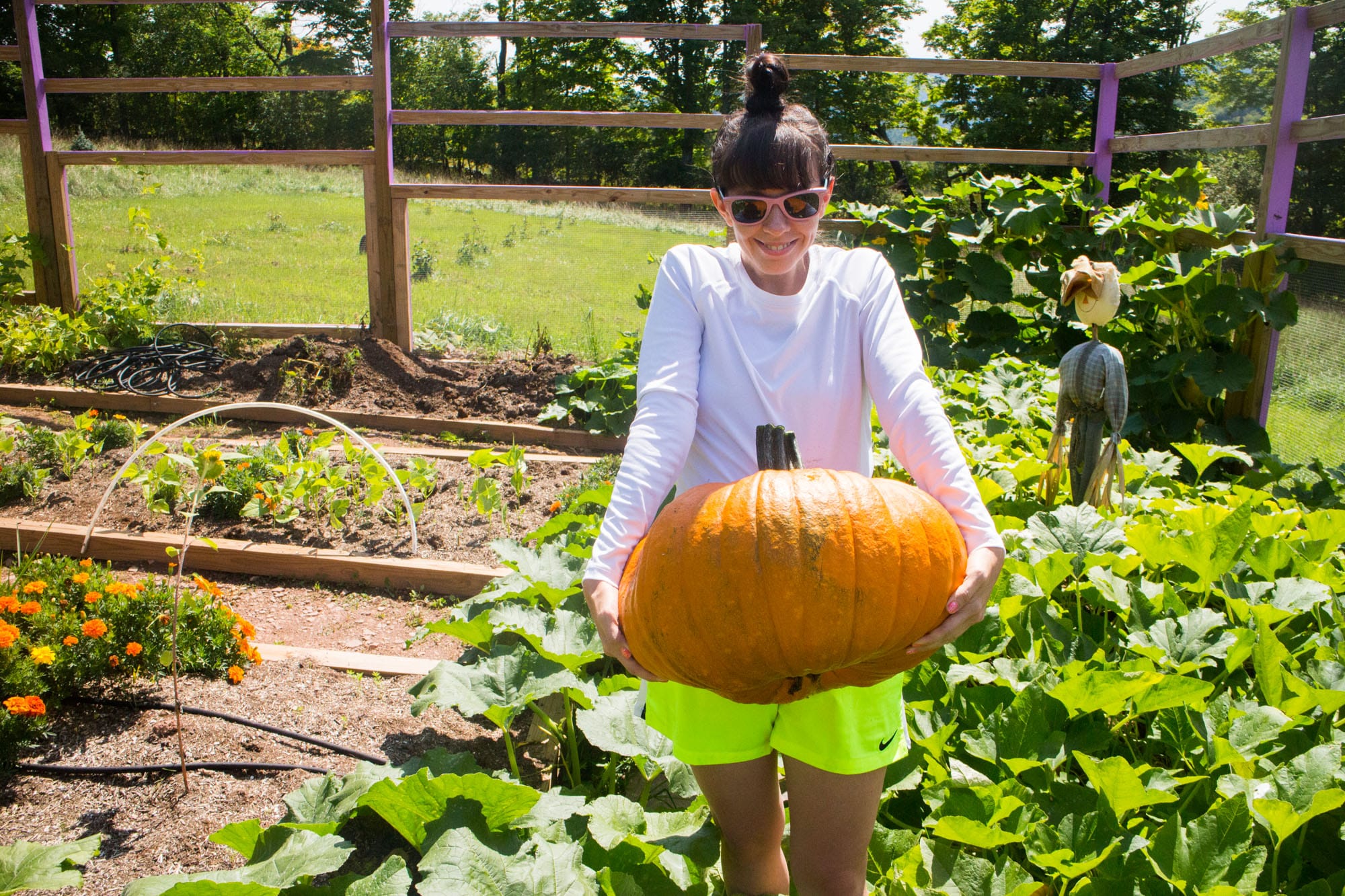 This year was the year of the bok choy. I was obsessed with bok choy last Spring and thought it would be a great idea to plant over 50 plants. Well turns out, 50 bok choy plants were too much to eat for one person so next year I'll cut back. I will say the bok choy performed beautifully and grew great.

One of my goals this year was to grow big corn successfully. We've grown corn on the roof but the results were always so-so. This year I wanted to conquer corn… and we did! 34 pounds of corn grew (and eaten!).

Every year is the year of the tomatoes and this year there was no change. We were overwhelmed by 345 pounds of tomatoes (including many giant 2 pounders!) and even though I internally sighed by the amount of Sundays I had to give to the tomatoes to make sauces and stewed tomatoes, we loved it. We froze them, we canned them, we are stocked with enough tomatoes to last us until 2024.

28 pounds of potatoes were dug out! We grew yellow and red potatoes and they were delicious! Next year we'll try to grow even more!

Also a well deserved shout out to the Brussels Sprouts. I've failed at growing Brussels Sprouts every single year so I was so overjoyed with garden happiness to actually see the plants grow from Spring to Fall this year!

Lastly, my husband would kill me if I didn't acknowledge the giant onions he grew this year. These are massive!

Here's a time-lapse video for 4 months last year to watch the veggies grow!
And for some quick memories…. we went from this:

To this:

To this:

2016 was a fun garden year. 2017 will have some changes, but I'll leave those goals for a future garden post!
Hope everyone had a good 2016 garden year and are getting ready for 2017!