Growing Snap Peas for Container Gardening! This DIY is perfect for square foot gardening and small garden spaces!
On March 27 we planted our Sugar Snap Peas, hoping we'll be harvesting baskets full in a few weeks!
This year we really stepped up our Sugar Snap Pea game. In the past we usually planted 2 rows in 2 boxes equaling 28 plants. This year we planted.. 80 plants!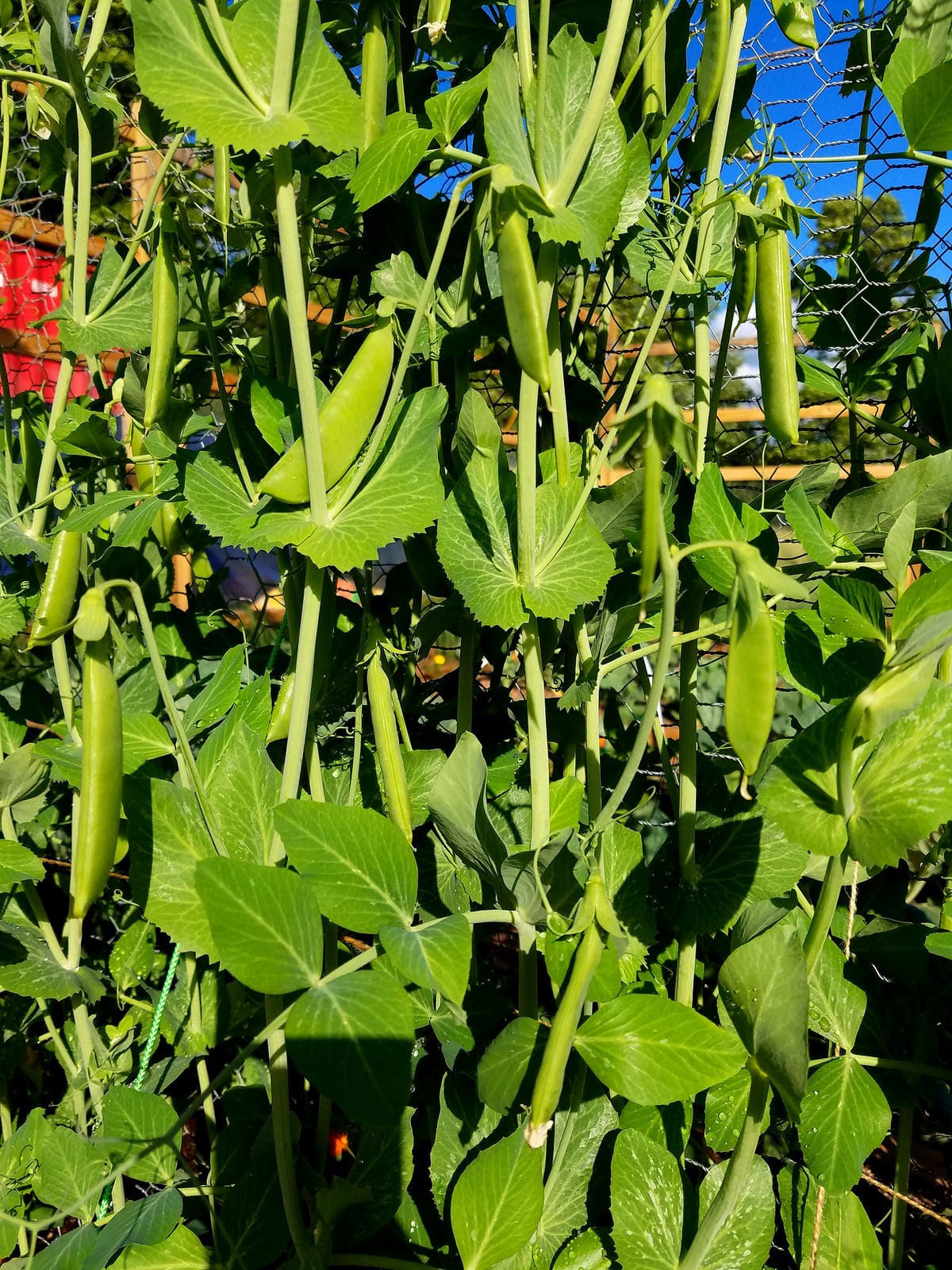 We love snap peas!
I know, we went wild. Not only did we plant the usual 2 rows in 2 boxes, but we planted a entire box full of Sugar Snap Peas!
We're 2 people, we could have 80 sugar snap pea plants, so that means whenever you need peas just give me a shout out and I'll share ours with you!
Last year we planted the Sugar Snap Peas on March 14, but due to the cold weather we had to push it back close to 2 weeks. We needed the soil to reach 40 degrees before throwing the peas in to make sure they going to be able to grow up. Last year we started pre-sprouting our peas (here's a how to I made last year) which I really recommend.
Pre-sprouting will make sure your beans will grow once they're in the soil as you'll visually see they have already started. This makes growing more stress free as if it's already pre-sprouted you can be pretty sure it will pop through the soil in a few days and that it's not rotting underneath.
How to grow sprout peas:
Here's our many presprouted peas!

We mix our sprouted Sugar Snap Peas with seed inoculant right before planting. We use a small amount of this just to coat the outside of the peas. This little bag here was $4 and it can treat up to 8 pounds of peas and beans. Inoculant encourages high-nitrogen levels on roots for bigger plants which will yield more harvest!

Then we tested the soil levels. The soil's temperature was slightly above 40 degrees which was exactly what we wanted!

Then the planting began! But first let's admire Matthew's beautiful technique, HEHEHEHEHEHEHE.

Ok, sorry. Back to planting. We make 2 rows in our 4×4 boxes. We only grow 2 rows in these boxes because they will also grow onions, lettuce and carrots in the Spring. In the middle of each row we'll place a 8 foot tall fence for the peas to race up on. The fence will be put into the soil once the sugar snap peas break through the surface and begin itching to climb.

Then we drop a few sugar snap peas into each row. Usually we plant 8 peas in each 4 foot long row.

Grow strong little guy! I'll be waiting for you on the other side of the soil!

With 2 boxes and 4 rows of peas, this adds up to 32 sugar snap pea plants! These are planted in the boxes we freshened up with compost and turned a few weeks ago. You want to give your peas a healthy home!

The last box we just went Sugar Snap Pea wild. Instead of doing rows, we just poked holes into the soil and dropped the peas in. This box is exclusively for Sugar Snap Peas and has a trellis already attached that the peas will grow up and take over soon enough!

After you drop the peas in, then pat the soil to cover and wish them a sweet good night. If your soil is not wet and you aren't expecting rain that night, you'll want to lightly water the soil on top.

Have fun growing snap peas!
That's it.. now you wait for the Peas!
And when they arrive…. get ready to pick pounds of peas each day!

Snap Pea Recipes
Looking snap pea recipes? Click here!
Pin for later: