How To Make a Sub Irrigated Planter! We grow HUNDREDS of pounds of vegetables in our planters! Follow these easy DIY step by step instructions on how to make your own container garden. These planters are perfect for gardens of any size, and they're cheap to make!
What is a Sub Irrigated Planter?
Sub-irrigated planters (SIPs) have been a game changer for us since we started using them almost 10 years ago. The main difference between them and traditional container gardening planters is that with SIPs water is introduced from the bottom and is absorbed up through the growing media via capillary action. This method conserves water and makes sure that moisture stays where your plants need it most – their roots.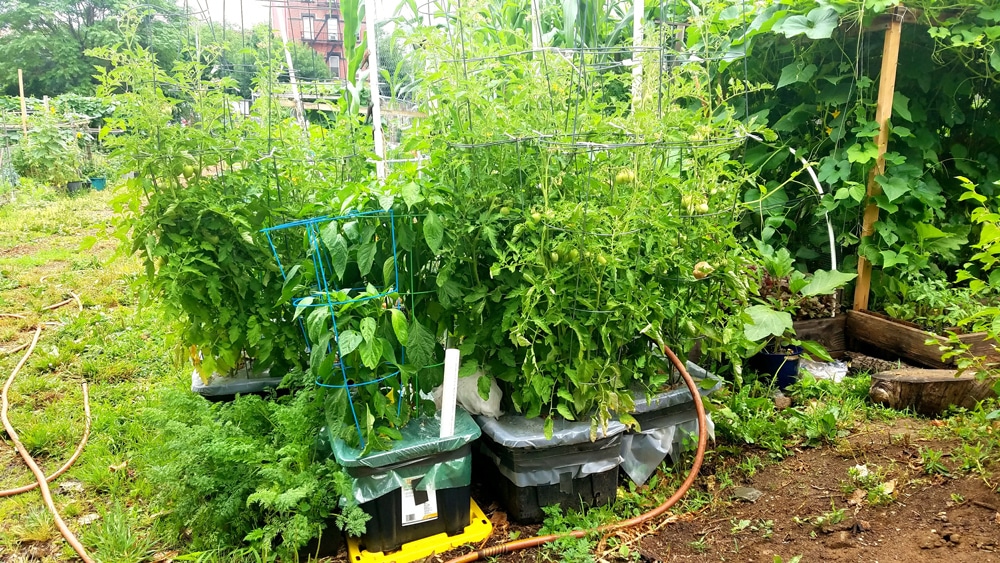 We originally learned about building SIPs when we used to garden on our NYC rooftop (and grew hundreds of pounds of vegetables!). Watering had become a daily multi-hour chore and we were looking for solutions to combat the hot and windy conditions that quickly evaporated water from the garden and always left our plants looking thirsty.
There are numerous premade SIP solutions to buy but they can get expensive and didn't really fit the level of production we wanted so we decided to build our own. Our two favorite resources are Earthtainers and Global Buckets. The first summer we used SIPs we were in love. Our evaporation woes were over, watering wasn't a constantly required chore and best of all the plants looked great – especially our 8ft tall tomato plants that were giving us pounds (and pounds!) of vegetables a day!
(btw need tomato recipes? You NEED to try my stewed tomatoes and cherry tomato sauce!).
How To Make a Sub Irrigated Planter Plans
Below is the supply list that we use but after you feel comfortable you should feel free to experiment and modify as you see fit.
Recommended Supply List:
ProMix BX Growing Medium 3.8 cu ft (makes about 2 27 gallon containers)
27 Gallon HDX Container
24″ 2″ PVC Pipe
Perforated 4″ Drain Pipe
7mil Plastic Sheet
Perlite
Garden Lime (Not Hydrated Lime)
Vegetable Fertilizer (An N-P-K higher than 10-10-10 can burn plants)
Roll of Gorilla Tape
1/2″ Drill Bit
Hand Saw
Growing Medium:
The most important thing to remember when making SIPs is that you need to use potting mix for your growing medium. Not garden soil. Not potting soil. If you don't use a potting mix the wicking capillary action that makes the whole process work will fail. For best results we prefer to use a growing medium from Premier called ProMix BX. However, a cheaper and more readily available solution like Miracle Gro Potting Mix can work well too – just make sure not to use the kind with Moisture Control.
Container:
We like to use 27 gallon totes by HDX that you can find at Home Depot because they are cheap (about $12) and durable. You should spend a few more dollars for a rugged style tote rather than going for the bargin bin purchase at the dollar store. Cheap plastic totes do not hold up to the elements well and will usually crack and shatter into many pieces after only one season. These HDX containers hold up for many years!
PVC Pipe:
PVC pipe is used to fill the water reservoir of your container. It can be as tall as you want but 24″ should be fine for a standard height tote and 2″ wide will give you enough width to easily stick your hose down it. Bonus tip: You can buy these precut to 24″ at Home Depot but if you are making more that one SIP it makes sense economically to buy a 10′ long pipe and cut it down to size.
Perforated Drain Pipe:
SIPs work because there is a reservoir of water underneath your plants at the bottom of your container. In order to create this reservoir you need to create a hollow cavity for water to fill beneath your growing medium. You can do this any number of ways but the easier and cheapest way that we have found is to buy 4″ corrugated drain pipe. You can buy it perforated otherwise you will need to cut/drill holes into it.
Plastic Sheeting / Tape:
After your SIP is built and filled with a finished growing medium you need to cover it with plastic sheeting. The plastic serves a few purposes. First it helps to retain moisture and second it keeps weeds from growing. We usually use clear 7mil sheeting to minimize heat buildup and for durability. Garbage bags will even work if you want to keep things cheap although they are less durable.
Garden Lime:
Mix a few cups of Dolomite Lime (not hydrated lime) in the top couple inches of your SIPs to help prevent calcium deficiency and a condition called blossom end rot that can sometimes afflict container grown tomatoes.
Perlite:
Perlite is a porous volcanic rock and helps prevent soil compaction in containers allowing quick drainage and good oxygen flow that is essential for healthy plant roots. Most growing mediums you use will already include some level of perlite in them we like to add a bit more to our growing medium.
Vegetable Fertilizer:
Choose a granulated N-P-K fertilizer no higher than 10-10-10 or you may burn your plant's roots.
Step by step instructions for making a sub irrigated planter
Supplies are all ready to go!
Your container needs a drainage hole located about 2-3 " from its bottom. 1/2″ – 3/4″ are ideal sizes for your drainage hole. The idea is that you want to create a water reservoir and the drainage hole prevents you from flooding the entire thing with too much water.
Bonus tip: When you are watering your container (every day or every other day during peak summer weather) you can tell it's full when filling when water spills out the drainage hole.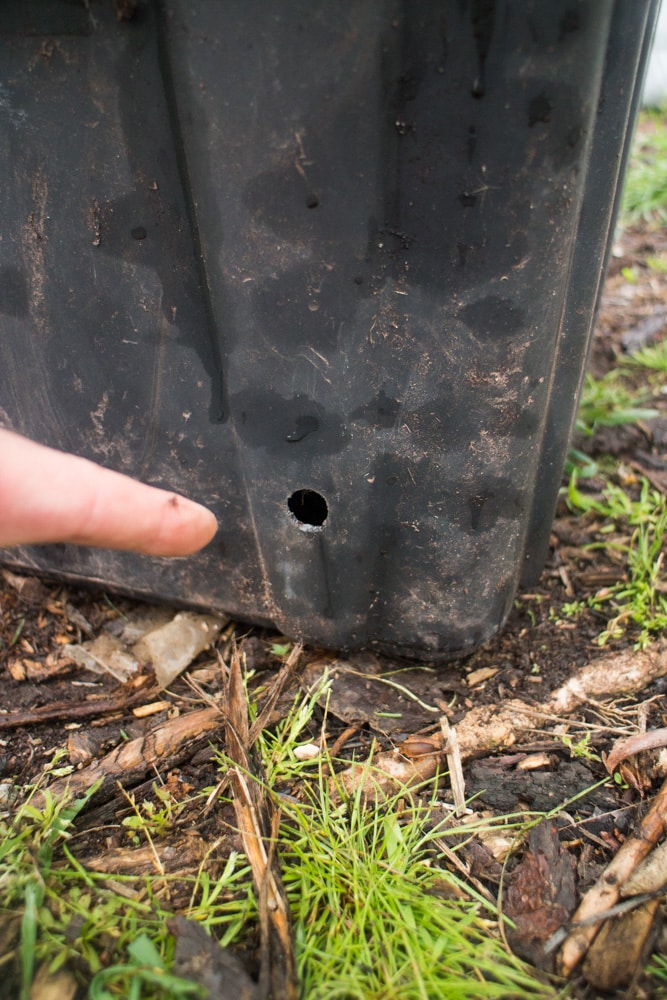 There are numerous ways to create a water shelf in your SIP but we like to use 4″ corrugated perforated drain black drain pipe. The perforations in the pipe allow moisture and oxygen to circulate with your growing medium. Inserted into your drain pipe is the feed pipe. We use 2″ 2′ PVC pipe and stick it into a cut on the drain pipe.
Bonus tip: Optionally you can cut a 45 degree angle on the bottom of your feed pipe so that it doesn't sit flush with the bottom of your container and water is dispersed more quickly.
It is good to have a separate area to mix your growing medium together. Another container, bucket, or wheel barrel works great. The ratio that we use when mixing up our growing medium is 5 scoops of Pro-Mix to 1 scoop of perlite.
This is not an exact science so experiment and see what works best for you especially depending on the potting mix that you are using.
The first layer of your growing medium is the most important when making a SIP. This foundation establishing the wicking process that makes the whole thing work. First, mix up a batch of growing medium with your potting mix and perlite. Next water this batch until it very wet but not so wet that it cannot hold it's form.
Then take it and pack it around your drainage pipe slightly packing it in. In the middle mound up your wet mix to create a little long volcano shape. This mound is what transfers moisture from your water reservoir to the growing medium in the rest of your container.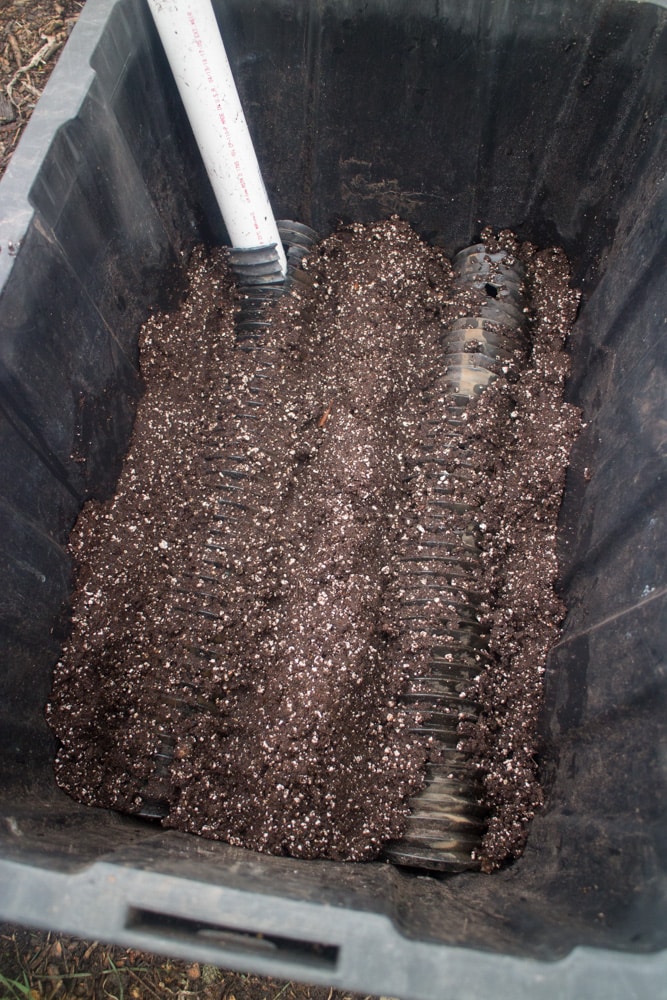 Continue making batches of growing medium and adding them to your container until you are 5″ from the top. Be sure to water each batch so that it is damp (but not as wet as your first batch).
When you reach 5″ from the top of the container you can mix in 3 cups of dolomite lime (2 cups for other vegetables) to help prevent blossom end rot and calcium deficiency.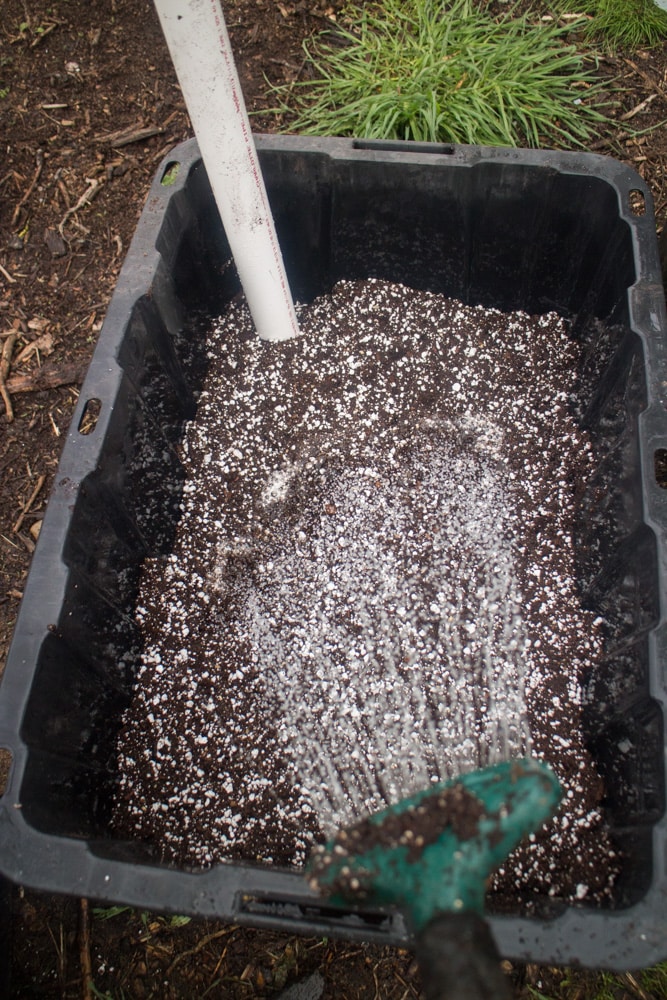 When your growing medium fills the container to the top you can dig a small trench along the perimeter and add a N-P-K vegetable fertilizer. Remember not to use anything stronger than 10-10-10 or you may burn your plant's tender roots.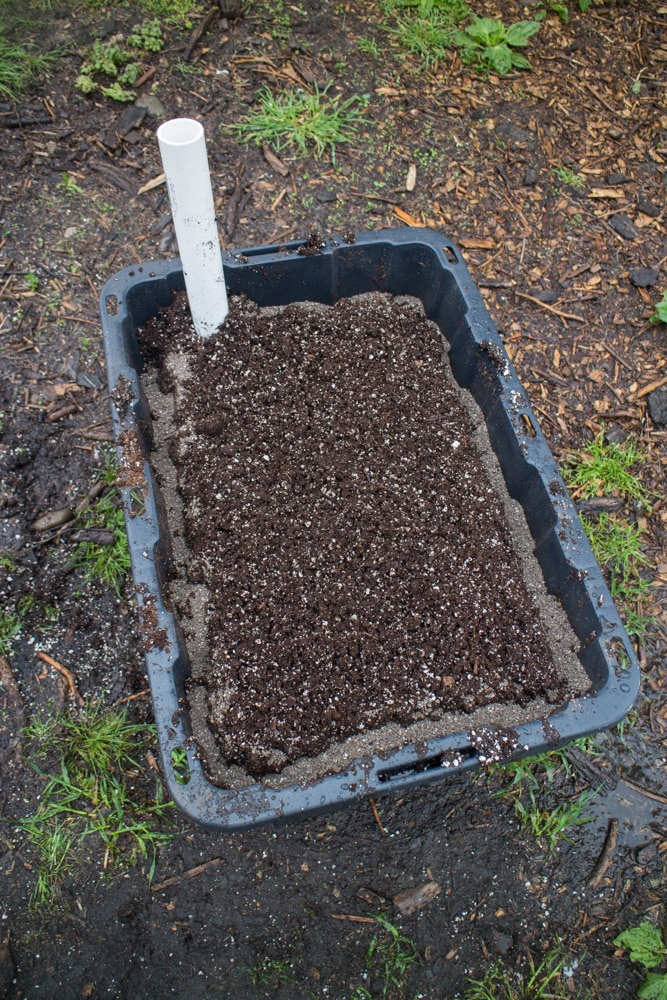 Cover the fertilizer trench with one last batch of growing medium. The growing medium will settle after a few days so you should add a bit more to the container so that it appears over flowing.
Next cut a 2×3′ (your size will depend on your container dimensions) piece of plastic, wrap it around the container's edges and tape is down with some heavy duty tape like Gorilla or T-Rex tape.
After the plastic is wrapped on the container you can arrange your plants. We mostly grow pepper and tomato plants in our SIPs and we tend to be a little aggressive in cramming three tomato and four pepper plants in each. Experiment and use your judgement based your plant species preferences.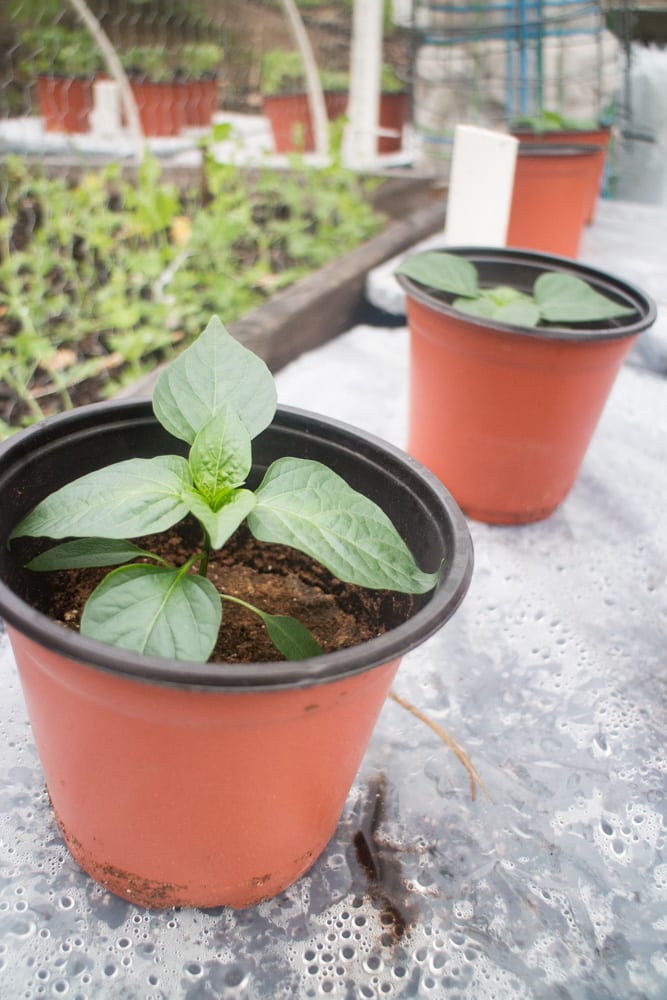 With a knife slice a small X in the plastic where each plant will be planted. Your hole only needs to be large enough for you to fit your hands in and do the planting. Poke your freshly planted plant's leaves out from the plastic and you are all done.
Sub Irrigated Planters have changed the way we garden and have led to incredible results. Whether you are new or old to gardening and regardless of your hardiness zone sub irrigated planters will change your life.
Sub Irrigated Planter Results
And now 2 months later and our tomatoes are already so tall they're double caged!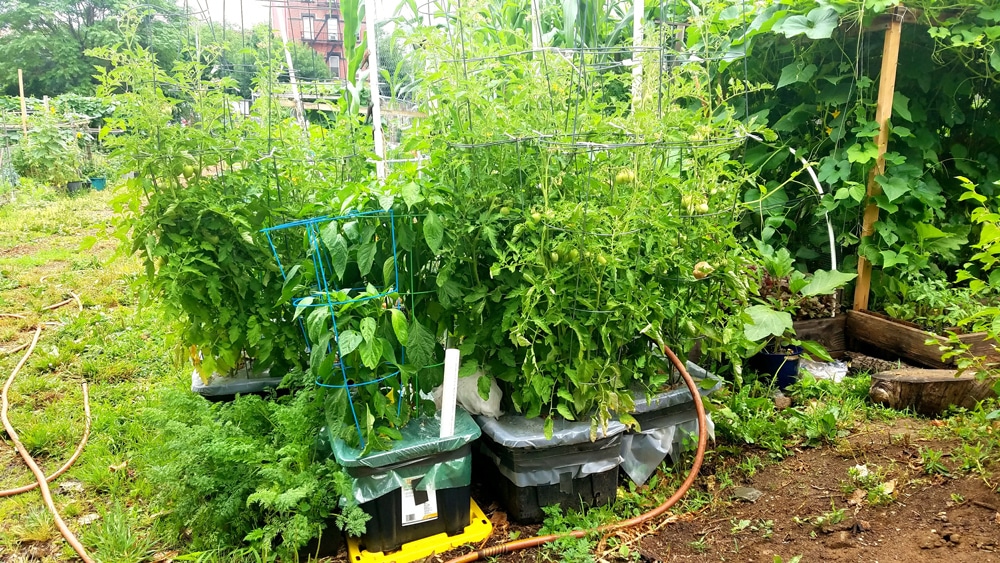 What can you grow in Sub Irrigated Planters?
Pretty much everything! We've grown everything from tomatoes, peppers, tomatillos, beans, lettuce, bok choy, watermelon, pumpkins and everything between!
Here's a look at our watermelon patch we had growing on our roof in sub irrigated planters!
Happy Gardening everyone! Hope you found these How To Make a Sub Irrigated Planter instructions helpful!
More Garden Tips
How to Presprout and Grow Sugar Snap Peas
Spring Garden Planning for Zone 7
How to Protect Plants From Frost
How to Grow Tomatoes From Seed
Pin for later: