The transition from June to July is always a large change in the plants. Collard greens gets replaced by pumpkins, broccoli and cauliflower gets replaced by soybeans and cucumbers. Lettuce gets replaced by cantaloupe. Watermelons get added into the raspberry bins. And our beloved sugar snap peas get replaced with beans.. lots and lots of beans… to replace lots and lots of sugar snap peas.
This year the sugar snap pea plants did great, but they're always done well with producing a bunch of peas. They're one of the most consistent plants with good yields in both Spring and Fall.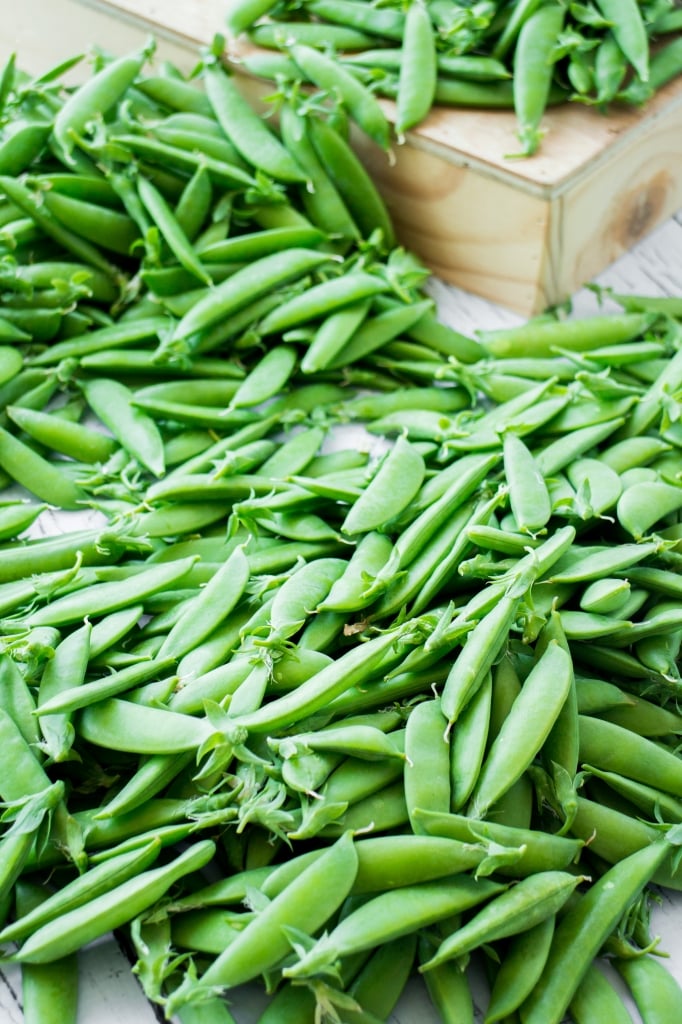 Yeah, we have a whole lot of peas in our lives right now. In our fridge there is about 10 pounds worth and we've been going through them at a strong pace. For dinner it's peas in pasta, baked peas or throwing them in a yummy Chinese soup. I always tend to freeze a few pounds (here's a how to) worth too so I can pull them out in the next few months when I'm craving a Summer crunch.

So let's take a look at our beautiful pea plants right before they were cut down to make room for the next plants. They range from about 6-9 feet tall.

The thing that makes me the saddest is that there were still about 100 flowers on the pea plants that would hopefully make peas, but with it being July already, we needed to get our beans in. Who doesn't love a plant that does too good?

So the sugar snap peas get cut down and the 4×4 container that is on the side gets weeded out. Ever since we used straw in our compost we get mad weeds. Future knowledge, don't use straw in your compost!

But don't worry, these weeds and plants don't get thrown away. Instead they get cut up, we dig up the soil and bury them. In just a few months they'll decompose and make the soil rich again. See, they keep giving back!

And now with 3 healthy bins ready for their beans, we start to plant the next Summer plants.
This year we'll be planting some Cosmos bush beans in a few containers, including the long kale bin in the back.

And just after a few days of planting those beans, they're already showing themselves to the world!

In the other containers we'll be planting Monte Gusto pole beans.

And just like the peas are gone and the fences are up waiting for the pole beans to start growing up them.

If you're looking at the above picture and wondering why the fence off the right isn't completely clear it's beause we had a surprise yard long bean plant sprout up over the summer! We planted yard long beans here 2 years ago and somehow one of the beans made it through all that time and decided they were going to grow.
So now we have 1 big yard long bean plant that is just taking over. Don't you love garden miracle magic like that?

What plants are you switching out right now? How much do you love sugar snap peas?