These Baked Soy Sauce Meatballs are delicious and healthy! Recipe includes lettuce in the meatballs alongside ground beef, turkey and many herbs. They are perfect for serving over pasta or serving as finger food!
This is a meatball recipe full of flavor! It's perfect for pasta and meatball subs!
With our big lettuce harvest, you might have heard me on Twitter exclaiming it was a Meatball Date in the kitchen! There's Matthew, Me, 16 pounds of ground meat, dozens of eggs and a entire sink full of lettuce that was just washed. If that doesn't sound like a romantic evening then I don't know what is! So there we stood for the next few hours, in assembly line fashion, making meatballs! How many meatballs did we make? I'm glad you asked. We made 226 of them! After we made them, we divided them into bags for dinner and froze them. With this big lettuce harvest we were able to freeze over 25 dinner meals. Pasta and meatballs? Done! Meatball casserole? Done! Meatball subs? Done!
These meatballs are full of lettuce! Each batch of 30 meatballs calls for 4 cups chopped lettuce making it a great way to use up a ton of lettuce at once. Combined with the lettuce we're throwing in a few tablespoons of soy sauce making them extra full of flavor. I don't think I can go back to not adding soy sauce to meatballs now.. it makes them real special!
I hope you enjoy these Baked Lettuce Soy Sauce Meatballs!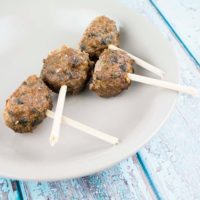 Baked Lettuce Soy Sauce Meatballs
Print
Ingredients
3 tablespoons olive oil
4 cups chopped fresh lettuce
6 tablespoons soy sauce
2 pinches of dried rosemary parsley and oregano
6 cloves garlic
1 pound ground beef
1 pound ground turkey
1 cup bread crumbs
2 eggs
Instructions
Add 3 tablespoons of olive oil to a pan over medium high heat. Add lettuce, spices and soy sauce. Cook until your lettuce is wilted.

Put lettuce mixture, garlic, beef, turkey, bread crumbs and eggs and pulse until it's combined. Depending on food processor size you might have to do 2 batches.

Form this mixture into 1-2 inch balls.

Preheat oven to 350 degrees.

Line 2 cookie sheets with aluminum foil and spray with nonstick spray.

Put meatballs on foil and cook 35-40 minutes or until the internal temperature is 160 degrees.

Enjoy right away, or freeze for later.