How to Make DIY Rainbow GLITTER Pumpkins. Follow these easy Step By Step Instructions on how to make a easy pumpkin Halloween Craft! We love adding neon color to our Halloween decorations! This is a great kids activity, even for pre-school and younger kids!
Halloween is usually associated with orange, black and white but who says we can't add neon rainbow colors to pumpkins and decorations? With this fun craft you'll soon have some beautiful rainbow glitter pumpkins to decorate your house with. This is a easy craft to do with friends and children.
Supplies:
Munchkin pumpkins
Paper Towels (I recommend Viva because they are strong)
Mod Podge
Neon Glitter

I got this 12 pack of neon glitter on Amazon for $12. The glitter comes in bright colors and even though the bottles are little they last a while.

How to:

Put a little Mod Podge on your paper towel and spread on your pumpkin. I recommend placing the pumpkin on a paper towel because once you start sprinkling glitter it's going to get messy.

Then very gently (remember a little goes a long way) sprinkle your glitter all over your pumpkin.

Once it's covered (don't forget the bottom), let it sit for 30 minutes to dry.

I used a bunch of colors for my pumpkins. I was surprised by how bright the glitter colors were, including the yellow one.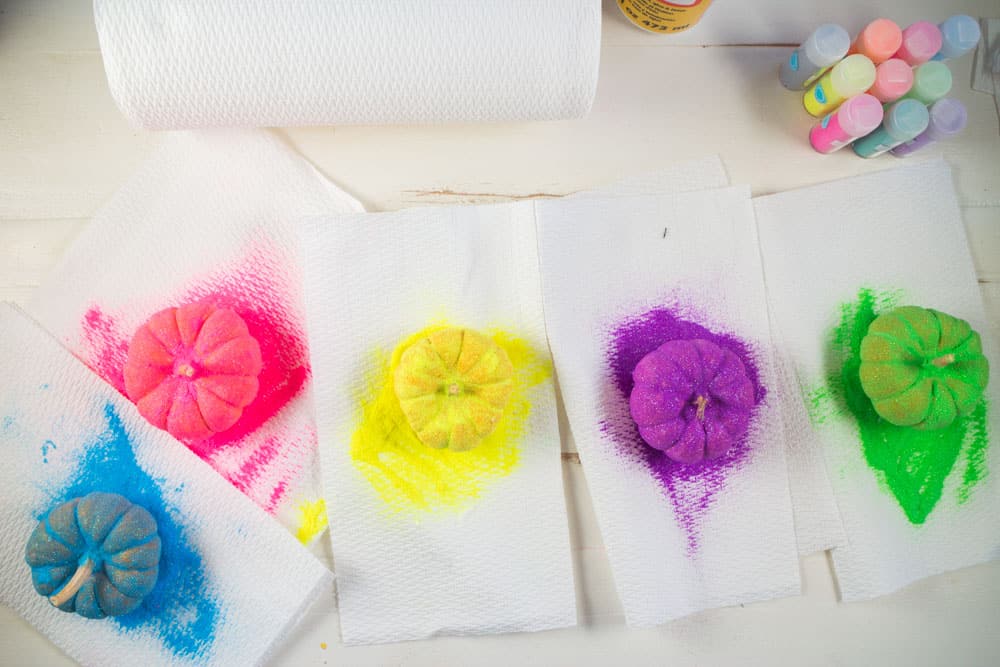 Because glitter is expensive and I don't like wasting things, once I was finished I picked up all the paper towels that had excess glitter on them and used a funnel to add them back to their jars. Aren't you glad you used paper towels for this?

Hope you enjoyed this easy pumpkin craft! Have fun!