FUDGY Chocolate Brownies made with SELTZER water! Easy Homemade Double Chocolate Brownies recipe that uses seltzer water to make the brownies extra fluffy and moist! These gooey brownies are made from scratch and have a amazing chocolate frosting on top! My husband considers these the BEST brownies ever!
My house is a Seltzer water house. Besides tea, it's all we drink. We stock up so we're never out because a dinner without seltzer water sure is sad! With that said, I wanted to do a baking experiment with seltzer water because I knew it had the properties to make things extra fluffy. And long and behold, I baked some of the best fudgy chocolate brownies I ever made with the help of seltzer!
A few things about this recipe before we dive in. These brownies are extra fluffy. They're extra fudgy. They are a chocoholics dream. Besides cocoa powder, I added in chocolate chips to make them double chocolate. There's no butter or milk in this recipe. For liquid we're using seltzer water and vegetable oil. The brownies are fudgy and crumbly when they come out of the oven. They're a dream.
So let's get started!
Gather all your ingredients. You'll definitely need seltzer water as that's the star here. I used Vintage Seltzer in flavor "pineapple" because I felt like I wanted to add slight tropical flavor to the brownies. You can use flavored or you can use plain. I recommend using seltzer water instead of regular water for all your baking projects (think cookies or pancakes) because the final result will be fluffier.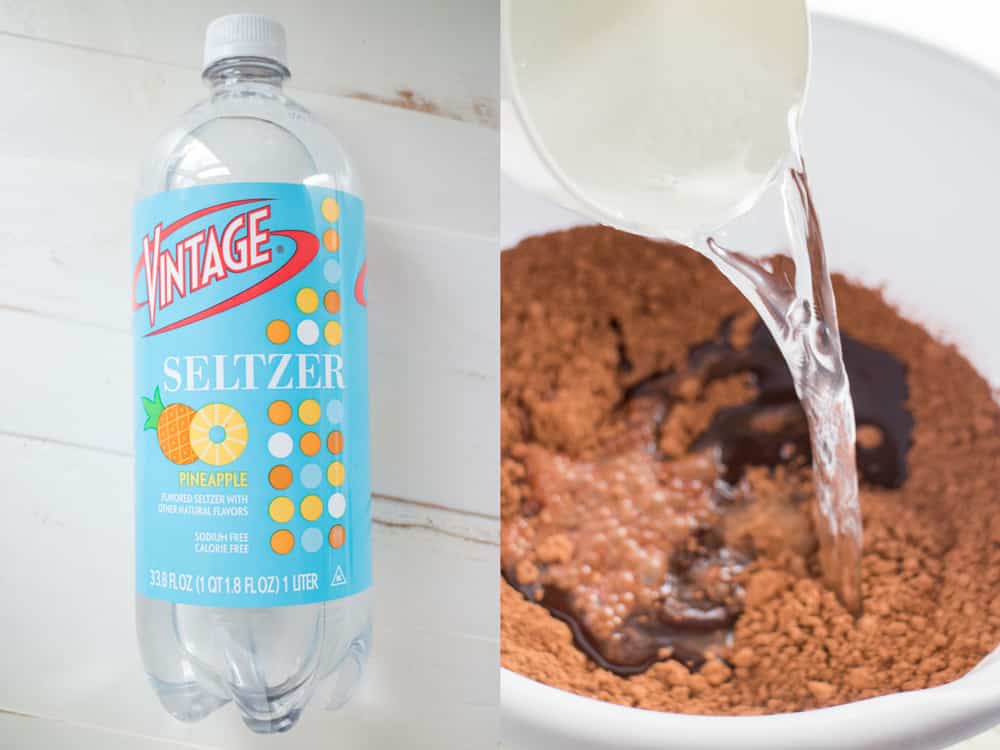 For this recipe we'll be using 1/2 cup seltzer water.
Mix your dry cocoa powder and baking soda together and then add your seltzer water. Now watch it start to bubble!
Now add the rest of your ingredients. Look at how dark brown the batter gets…. gorgeous!
Into the oven it goes for 50 minutes. Before and After.
Look at how fluffy these brownies are!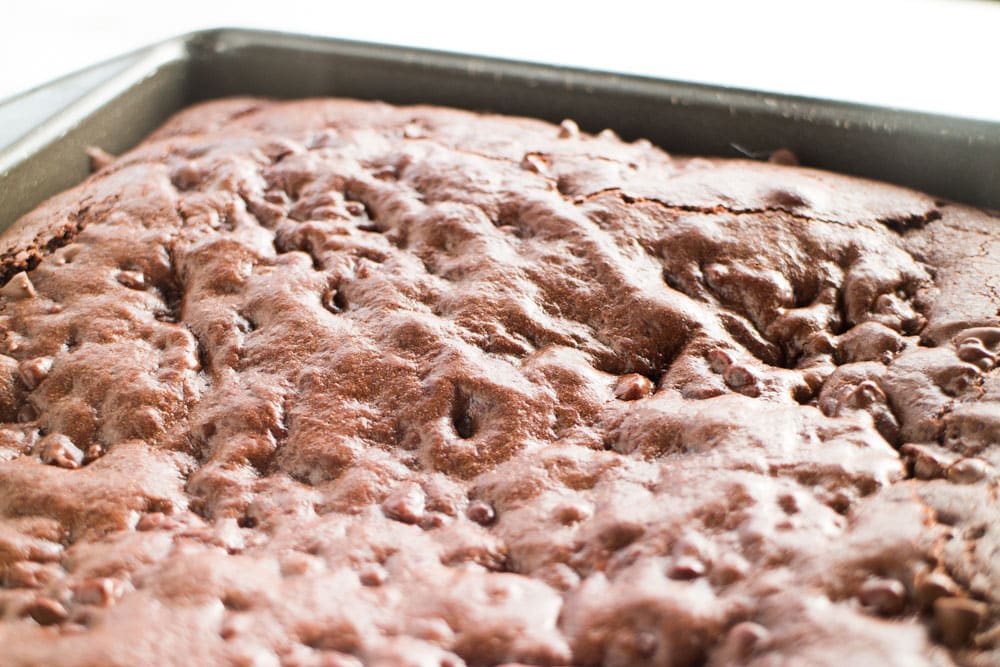 Let them cool for a little bit and then cut into squares.
You can eat them plain or you can add a frosting to make them extra special.
But trust me, they won't stick around your house for long! Enjoy everyone!
Extra Fluffy Chocolate Brownies Made with Seltzer Water
2016-07-10 22:18:40
Ingredients
1 cup unsweetened cocoa powder
1/2 teaspoon baking soda
1/3 cup vegetable oil
1/2 cup seltzer water flavored or plain (I used Vintage Pineapple)
2 cups sugar
2 eggs
1/3 cup vegetable oil
1 1/3 cup flour
1 teaspoon vanilla extract
1/4 teaspoon salt
1 cup mini chocolate chips
Instructions
Preheat oven to 350 degrees. Prepare a 8x8 pan by spraying with nonstick spray.
In a large bowl mix cocoa powder and baking soda. Add 1/3 cup vegetable oil and seltzer water, continue to mix. Add sugar, eggs, remaining 1/3 cup vegetable oil, flour, vanilla and salt. Mix with hand mixer until combined.
Add mini chocolate chips and stir with a spoon.
Pour and spread evenly into the 8x8 pan.
Bake for 50 minutes. Allow to cool before cutting into 9 (big!) squares.
Eat as is, or add frosting on top.
Brooklyn Farm Girl http://brooklynfarmgirl.com/