CHOCOLATE covered CHERRY cookies! Easy recipe for Peanut Butter Blossom Cookies with a chocolate covered cherry in the middle of each one! The cookies are so soft and chewy, that kids and adults will consider them the best! These are great cookies for Valentines Day, Christmas and parties!
This is my Valentine to you! It comes in the shape of a cookie with a milk chocolate covered cherry on top. When you bite into one (good luck only eating one) you will see hearts in your eyes!
I've fallen in love with Santa Barbara Chocolates in the past weeks and have been baking up a storm with their chocolate chips too, but today this is all about these beautiful cherries that are hand dipped in their custom milk chocolate and filled with cherry juice (from Morello cherries) . When you bite into one and feel that cherry explode into your mouth (getting sexy here) you'll understand why. I can honestly say these are the best chocolate covered cherries I ever tasted and trust me, I've done alot of tasting research in my days.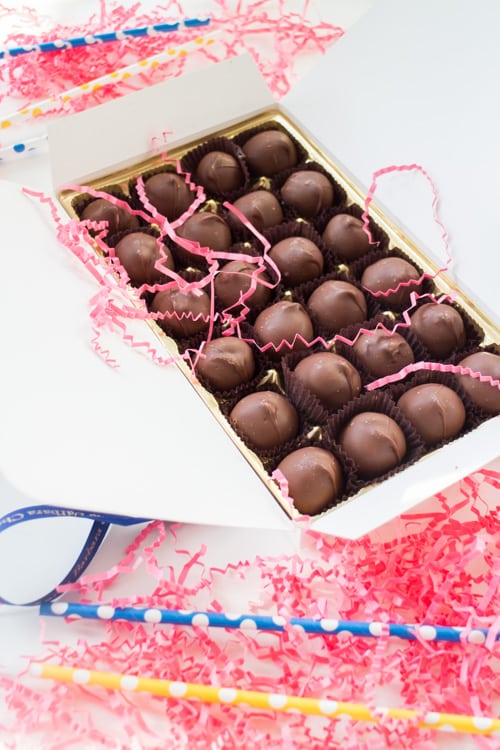 So there I was, sitting with this box of chocolate covered cherries, eating 1 by 1. My brain said "Do something with them, be creative" while my belly said "Just eat them all". So I combined these 2 wishes, I made cookies with them and then ate them all. :D)
These cookies are based on my favorite Peanut Butter Blossoms Recipe but with something a little extra (with a ton of flavor) – cherries!
The cookie base will melt in your mouth while the chocolate covered cherry has a little crunch when you bite into it.

Is your heart starting to pitter patter thinking of biting into one of these cookies?

Ok, get ready to SWOOON.
Seriously, get ready.
Are you ready?
Now swoooooooooooooooooon.

Still swooning? Me too!
With Valentine's Day coming up in a few days, send this recipe to your other half threatening to be mad at them if they don't make them for you. Or you can subtle and just send them this link with a smiley face. Or you can threaten them, I feel like that's more effective. 🙂

So from me to you – these cookies! Enjoy them lovely friends!

XOXO,
Pamela
Chocolate Covered Cherry Peanut Butter Cookies
2015-02-02 01:02:38
Ingredients
1/2 cup butter - softened
1/2 cup creamy Peanut Butter
1/2 cup sugar
1/2 cup brown sugar
1 egg
1/2 teaspoon vanilla
1 1/4 cups flour
1/2 teaspoon baking powder
1/2 teaspoon baking soda
1/2 teaspoon salt
sugar to roll cookies in
24 chocolate covered cherries
Instructions
Preheat oven to 350 degrees.
With mixer cream together butter, peanut butter, sugar, brown sugar, egg and vanilla until fluffy.
Mix in flour, baking powder, baking soda and salt until all mixed.
Shape into 1 inch balls, roll in sugar and place on lightly greased cookie sheet.
Bake for 12 to 15 minutes until slightly browned.
Once out of the oven immediately press a chocolate covered cherry in the middle.
Let cool and store in airtight container.
Notes
Makes 2 dozen cookies.
Brooklyn Farm Girl http://brooklynfarmgirl.com/