Make gardening season last year round with a greenhouse! Go green and grow your own!
I have been so excited to show you what we've been doing on the land! Garden season ended a few months ago so that's why there there hasn't been as many beautiful vegetables to show, but not to worry – we're still growing! In February! In 10 degree temperature! In the snow! Thanks to a greenhouse we're all set up to grow our hearts out 365 days a year now!
When we had our rooftop garden going we had a small greenhouse that left us able to grow broccoli, bok choy and kale during the Winter months. Once we moved the garden Upstate I was already thinking about Winter growing during the first year. Because we're Upstate in the Catskill Mountains we had some things to seriously consider about the greenhouse. 1) It gets really cold. 2) It gets really snowy. 3) It gets really windy. So I investigated greenhouses and figured the Palram HG56 Glory Greenhouse would be best for our situation. We got it in the 12L x 8W ft size which is more than enough for what we need. Due to the strong wind on our property, we installed the anchor kit to ensure the greenhouse wasn't going anywhere. Inside the greenhouse we put down a ground cover and a few bags of drainage rocks on top.
Since this is our first Winter growing there I have plenty of time to figure out our season but right now I'm focusing on being able to start seeds, growing hearty green vegetables and transplanting plants from the outside garden to the greenhouse once Winter hits. As you can see below I transplanted all of our garden kale into the greenhouse which I'm proud to say has been growing amazing!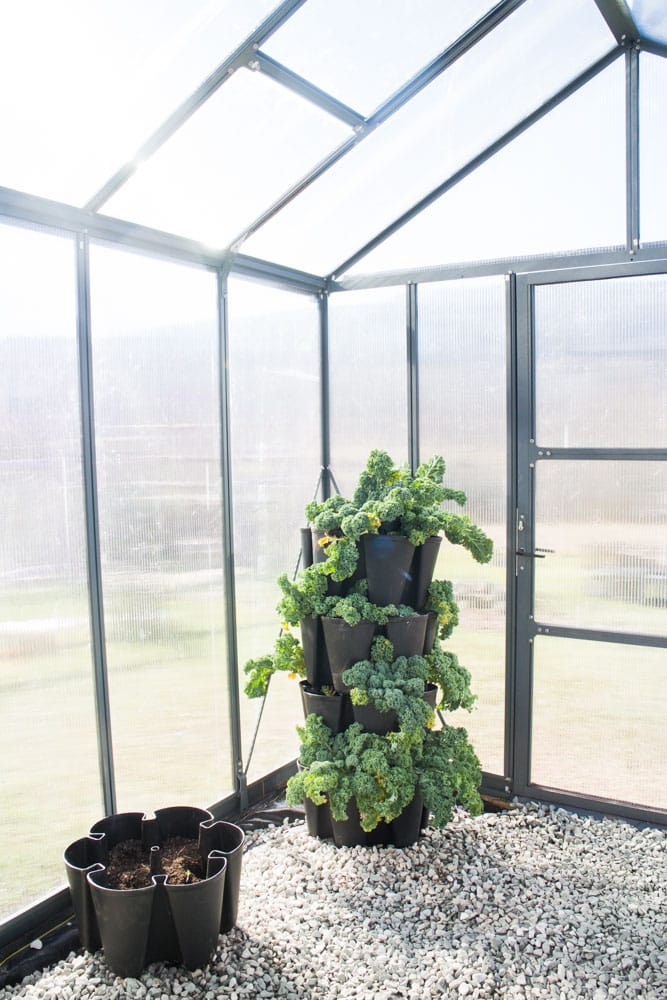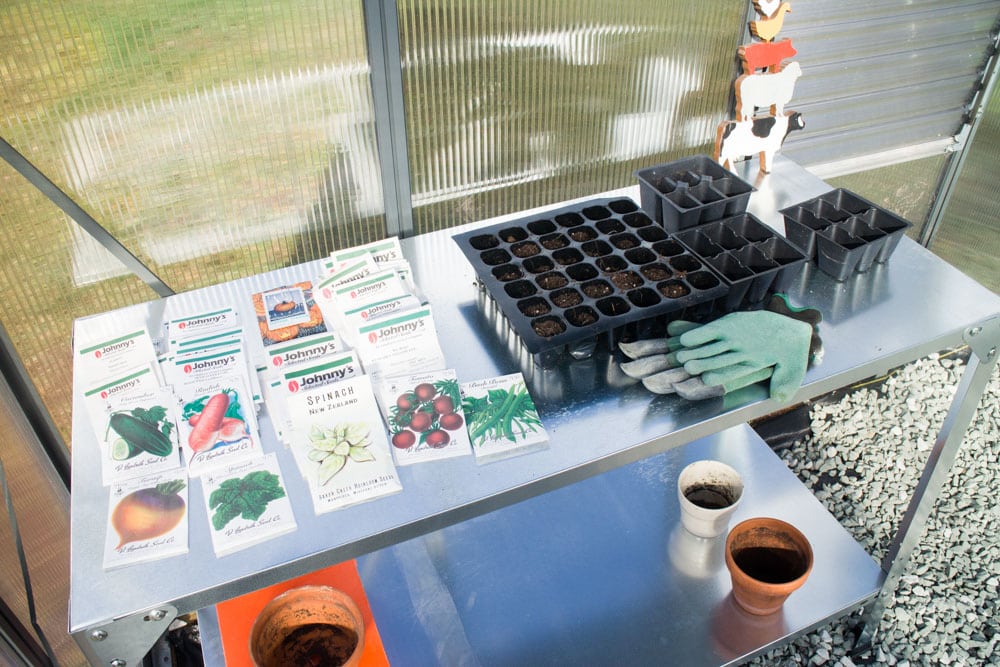 By the way did you spot that special pack of seeds on the table above? I can't wait to grow our Monster Pumpkin seeds! I saved seeds from our surprise Monsters this year, so we'll have generations of this pumpkin family in years to come!

Inside, I filled the greenhouse with heavy duty shelves that could hold pots and a wide selection of garden supplies (like my gorgeous watering container!). I really love the modern tables with two shelves that hold supplies on the lower tier, but more importantly hold our growing seeds on top.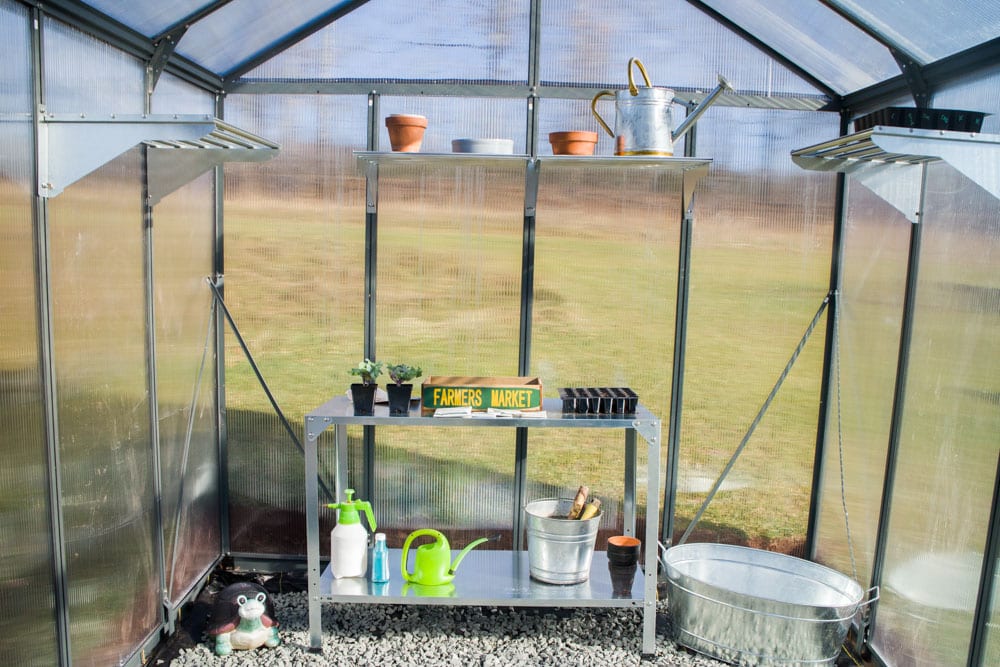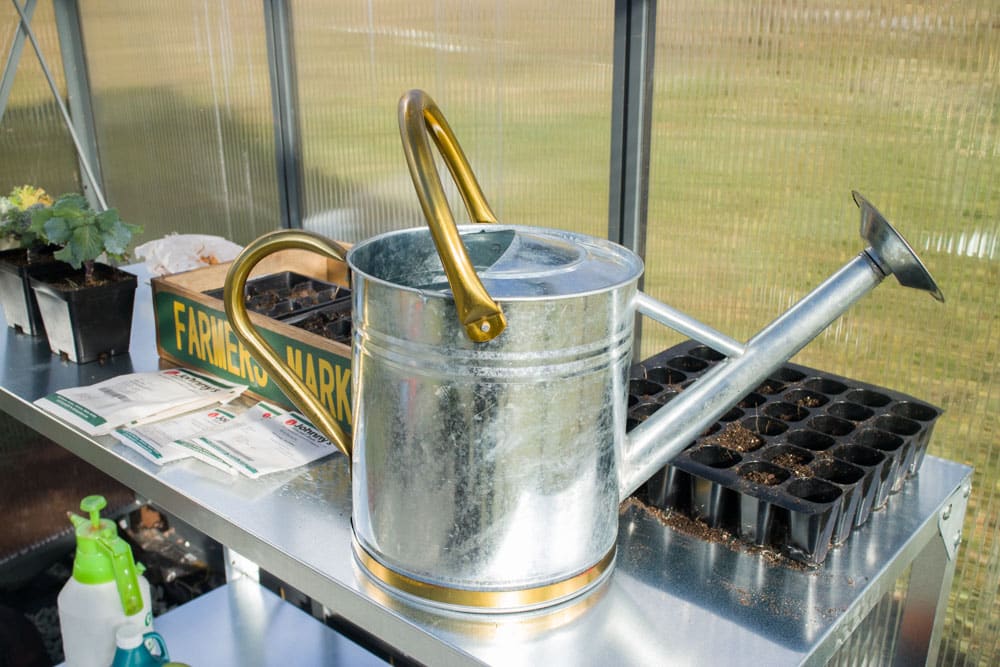 And of course there's a shelf for Miss Froggy Girl. I brought everyone inside the greenhouse for the Winter.

We have two Snap & Grow Nature Auto Vents installed on the top of the greenhouse that automatically open up and vent when it gets too hot or too cold, which is great for us as weekend visitors. This helps us grow strong seeds that will lead to big vegetables!

Lastly, here's a quick before and after. Doesn't the greenhouse look like a perfect fit? Also isn't it crazy how dramatically different Summer and Winter looks?

Hope you guys liked seeing what's happening on the land in the Winter! Stay tuned for our seed plans for 2017!

This post is sponsored by Hayneedle who helped us build a greenhouse so we can grow vegetables in the Winter! All opinions are my own.