This is a sponsored post written by me on behalf of Fujifilm Wonder Photo Shop. All opinions are 100% mine.
Do you forget what vegetables you have in the refrigerator? With this simple photo project you'll never let your produce go bad again!
One of the worst things is seeing food go to waste. Do you sometimes buy beautiful greens at the grocery store, use them for 2 days, and then somehow they get stuffed into the crisper drawer in the fridge to be forgotten about until you notice a funky smell? It happens. And it's terrible.
Even worse is when you grow those vegetables and they go bad. All that hard work that went into planting the seeds, transplanting the plants, watering them for months, sprinkling powder in mid Summer under the hot spot because those damn caterpillars really need to get away from your broccoli plants. All for nothing. Because you forgot you had that beautiful head of broccoli and now it's bad. That is a case of garden guilt that you will never forget. Truthful note, I have wasted a few vegetables and have then sat down on my kitchen floor and cried about it. It gets rough.
This tip is easy. You can go the simple route and keep a piece of paper on the fridge with all the vegetables that you need to eat written on it. Or you can make it a little more pretty then that – that's where I introduce you to this photo project.
Supplies:
Vegetables
FUJIFILM instax® camera and film
All you have to do is photograph individual vegetables once. Then stick the picture with a magnet to your refrigerator. Once your vegetables are gone, simply remove that photograph from the fridge (but keep it nearby as you will reuse these). When it's dinner time and you're trying to decide what you should make, a quick glance at your available vegetables on the fridge will inform your decision and I can guarantee you'll be bursting with ideas (if you need help, don't forget my Vegetable recipe directory!).
As you can see, we have lots of vegetables to pick from right now!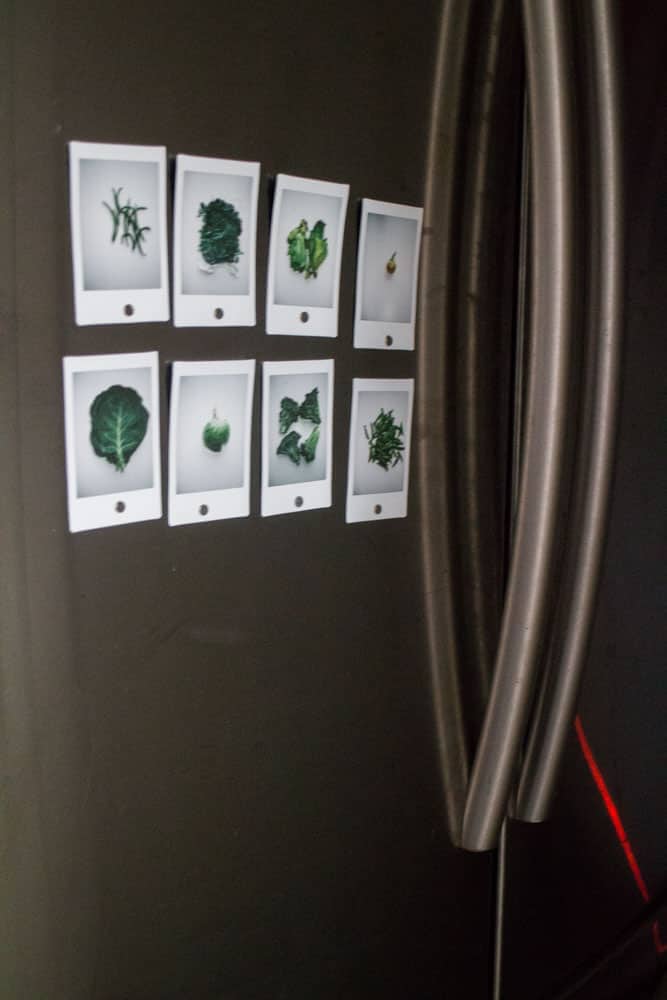 If you want to make the pictures more garden related, then take a picture of your tomato plants, broccoli plant, onions growing in the ground, etc! Have fun with the pictures!
If you're in NYC make sure to stop by the Fujifilm Wonder Photo Shop in NYC where you can buy all your instax supplies, as well as create other fun photo projects in store! You can check out the latest Fujifilm cameras, attend a DIY class, or create prints and products instantly from your Smartphone. Make sure to follow Wonder Photo Shop NYC on Facebook for more craft ideas too!
Hope you guys enjoyed this simple vegetable tip!