The big reveal of our vegetable garden for our Upstate Adventure!
Can I get a drum roll please? After months of hard work, the garden is ready to be revealed in all it's corn growing, pumpkin pollinating, tomato loving glory!
Are you ready?
OOOOOOOOH!
AAAAAAAAAH!
In our Upstate adventure, building the garden was first on the list. Can you believe this was where we started a few months ago?

We spent cold Winter weekends and hot Summer days getting the garden dug up and the fence built. If you missed the action when we removed the grass for the garden you can see it here. Also, expect a full "How to make a fence that deer will never be able to get into" post soon! This has been a labor of love!

The garden is 56×40 feet and is home to a big list of vegetables that are currently growing. We weren't even sure we were going to be able to grow this Summer because of how long the garden took us to dig out and build (remember we only go up there on the weekends!).
We did a soil sample in the beginning of the year and the pH wasn't very good so we made sure to fill each bed with vegetable garden soil and peat moss. To see all the vegetables growing and the garden looking green and bushy makes me feel really proud and happy!

The fence design was something we went back and forth with a few times. Matthew mocked up a 3D design of what we thought was best and we used that to build. The 2 pieces of wood at the top of the fence prevent deer from jumping in, while the fence down bottom (including below the fence) helps keep out the small critters. During this Summer we haven't had one vegetable eaten by critters so the fence is doing it's job!
Here's a closeup of the bottom fence. There's no gaps for rabbits to run through, under the bottom piece of wood there's more fencing that goes under and out with the rocks sitting on top of it.

The ground is really rocky (hello, it's the Catskill Mountains!) so the rocks you see around the fence are actually the rocks that we picked out when digging the garden. I like to think of myself as a rock picking expert now. Surrounding the garden on all sides are rose bushes and Rhododendrons. They're babies now, but come back in a few years and see how much they've grown!

We needed the entrance to be big enough for us to get equipment and carts in and out so it's 10 feet wide. We attached 1 6 foot gate and 1 4 foot gate together to make the final entrance gate.

Inside the garden sits a small shed that we keep our garden tools in.

We attached gutters to the shed (DIY post here) to catch rain water that flows into our rain barrels.

We chose big paver stones to create the walkway into the garden. Eventually we'll put down mulch and other large rocks for walkways in between the garden beds.

A few of the rocks we dug out of the garden were giant so we added them to the walkway too. This makes it more personalized and holds memories.

In fact I even have a picture of when Matthew was struggling to dig this rock up months ago.

Outside of the garden we set up a patio area where we eat our lunch, admire the view and stay out of the sun with the help of a large umbrella (this does awesome in the wind by the way).

It's quite a view we get to admire too!

I am in love with our table! I really wanted a modern picnic table aesthetic so I was happy to find this set at Lowe's!

Aren't I lucky to have wildflowers growing all over the land to make my own bouquets?

I haven't spoke about the color of the fence yet! As you might have guessed we wanted a bright color! We went back and forth on a few shades wanting something to contrast with the green trees and grass that surround it so we went with the color "Berries Galore" (paint # 4001-10B). The paint we used is Valspar Duramax Exterior paint that is a primer + paint in one. I asked the Lowe's paint department guy for help and he strongly recommended that we use this. I was a bit unsure if it would be a true primer + paint in one but it really is! The garden only needed one coat to get that rich vibrant purple color to it!

I love how it pops against the sky and the trees!
Back here you might be able to see our berry patch too – filled with blackberries, raspberries, blueberries and strawberries! The plants are only a few months old, so again… check back in a few years to see their growth! 🙂

Inside the garden the vegetables are growing and enjoying their Summer in their protected home.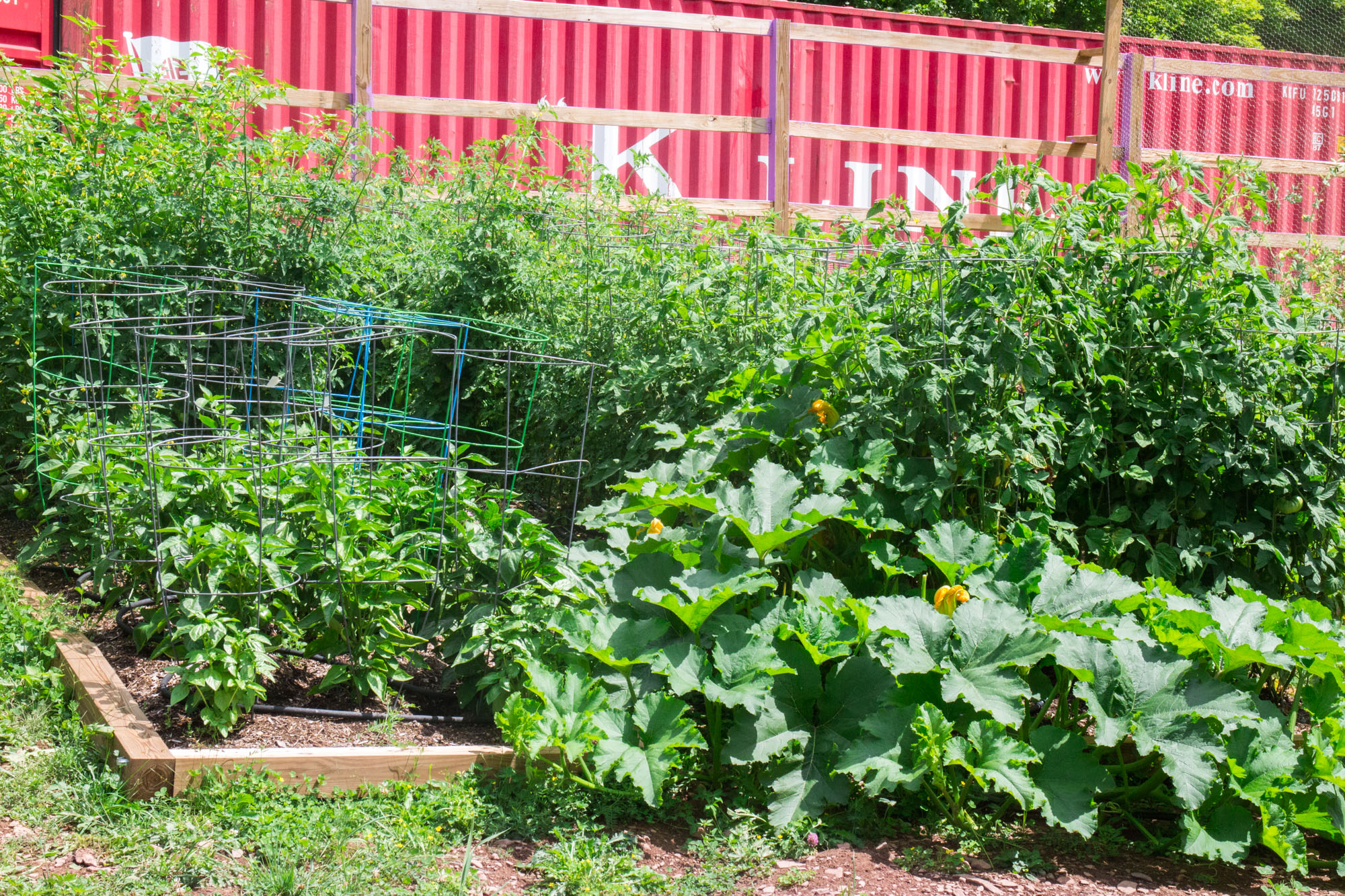 The corn is finally taller than me!

Lastly, a special shoutout to all the garden friends that hang out in the garden and protect it when we're not there. We have Mr. Scarecrow, Froggy Girl, Gnome and Mister Turtle.

I hope you guys enjoyed the garden reveal! This is Step 1 in many in our Upstate Adventure! Thanks to everyone who's been excited to see the garden and special thanks to our friends and family that put in hard work Upstate with us to get this built and planted!