Delicious recipe for Banana Muffins made with white chocolate chips. These are perfect for a hearty breakfast on the go! Baking time is 20 minutes and makes 8 regular size muffins
These banana muffins are based around one of my most popular recipes on the blog, Mini Moist Crumble Banana Muffins. I receive emails all the time from people proclaiming their love to these muffins and expressing how much their kids like them too! The tweak I made to these is first I made them full size, so they're hearty enough for breakfast. I also added some high quality white chocolate chips to really give each bite a sweet balance with the bananas.
The banana taste is there, but it's not super strong. I shared these with my banana bread loving friend and my not so much banana loving Matthew and both of them loved them so much they ate multiples. They're a winner across the board.
I hope you enjoy them as much as we do!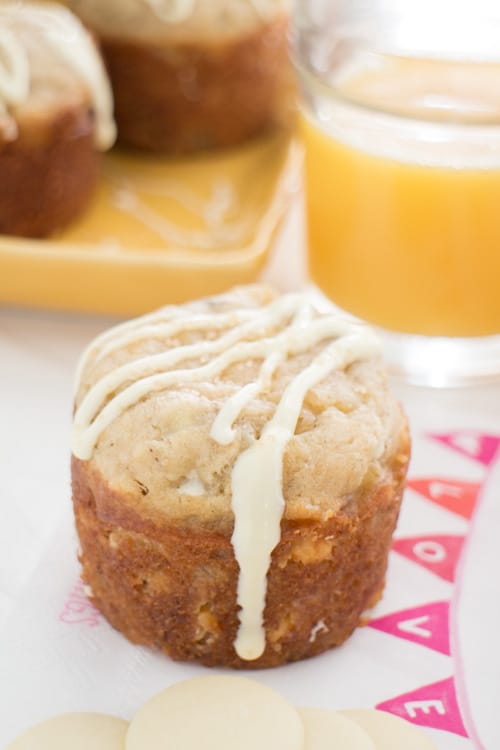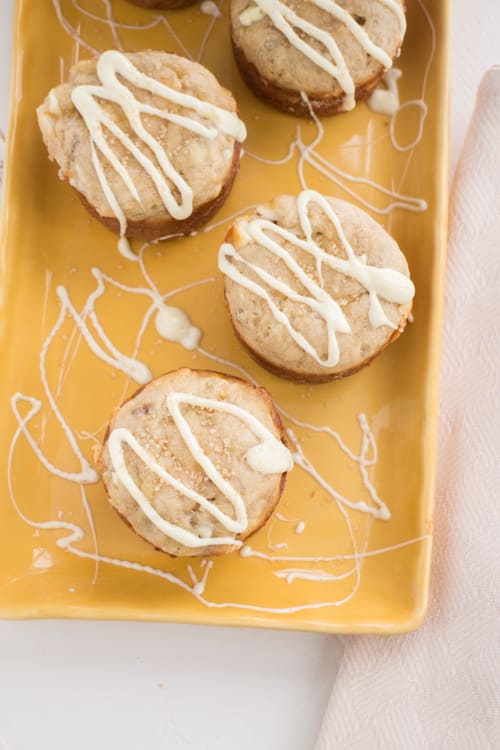 Moist Banana White Chocolate Chip Muffins
2015-02-19 21:51:20
Ingredients
1 cup flour
1/2 teaspoon baking soda
1/2 teaspoon baking powder
1/4 teaspoon salt
2 ripe bananas
1/4 cup + 2 tablespoons sugar
3 tablespoons melted butter
1 egg
1/2 cup white chocolate chips
Optional: Melted white chocolate to drizzle on top when done
Instructions
Preheat your oven to 350 degrees.
Spray your muffin pan with nonstick spray.
In a bowl mix flour, baking soda, baking powder and salt.
In another bowl mix bananas, sugar, butter and egg until smooth.
Add flour mixture into banana mixture and continue to mix so everything is combined.
Add chocolate chips and stir with spoon to evenly distribute.
Spoon this into the muffin pan, filling each muffin spot 3/4 full.
Bake for 18-22 minutes or until the sides of your muffins are slightly brown.
Notes
Makes 6-8 regular size muffins.
Brooklyn Farm Girl http://brooklynfarmgirl.com/