Here's the 4 ways I give my cat a pill all by myself – without bleeding or crying! There's a different way for every personality, even difficult cats!
You're standing at the vet and they tell you that your cats need to go on medicine. Ok, no big deal, I'll just mix it in their food. Then they tell you the medicine only comes in pill form. UGH, you start falling to the floor, sobbing and crying "I'm going to die!". For anyone who's ever had to pill a cat, this is probably a situation you can relate to. It's very rare that a cat will take a pill willingly with a purr, so sometimes you have to figure out Plan B… and then Plan C, Plan D, Plan E when everything else fails.
Take a Deep Breath
First, take a deep breath. It's totally going to be ok. I know at first it might not be a fun experience and you might get defeated, but you'll figure it out. Even when your cat scratches you, bites you, makes a meow like it is dying (its not) just know you have to work hard to get that pill into your cat, it's important, so don't give up. Once you figure out what technique works for your cat then you'll be smooth sailing (ok, maybe not smooth, but you'll be calmer.. and your cat too).
4 Ways To Give a Cat a Pill
Hiding in soft food.
Hiding in a treat with pill pocket.
Turning pill into powder and rubbing on fur.
Inserting pill into mouth by hand.
Many of you guys expressed how hard pilling was for you in a previous post so I thought it would be a perfect opportunity to talk about techniques I use for our 4 cats. Every single one of them needs to be pilled a different way, because like people they have different personalities. I have done a lot of personal research, many different methods, and I've also cried a bunch along the way. Life of a Cat Mom (or Dad)!
I'm going to discuss all 4 ways we use in hopes that one of them will relate to your cat and can help you.

Let's start with the easy ways. These are both sneaky and if your cat can fall for them I'm so happy for you!
#1: Hide the pill in cat food – EASY
This method is labeled as easy.
If a cat sees or smells a pill, it might be stubborn to eat the food, even when it's on top of yummy soft food. But if a cat really loves wet food and you can hide it in some strong smelling wet food then you're likely to succeed.
Throw your pill (or pills) whole in some soft food, then put a little bit of the food on top to hide it. Alternatively you could cut the pill up, or even crush it and add it to the food. The secret here is always add a layer of food on top. The cats can sense when you're trying to be sneaky!


Your cat will eat it right up and be will be licking it's lips for minutes after. And even better, it will think that you are really nice by giving it soft food which will result in cat kisses. Thanks Goblin!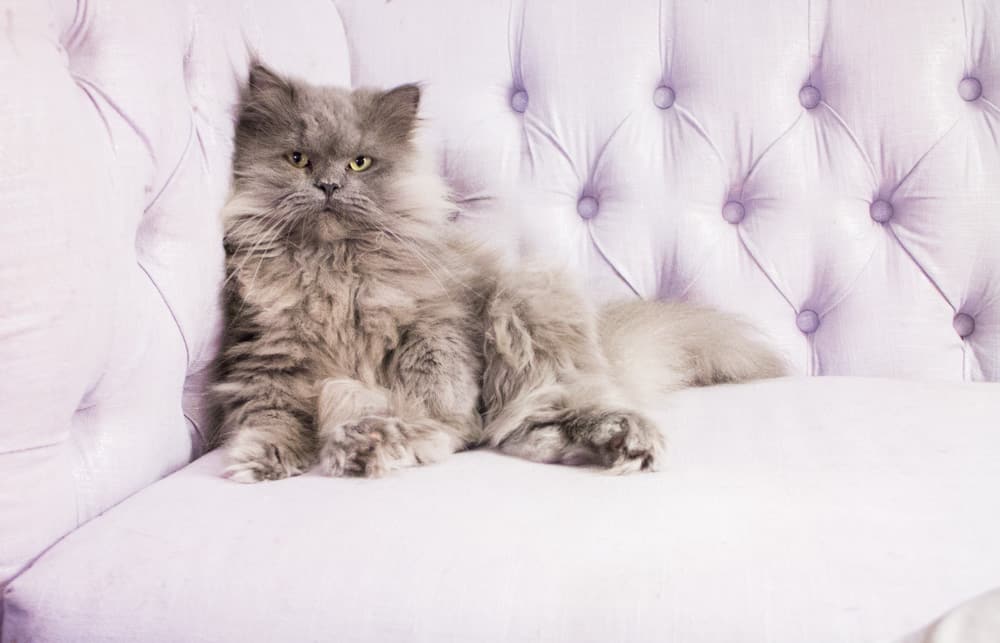 #2 Hide the pill in a Pill Pocket
This method is labeled as easy.
Many people have had success with Pill Pockets but our cats think they are gross. Have you ever smelled a Pill Pocket? It smells pretty bad and nothing like food, so one sniff of it and your cat might be like "No thanks".
Miss FiFi Bofinkles loves treats, she will ravish you for treats, she will knock other cats out of the way for treats, so going the pill pocket/treat route totally works for her. And even after she eats the horrible tasting pill pocket, she still looks at me and says "Can I have another treat mom?"
What you need: Feline Pill Pockets, delicious treats (like Friskies) and your pill.

First step, put it in the pill pocket. If your cat eats the treat just like this – GREAT! But if your cat knows you're up to no good, then proceed to the second step.
Second step, because the pill pocket is soft and sticky, push treats into the top of it. Bofinkles usually picks one treat up which results in the entire pocket being lifted up, so she just eats one giant treat and loves every minute of it.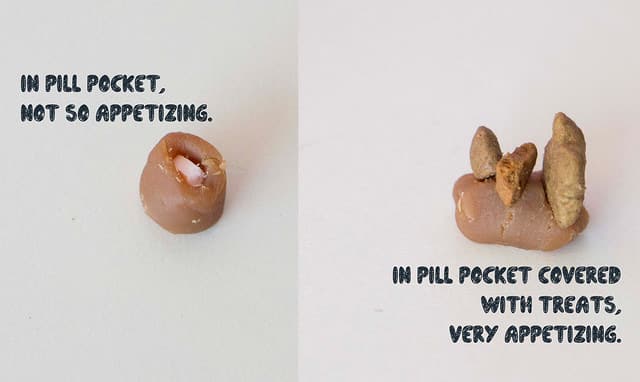 If your cat loves treats, this might be the best way for you. FiFi Bofinkles approves after eating her big treat!

#3 Turn a pill into powder and rub onto fur
This method is labeled as medium, but perfect for the most difficult cat.
How To Give a Difficult Cat a Pill
Let's first talk Brother, he's a big Maine coon, with giant claws and abs of steel. He's made multiple vets bleed, thrown their needles across the room, to the point that noone can clip his nails (except me!). With all that aside, Brother Bear is a giant sweetheart, a gentle giant, but he just doesn't like to be forced to do things and he hates the vet. Really hates it. It's really amazing how strong a cat can be when it's angry.
So now years later and many workout sessions to get stronger, we knew the blanket method that we used when he was younger was not going to work anymore. During the first try I thought Matthew could hold him and I could open his mouth with my hands and insert the pill straight into his mouth. Hahahaha, I was so wrong. While trying to get the pill into his mouth he bit down on my thumb so hard, bruising the entire nail making my thumb unusable for days. This is how it looks a week later, what a love bite, right?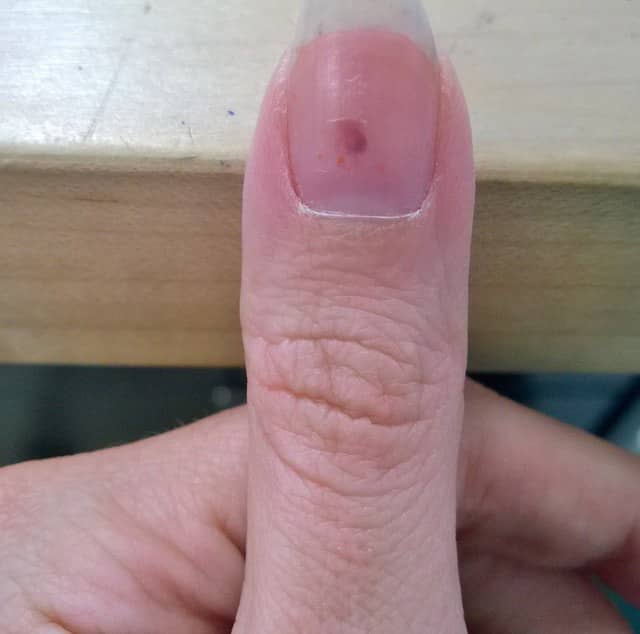 So enter the powder + rubbing on fur method. This is hands down the messiest method, but for us it's the only way we can pill Brother. By crushing your pills up into powder (make sure your vet says this is ok) then you have a easier base to work with. Even when we crush his pills up and put it into soft food, he can smell it and will turn away, so you have to be really sneaky with this trick.
First step, crush up a pill with the bottom of a spoon. I know this picture looks like we live in a drug den, but Officer I swear this is for my cat!

Step 2, dip your finger in some Vaseline, then rub into the pill powder. Depending on how many pills you are giving, or the size, you might have to do this a few times. I also tried dipping my finger in cat food gravy and butter, but the Vaseline sticks better. Vaseline is often used for hairballs, so it's safe to use for your cats, but only use a small amount for getting the powder to stick.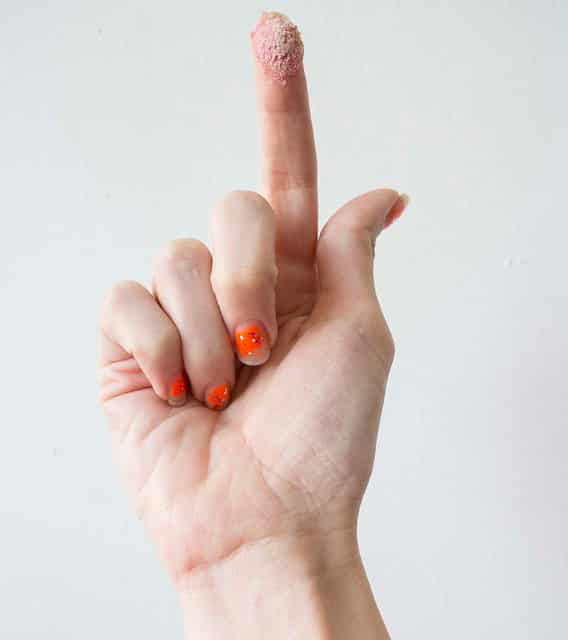 Then find your cat, it can be standing up or laying down. With your dipped finger, wipe the sticky mixture onto their leg/paw. Often I will have to do this a few times as once you do the first smear your cat will know what's up. Almost immediately your cat will be disgusted by the mess you created on it's leg. Almost immediately your cat will feel the need to clean itself up and start licking all the powder off their fur.
If you have more powder to swipe on then smear it on the opposite leg while they are cleaning their other one. You'll receive some glares but your cat will be sure to clean the other mess up right away too.

And just like that, your difficult cat will take it's medicine.

#4 Insert Pill By Hand Into Mouth
This method is medium, difficult, but once you perfect it, it's 100% the best!
For this method, you need your cat to trust you. The first time is a surprise, but after a couple times the cat will know what's up it sees the pill jar and might give you a chase. It's ok, it gets better over time.
Xanadu is our Siamese cat and she's paranoid about the world and incredibly cautious, so we have to do this manually by hand. I've given Xanadu liquid medicine by hand so I have it down pretty solid on how to open her mouth and get it done. In fact, I do this to Xanadu by myself, so there's a lot of trust built up between us. Xanadu is now 13 years old and handles this like a champ. She doesn't love it, but she now gives in without a chase around the apartment.

Step 1, get your pill. You can put the pill in your hand but I find using a pill gun so much easier as it's skinnier to fit into your cats mouth. Once you pry open their mouth, you then press the trigger and the pill shoots into the back of the cat's throat. This means no fiddling around with the pill in the front of the cat's mouth. I bought this at my local pet store for $4 and it's worth millions in tears.

Step 2. Get your cat and hold it tight between your legs. I do this by myself, so while holding her between my thighs, I reach around with one hand to open the mouth while holding the pill gun with the other.

Then I open her mouth wide, keeping my finger there to make sure it stays open. With the pill gun, I stick it into her mouth and shoot the pill into the back of her throat.

Immediately after the pill is shot in, I drop the gun onto the floor and close her mouth. While holding her head up (to swallow), I blow on her nose softly while rubbing her throat with my fingers. Both the blowing and the rubbing will cause your cat to swallow, causing the pill to go down with it.

You can see your cat swallow by it's neck, so after 2 swallows I release her knowing the pill went down and we're safe.

Then I reward her in kisses, hugs and treats and tell her we'll never do that again (I lie, I'm a horrible Mother I know).
So that's how we pill our 4 cats! I hope this helps you some in the future!
Do you have any pilling stories with your pets?
More Cat Posts