Birthday Cake Batter Granola Bars that taste just like cake and are topped with chocolate chips and sprinkles!
One of my absolute favorite afternoon snacks is a granola bar to add some fuel, but who says your granola bars can't be sweet too?
Basing this on my Chocolate Chip Granola Bars and Peanut Butter Pretzel Chocolate Chip Granola Bars recipes I wanted to create a granola bar that was filling with oats but tasted more like a pastry. To be exact I wanted it to taste like cake batter because shouldn't everything? Alongside the other ingredients I added in some dry cake mix which was a great partner to pair with the oats when the wet ingredients are added in to make everything stick together.
Not only do these definitely taste like cake batter, but they smell just like cake too. Isn't it just wonderful? You can totally be fun with the sprinkle colors too. Maybe add red and green for Christmas, or bright yellow for Summer time picnic treats!
Next time you're craving granola bars or cake batter, give these a shot and let me know what you think!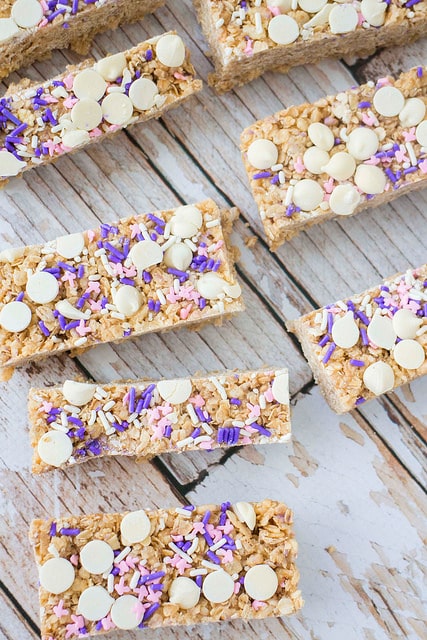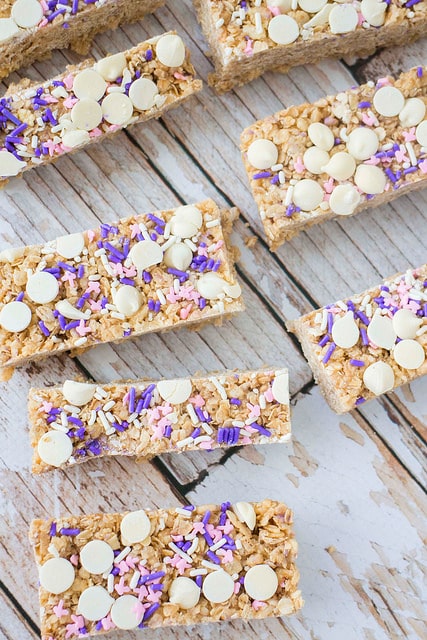 Cake Batter Granola Bars
2014-04-19 21:18:18
Ingredients
2 cups quick cooking oats
1 cup crispy rice cereal
2/3 cup cake mix dry
1/4 cup salted butter
1/4 cup light brown sugar
1/4 cup honey
1 teaspoon vanilla
4 tablespoons sprinkles
3 tablespoons white chocolate chips
Instructions
Spray a 8x8 pan lightly with cooking spray.
Mix your oats, cereal, cake mix and 2 tablespoons sprinkle together in a large bowl.
In a small saucepan melt butter, brown sugar and honey on medium high heat until melted. Once it begins to bubble change heat to low and stir for 2 minutes.
Remove saucepan from burner and stir in your vanilla.
Pour your hot mixture over your oats mixture. Stir well. You want to make sure every single piece of oats and cereal is coated.
Pour your mixture into your greased pan and push down with spatula to flatten it.
Sprinkle chocolate chips and 2 tablespoons sprinkle over top evenly. Use your spatula to press them down so they are embedded in the bars.
Cover with plastic wrap and put in the refrigerator to set for 1 hour.
Take out and cut into bar sizes.
Store in airtight container in refrigerator to keep them fresh.
Brooklyn Farm Girl http://brooklynfarmgirl.com/