NO BUTTER NEEDED Fluffy Waffles! This easy breakfast recipe calls for applesauce instead of butter making these waffles a healthy option! I love these homemade from scratch waffles, they are so fluffy and my family always says they're the best Saturday morning breakfast!
There's something about Saturday morning that makes everyone want a home cooked breakfast. For many it's the time to relax with the family and take a breather from the work week. As a little girl I always looked forward to Saturday morning breakfast, usually shared with a girlfriend of mine that would sleep over on Friday night.
As soon as we woke up, we would head downstairs to watch Saturday morning cartoons and wait for Mom to bring in delicious smelling breakfast! Sometimes it would be cinnamon rolls, sometimes it would be blueberry pancakes and sometimes it would be the fluffy waffles!
With a craving for waffles I wanted to relive my childhood Saturday mornings so I made these No Butter Needed Fluffy Waffles! I hope you like them as much as I do!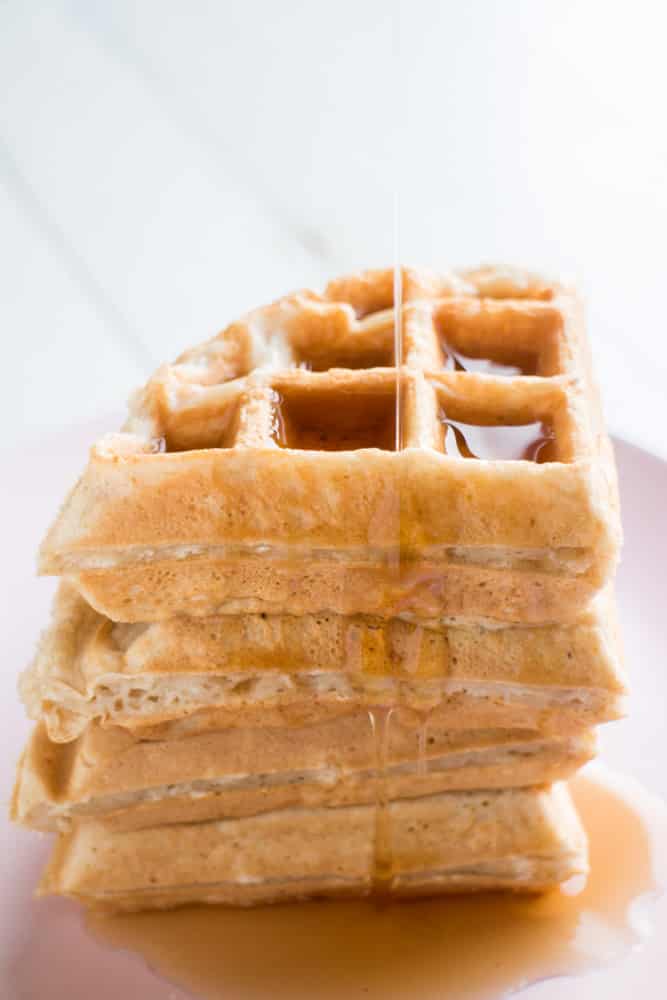 I love "No butter" recipes for a few reasons. First, how many times have you wanted to make a recipe and went to grab the butter to find out you were either all out or only had a tablespoon left? It's happened to me too many times!
Secondly, no butter means healthier, which means you can have more waffles! So you can see these No Butter Needed Fluffy Waffles are a total win. Isn't it great how that works out?