We have tacos at least once a week, if I'm lucky maybe 2-3 times. No matter if we're eating them in a shell, in a bowl or in a casserole form, we always need Refried Beans! I don't think it's Taco Night without the beans. This is one of our favorite recipes for Refried Beans and it's so easy to make. All you'll need is a can of black beans, a jalapeno pepper chopped up to add some spice, and cilantro/salt/pepper to season. Easy, right? These beans are total Mexican restaurant style and is the perfect side for tacos and burritos.

Black beans have amazing protein-plus-fiber content. From one cup of black beans, you get 1/3 of your daily protein intake, it's equivalent to eating 2 ounces of chicken or fish. Those beans are healthy little protein giving guys, aren't they?
These beans take 15 minutes – max. Because we're using canned beans, we don't have to worry about overnight soaking like dry beans would need. We also don't need to use your slow cooker all day to soften them. With this recipe we're throwing everything in a saucepan and they'll be done in a jiffy.
Even though I stress this recipe as quick and easy, it doesn't lack in flavor. Even if I have all the time in the world for Taco Night, I'm still going to make the beans just this way. If you are looking for regular Refried Beans with Pinto Beans, just substitute the beans in this recipe and cook the exact same way.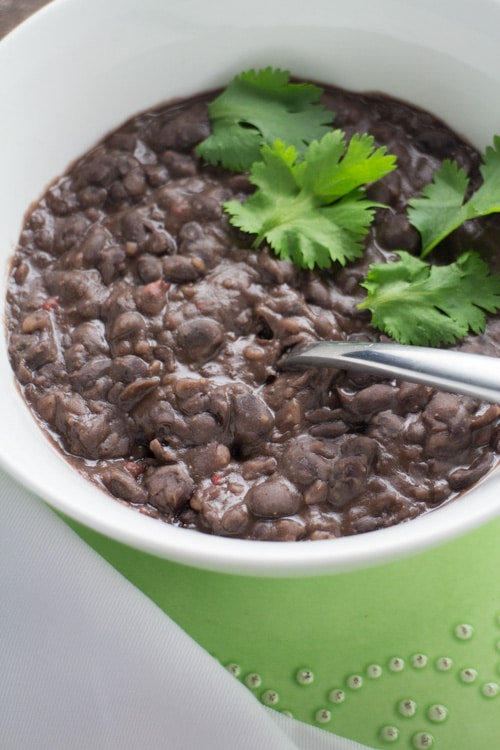 Quick and Easy Refried Black Beans (from a can!)
2015-02-09 00:43:00
Ingredients
1 tablespoon vegetable oil
1 jalapeno pepper finely chopped up
1 15 oz can of black beans (don't rinse them - use straight from can)
1/2 teaspoon cumin
salt + pepper to taste
Additional: cilantro to garnish
Instructions
Heat vegetable oil in small pot with jalapeno for 2-3 minutes over medium-high heat.
Add can of black beans, cumin and salt + pepper into pot. Stir so everything is combined.
Bring to a boil on medium-high heat and cook for 10 minutes, stirring very often. You want to boil off the excess liquid in this step.
Once done, turn heat off and let sit for 3 minutes.
If desired, put cilantro on top to garnish.
Brooklyn Farm Girl http://brooklynfarmgirl.com/