Have a cat? Have multiple cats? Well meow to you…
In today's post I'm giving one winner 5 coupons to go the Dollar General and pick up 5 packages of Tidy Cats Lightweight Litter! High 5 happy cats and cat owner!
Tidy Cats was the first to invent litter, so why not reinvent it by making it light weight? With light, tight clumps, this scoopable litter is half theweight, but all the strength. It provides continuous odor control, light & tight clumps for easy scooping, it is powerfully absorbent, and 99.9% dust free. The weight of litter impacts every aspect of the consumer experience.Tidy Cats LightWeight delivers all the strength of Tidy Cats Scooping litter in Half the Weight. 8.5lb Tidy Cats Lightweight Litter is the same amount of product but half the weight of the 20lb leading scooping litter!
Why does lighter litter rule? Have you tried carrying it home from a store in the city? Or how about riding the 5PM bus which is completely packed. You hold the litter with one arm in pain, while the other arm hopes to hold on to the bus pole. When the bus stops, you close your eyes and hope not to fall. It happens to us all. The things we do for our furry babies..
Tidy Cats Lightweight Litter is $11.50 from 11/2-12/1 at Dollar General. It comes in a resealable, recyclable 8.5lb Jug. Learn more about Purina.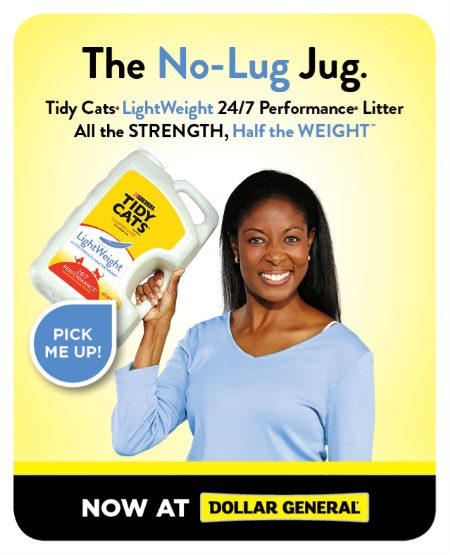 To win 5 packages of Tidy Cats Lightweight Litter leave a comment below telling me your cats names! Winner will be chosen on Dec 1, only US entries.