In this new series, I'm sharing current things that I love. Maybe it's cats, maybe it's a new restaurant, maybe it's a new cookie, maybe it's… anything!
What do you call it:
Seltzer Water?
Carbonated Water?
Fizzy Water?
Bubbly Water?
Club Soda?
Sparkling Water?
Ever since we gave up soda almost 5 years ago, we are seltzer water monsters. We love our SodaStream maker. We love it so much we have 2 machines – for home and for work. We also have always 2 carbon dioxide cylinders on hand, so we never run out. When the rare occasion happens that we do run out and we have to go a day without it, we'll cry about it all day long.
Since upgrading our SodaStream to the KitchenAid version, it's really upped our seltzer water game. I wish the KitchenAid version took the 130 liter big size cylinders, but instead they only take the 60l sizes. I'll take it though because our machine sure is pretty. A 60 liter usually lasts us 2 weeks, like I said, we drink a ton of water because of it.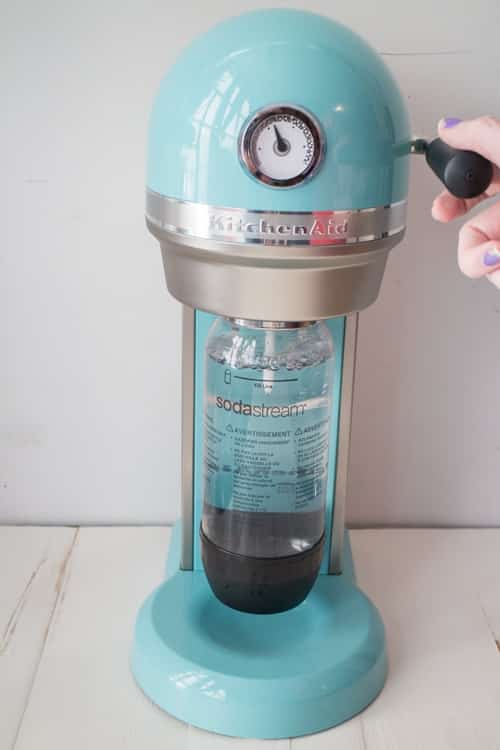 We rarely flavor our water as we just drink it natural (with bubbles). Sometimes though we're craving some flavor. Although SodaStream sells it's own syrups I've never really fallen in love with any of them because I thought they had a artificial taste to them. Last month I was introduced to Drink More Good who are based in NY. They sell a few different kinds of soda syrups that use locally sourced and organic ingredients to create hand-crafted soda syrup concentrates, tea and tisane concentrates, and bitters. Their mission is simple; global impact through local success.
When we tried them the first time Matthew tried the root beer (his favorite) while I tried the ginger ale (my favorite). We both looked at each other like "Omg, did you taste how good this is?". Yes, it tasted good. It tasted real. Do you know what I mean? For example for every 10 gallon batch of ginger ale syrup they make it has 5 lbs of fresh organic ginger root that is hand sliced, lightly ran through a food processor to create a pulp, and then infused right into the syrup. It's real y'all. Oh and each syrup is 50% less sugar and calories than actual soda. I also love that they aren't trying to be all fancy with hundreds of flavors, they stick to what they're good at: root beer, ginger ale and cassia kream. Want to try it? Here's the link. This is not a paid post.. I just love this stuff!
This is what happens when you tell your husband not to drink it until you've taken a picture.. he drinks it..all! He sure loves his Root Beer. PS. Hey Goblin.
I use 2-3 tablespoons of the syrup in a 1 liter SodaStream bottle, that means about 70 calories for a 1 litter bottle. I LOVE THIS.
And wait till you smell it! YUM!
Hope you loved this edition of WHAT I LOVE!
Tell me.. do you love seltzer water too?