Delicious Truffled Three Cheese Flatbread with grape tomatoes and arugula! Ready in under 15 minutes! Only 650 calories per serving!
These delicious Flatbreads come from my new favorite Meal Delivery service, Home Chef. There's different delivery services in the market (especially in big cities) but I really like Home Chef because I find their recipes are more in line with our tastes and needs. The ingredients are fresh, and the recipes are simple. I use Home Chef when I know the week is going to be busy, or we are going to be coming home from a trip and the refrigerator will be empty for a few days.
All the ingredients are delivered to your door pre-measured and ready to cook to a full meal in less than 30 minutes. One thing I really love is that the ingredients are packaged in one bag per meal, so you can just pull the entire bag out and you're ready to go – no rooting around to find the ingredients!
You can pick your Delicious Meals choices from 10+ choices that change weekly, with many different dinner options (including vegetarian). They also have add-ons like smoothies, fruit and breakfast that you can add on. The price is also awesome because it's cheaper than shopping for the same ingredients at a grocery store. You can try it here for a discounted price too!
This Flatbread recipe covers the big 3. Ricotta! Mozzarella! Parmesan!
Add fresh arugula and cherry tomatoes on top along with truffle oil and it's the perfect weeknight meal! Pick a movie to watch and relax.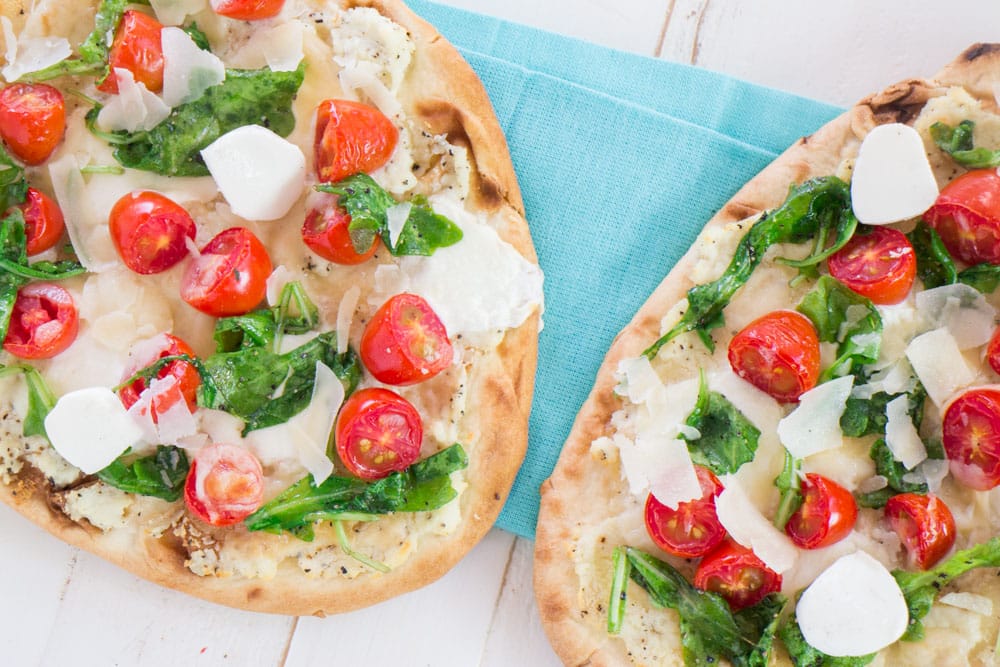 Enjoy this Truffled Three Cheese Flatbread!
Pin for later:

Truffled Three Cheese Flatbread
Print
Truffled Three Cheese Flatbread recipe
Ingredients
4 oz grape tomatoes
3 oz fresh mozzarella cheese
1/2 cup ricotta cheese
2 naan flatbreads
1 oz shaved Parmesan cheese
1 oz baby arugula
1 tablespoon of truffle oil
salt + pepper + olive oil
balsamic glaze to drizzle optional
Instructions
Preheat oven to 450 degrees.

Cut cherry tomatoes in half. Cut mozzarella cheese up into small pieces.

Combine ricotta, 1/2 teaspoon salt, 1/4 teaspoon pepper and 2 teaspoons olive oil in a small bowl.

Spread ricotta mixture on top of the flatbreads from edge to edge. Top with grape tomatoes, shaved Parmesan cheese and half of the mozzarella cheese.

Place flatbreads directly on oven rack with baking sheet on rack beneath (to catch drips). Bake for 10-12 minutes or until bread is crispy.

While flatbread is cooking, toss arugula with truffle oil, 1/4 teaspoon salt and a pinch of pepper in small bowl.

Remove flatbreads from oven and top with remaining mozzarella cheese. Add arugula. Drizzle with balsamic glaze (optional).

Cut into desired number of slices, enjoy!
Notes
Servings: 2 Adapted from Home Chef