Collection of the best childrens tea sets for the modern home. Includes wooden, tin and eco friendly tea sets for kids and toddlers. All available on Amazon Prime!
Childrens Tea Sets
My daughter was 18 months old when she started to ask me to fill up her tea cups with water, her with a smile and happily slurping it down (and then immediately asking for a refill). She saw Mom drinking tea every morning and afternoon, so when she wanted to be part of my daily rituals, I welcomed it. I'm pretty excited that in a few years I'll finally have a tea house partner!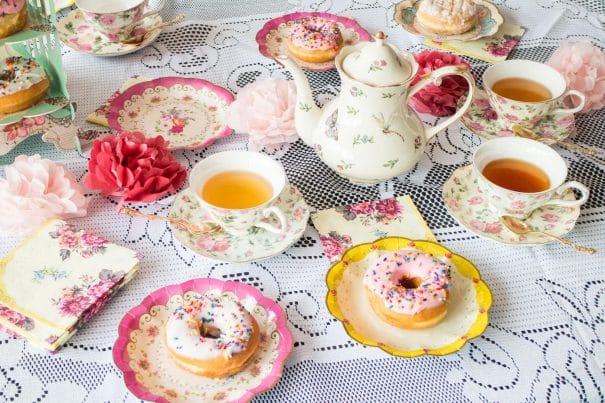 Check out my guide on how to throw a tea party!
For now though, tea parties exist in our house, usually on a cozy blanket or her play table. When I was searching for her first tea set, I wanted to get her something special that would last over time. In my heart, I hope that in 20 years, she finds her tea set hidden in storage and I get to tell her stories of how we used to have tea parties, together, with her stuffed animals, and they would just make my day!
Modern Tea Sets for Children
But here's what else I wanted for her special tea set: I didn't want it to be plastic junk. I wanted it be modern looking. I wanted to skip the Minnie Mouse prints and go for something that we'd actually use in our kitchen. We live in a open loft in NYC, so all toys are always on display, so for that reason we try to keep toys limited and away from too much plastic (now if only those Grandparents would listen…!).
So without further chatter, here's my list for the best chilrens tea sets!
This stainless steel teapot set comes with 14 pcs of accessories, including 1 teapot, 4 cups, 4 spoons, 4 saucers and 1 sustainable carrying caddy with spoon holders and cup hooks.
Wooden Tea Sets
This Melissa & Doug wooden tea set includes teapot with lid, 2 cups, 2 spoons, sugar bowl, milk pitcher, 6 assorted teas in tea caddy, 2 cookies, and dry-erase order card.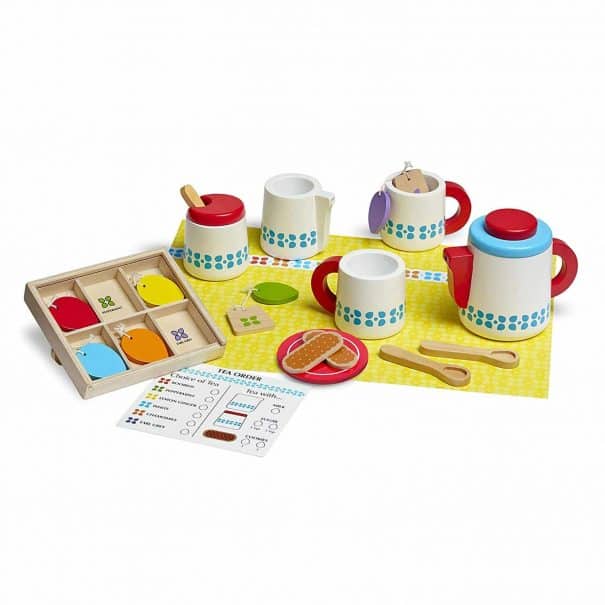 This qualtity wood constructed tea set for 2 from Hape comes with tea pot, cups, tray, and more. We have a few Hape toys and they're all very durable.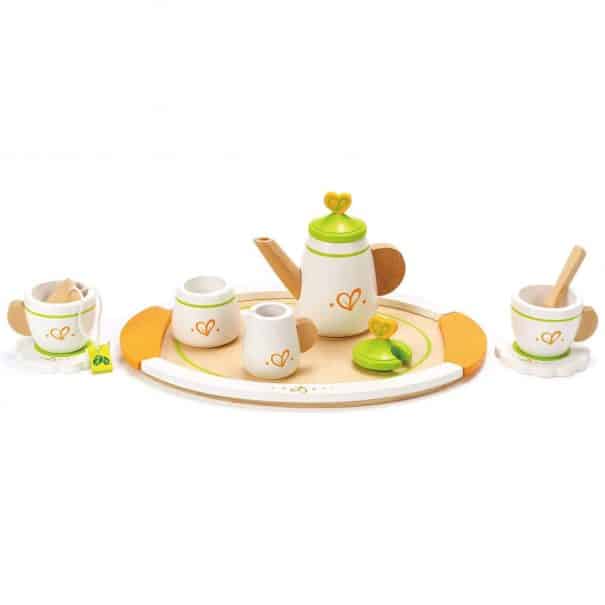 Tin Tea Set
This wiggly bug friendly tea set includes a carrying case that includes 14 piece kids tea set including; cups, saucers, plates, a tea pot and a serving tray.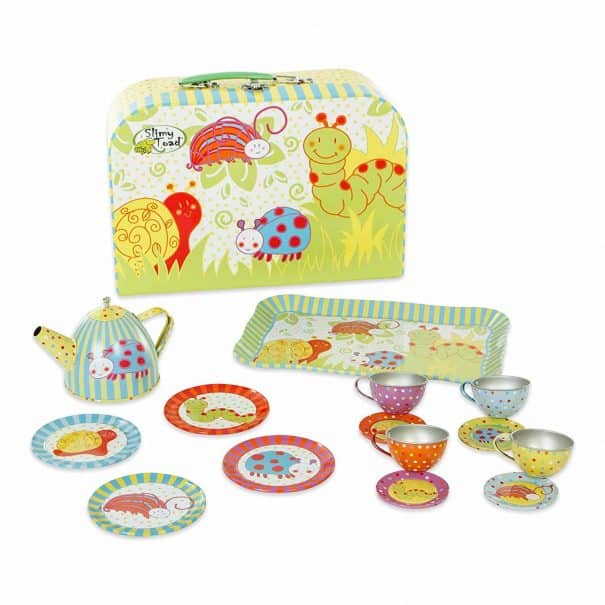 This forest animals tea set includes a tea set for 4. Each saucer features a different forest friends a Dear, owl, fox and bunny. The cups feature different forest finds like acorns, strawberries and flowers.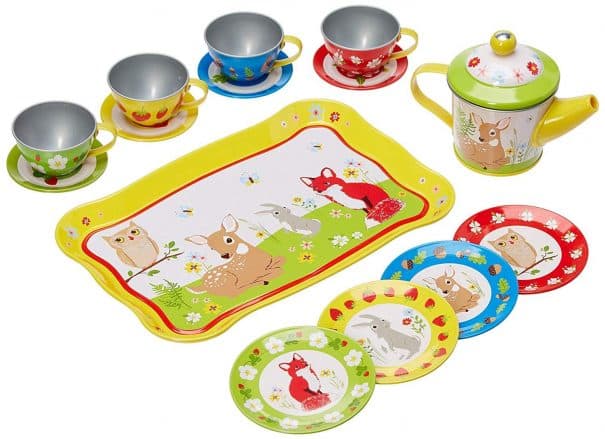 Porcelain Tea Set for Children
These are for older children who won't throw their cups and plates. 😉
This adorable butterfly tea set looks just like what Mom has! This miniature porcelain tea set includes 1-Teapot and 1 Tray, 2 Teacups & Saucers, 1 Creamer & Sugar Bowl and 1 tray.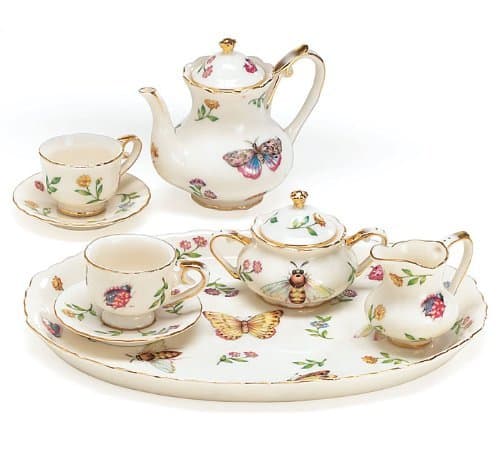 This porcelain safari tea set includes everything you need for a afternoon tea party! Set includes tea pot with silicone lid and base, sugar bowl with silicone lid and base, creamer with silicone base, and two tea cups with saucers and nonslip silicone bases so that the tea set is well protected for years of enjoyment.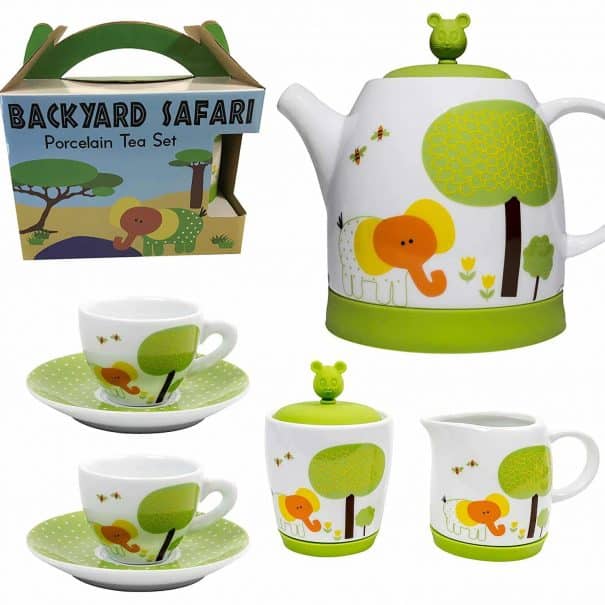 Green Toys Tea Set
I know I said no plastic but I consider Green Toys kinda a exception because their toys are made with 100% recycled plastic and contains no BPA, phthalates or PVC; safe for earth and your child. This Green Toys tea set includes 17 pieces including a tea tea pot, sugar bowl with lid, tea cups and creamer, saucer and utensils.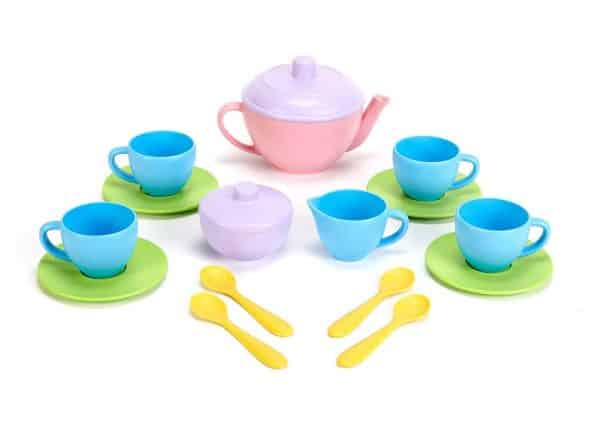 Hope you enjoyed this collection of childrens tea sets!
Looking for more childrens post? Check out my Monster Crafts and Outer Space Crafts!