EASY to make zucchini tots recipe that your family is going to love – even your picky toddler! These healthy nuggets are ready in less than 20 minutes total and are 136 calories a serving. Low carb and keto recipe!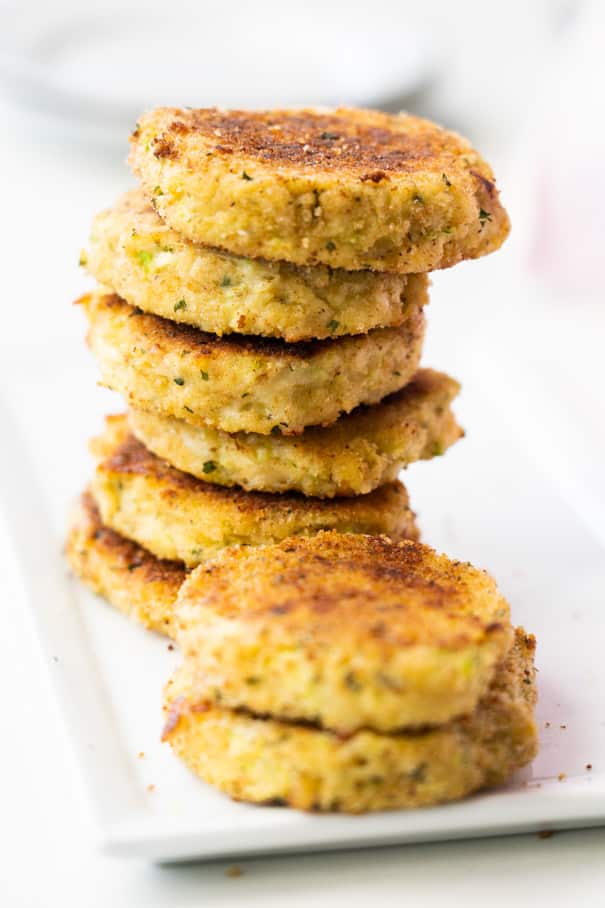 Zucchini Tots
This weekend I had 3 gorgeous zucchini squashes sitting in my refrigerator. What should I do with them? I thought about muffins, I thought about zucchini cookies, but I didn't want to make something sweet – I wanted my zucchini savory. Always thinking of how to bridge the gap for family meals between adults and toddler approved I made these Shredded Zucchini Tots.
You guys, these are SO GOOD. How good are they? Well let me tell you. They're so good I'm thinking about growing zucchini squash in the garden this year JUST so I can make these tots!
Easy Toddler Recipes – even for picky toddlers!
My toddler daughter is my official taste tester, not because I gave her this job, but she gave herself this job because she's hungry all the time. I swear she can be in another room, and I can be tip toeing around in the kitchen, but somehow she knows Mama is cooking and suddenly I hear the pitter patter of her feet rushing to the kitchen.
I gave her half of a Zucchini Tot, and crossed my fingers. If she liked these, these would be great to add to her menu because they're loaded with zucchini (2 and 1/4 cups to be exact). I watched her walk away, nibbling on the tot. Ok, she didn't look back at me yet and glare and throw it on the floor. So far, so good.
Then she climbed up on the couch. Ok, I don't love her eating zucchini tots on the couch without a plate, but I'm going to pretend I don't see this. She continues to nibble. I take a few more secret glances at her. I turn my back to start loading the dishwasher, and then I hear her feet running into the kitchen. UH OH.
But wait – this is not an aborted mission! She does not run into the kitchen crying out, instead she's excited! She smiles! "MORE!" she demands. Wait. My toddler is asking for more zucchini? I believe I can hear angels singing. I give her another half. She runs off happily. Now I'm really happy too!
Zucchini Squash Recipes
This recipe calls for 2 and 1/4 cup zucchini squash. Depending on the size of your zucchini, this will probably be 2 or 3 zucchini. We need shredded zucchini for this recipe, so the first step is to peel them.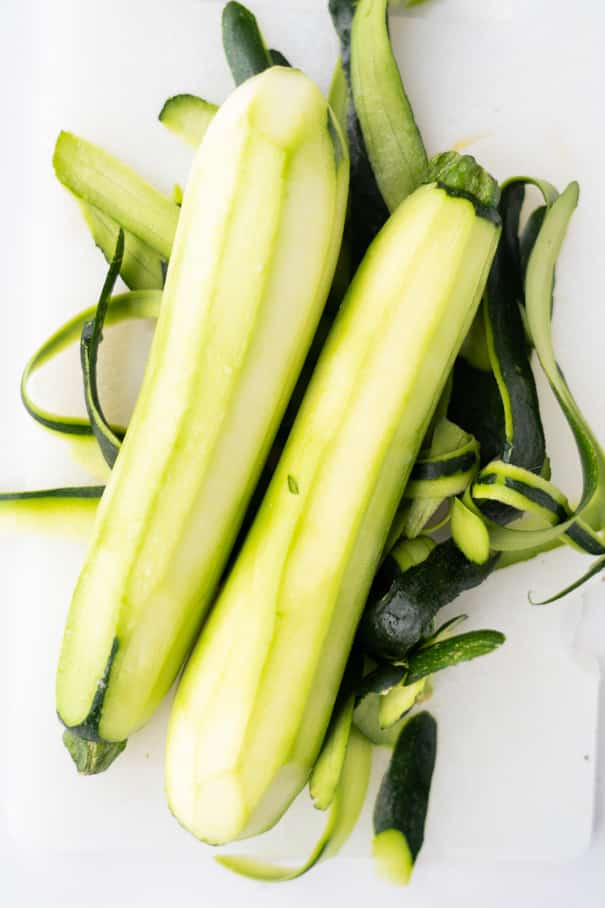 How to grate zucchini
Using a grater once the zucchini is peeled, just run it up and down the grater a few times. Grating zucchini is a pretty quick and easy job, not taking long at all. This will provide you with enough shredded zucchini in less than a minute!
How to remove water from zucchini
Zucchini has lots of water in it, which isn't what you want when you're baking zucchini bread or making these tots. After the zucchini is shredded I add it to a colander and press down firmly with my hand. I will do this a few times, tossing the zucchini around, until I don't feel much water being removed any more.
As you can see with just a few presses, there was quite a bit of water in the zucchini that I got out. This would cause our zucchini tots to be too soft and not firm up, so please make sure not to skip this step!
How to Make Zucchini Tots
In a bowl add shredded zucchini, beaten eggs, all purpose flour, Italian bread crumbs, salt, shredded mozzarella cheese and Parmesan cheese together. Use a spoon to mix all the ingredients together.
Add a little bit of extra Italian bread crumbs to a shallow bowl. Roll your zucchini into a tot, and then add to bread crumbs, coating it on both sides. This is going to help brown up both sides.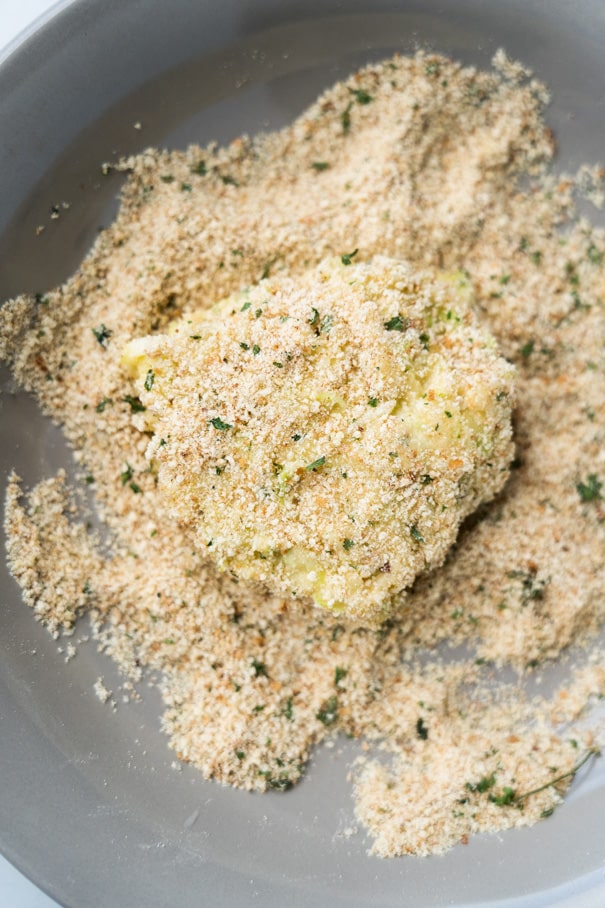 Add olive oil to a frying pan and cook these zucchini tots over medium high heat, until they're browned on both sides, around 3-4 minutes on each side.
Continue to fry them until all the mixture is gone, this usually gives me 2 batches in the frying pan to cook. And just like you have a gorgeous stack of zucchini tots to eat!
Vegetarian Nuggets
These Zucchini Tots remind of me chicken nuggets, but without the meat. My daughter likes to call them veggie nuggets, and her lunch box always comes home empty when I pack them for her for daycare, which makes me very very happy.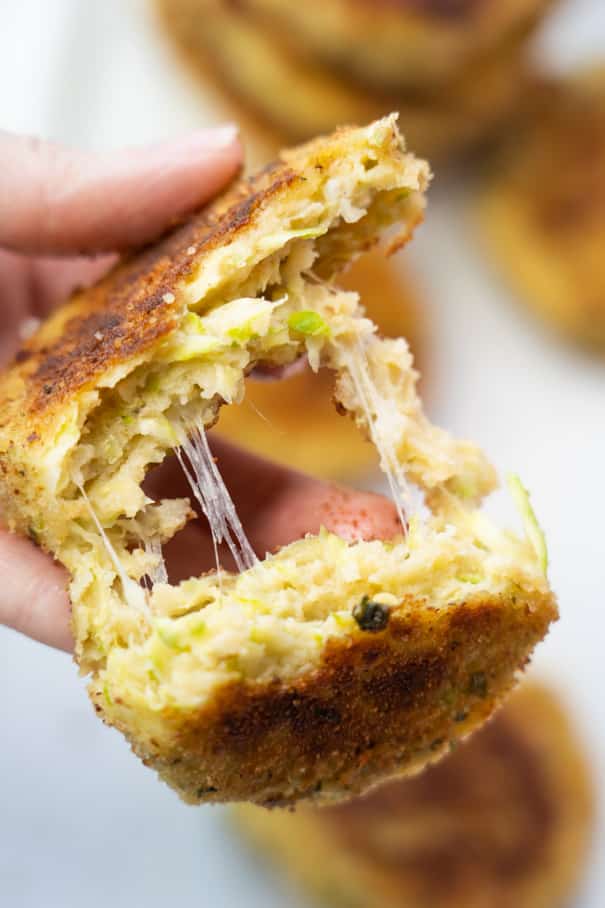 Because these are made with cheese that melts beautifully inside, rip one of these zucchini nuggets in half and you'll fall in love!

How to Eat Zucchini Tots
In my opinion there's 2 ways to eat zucchini tots. You can eat them as is – they're tasty just like that. Or you add a little bit of tomato sauce on top of each – that's my family's preferred method. The tomato sauce gives them a slight Italian taste, it's almost as if you're eating a Italian rice ball.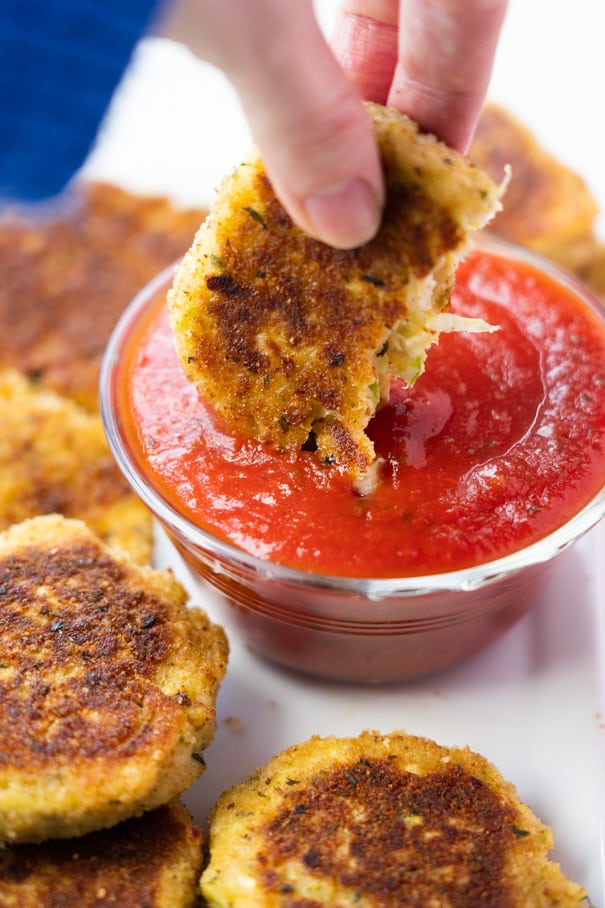 Freezing Zucchini Tots
I often will make a double batch of these, one to eat for dinner, and one to freeze. These make for a quick weeknight meal if my family is in a rush (when aren't we in a rush?), or I can easily defrost these for school lunches. To freeze them just stick in a freezer safe bag, and then throw in the microwave for about 20-30 seconds to defrost and heat.
More Recipes You Might Like:
Veggie Nuggets
Zucchini Saute
Roasted Eggplant Soup
Sweet Potato Cookies
Glazed Zucchini Bread
Zucchini Cookies
Pin for later: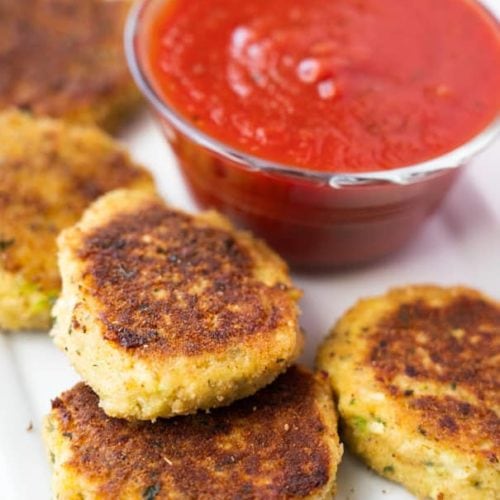 Shredded Zucchini Tots
Print
EASY to make zucchini tots recipe that your family is going to love – even your picky toddler! These healthy nuggets are ready in less than 20 minutes total and are 136 calories a serving. Low carb and keto recipe!
Prep Time: 10 minutes
Cook Time: 8 minutes
Total Time 18 minutes
Ingredients
2 1/4 cup shredded zucchini
2 eggs beaten
1/2 teaspoon salt
1/2 cup all purpose flour
1/4 cup Italian bread crumbs
1/2 cup shredded mozzarella cheese
1/2 cup grated Parmesan cheese
2 tablespoons olive oil
additional bread crumbs to roll tots in
Instructions
Peel and shred zucchini using a grater. Since zucchini is high in water, place in colander and press on it, to remove the excess liquid. Place shredded zucchini in bowl.

Add beaten eggs, salt, flour, bread crumbs, mozzarella cheese and Parmesan cheese. Mix completely with a spoon.

Add olive oil to frying pan and heat over medium high heat. Shape zucchini into nugget/tot shape and roll around in additional bread crumbs to cover. Add tots to frying pan and cook until brown, usually 3-4 minutes on each side.

Serve immediately as is, or my family loves them with a little bit of tomato sauce. You can also make a double batch and freeze them.
Nutrition Information:
Calories: 136kcal (7%)