Homemade pumpkin mac and cheese made with pumpkin puree and shredded cheddar cheese. This easy baked pumpkin mac is the ultimate comfort food with a total cook time of 30 minutes!
Few American dishes are better known than traditional macaroni and cheese. It's an easy recipe we all know and love.
So if you're excited about pumpkin spice and all things pumpkin in the fall months (or year round), you'll love this creamy pumpkin mac. Each bite is filled with tender elbow noodles covered in a creamy cheese sauce with pumpkin flavor. It's rich, savory, and slightly sweet with a touch of spice!
The Best Pumpkin Mac and Cheese Recipe
Pumpkin mac and cheese is the perfect mac for pumpkin lovers, but most importantly for mac and cheese lovers. The pumpkin cheese sauce contains pumpkin puree, shredded cheddar cheese and a pinch of nutmeg. The top is crispy because who doesn't love crunchy elbow noodles covered in melted cheese? Yum!
To note because I know not everyone is a pumpkin lover, my husband isn't a big pumpkin fan, but he happily eats this dish because the pumpkin taste is subtle. So if you want a dinner that will make everyone happy – try this recipe!
Homemade pumpkin puree will make it extra special (and great for saving those pumpkins!), but if you're looking to save time, a can from the grocery store works too.
How to Make Pumpkin Mac and Cheese
Make elbow pasta, drain, and place in baking dish.
In a saucepan, melt butter and stir in flour and then add milk. Bring to a simmer until thickened. Stir in salt, black pepper, ground nutmeg, and mustard.
Next, add in the pure pumpkin puree and cheese. Stir until melted.
Pour the cheese mixture on top of the pasta in baking dish and mix to fully coat the noodles.
Bake, remove, serve, and enjoy your creamy mac!
Storing/Reheating Leftovers
Refrigerate: Store leftover pumpkin macaroni in an airtight container and in the refrigerator. If stored properly, homemade pumpkin mac and cheese can last up to three to four days.
Reheat: To reheat, preheat the oven to 350 degrees F. Place the pumpkin mac and cheese baking dish into the oven when preheated and bake for 20 minutes. You may take it out sooner or later if you notice it begins to bubble.
What Cheese Goes Well With Pumpkin?
For this pumpkin mac and cheese, I suggest going with classic cheddar cheese (shredded is best) so you don't lose the classic flavor of a traditional mac and cheese dish. As always, I think thick cut shredded cheese melts the best!
What Pasta Do I Use For Homemade Macaroni and Cheese?
For this recipe, I use a classic elbow macaroni. However, you can use a shell or bowtie pasta if you already have them on hand. You can also use cavatappi, which is a type of macaroni known for having lined dips or ridges along the noodle. Whichever you choose, the flavor is in the sauce!
Can I Add Breadcrumbs on Top?
Yes, before baking you can add panko bread crumbs to the top of your mac and cheese once it's inside the baking dish and before it goes into the oven. This will give it another element of texture—each bite includes an extra crunch. However, I prefer to keep this dish as is since there is already a lot of grain included in the noodles!
More Delicious Pumpkin Recipes
If you can't get enough pumpkin flavor, check out the other pumpkin-based recipes on Brooklyn Farm Girl. There are plenty to choose from!
Pin for later: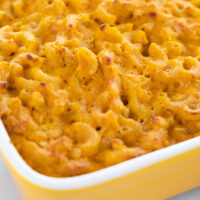 Pumpkin Mac and Cheese
Print
Homemade pumpkin mac and cheese made with pumpkin puree and shredded cheddar cheese. This easy baked pumpkin mac is the ultimate comfort food with a total cook time of 30 minutes!
Prep Time: 10 minutes
Cook Time: 30 minutes
Total Time 40 minutes
Ingredients
2 cups elbow macaroni
1/4 cup butter
2 tablespoons flour
2 cups milk
1/2 teaspoon salt
1/2 teaspoon pepper
1/4 teaspoon nutmeg
1/2 teaspoon ground mustard
1 cup pumpkin puree
2 cups shredded cheddar cheese
Instructions
Heat oven to 350 degrees F.

Make elbow macaroni according to the package. Drain pasta and pour into a 9×9 baking dish.

In a medium size saucepan, melt the butter over medium heat. Add flour and whisk until smooth. Stir in milk, a little at a time and continue to whisk until thickened. Add salt, pepper, nutmeg and mustard and stir.

Add in pumpkin puree and shredded cheese, stirring until cheese is completely melted.

Pour pumpkin cheese sauce on top of pasta in the baking dish, stirring to completely coat the noodles.

Bake for 30 minutes or until bubbly and cheese is golden brown. Enjoy!
Nutrition Information:
Calories: 293kcal (15%)