Enceladus isn't a great sleeper during the day, she only takes 45 minute naps (at night is another story – more about that in a future post!). The only way I can get any work done during the day is by wearing her or putting her down. But I can't put her down anywhere, she's extremely picky about her sleeping arrangements and will let you know it! Her favorite? The DockATot! Does your baby love napping with DockATot too?
Doesn't she look comfortable?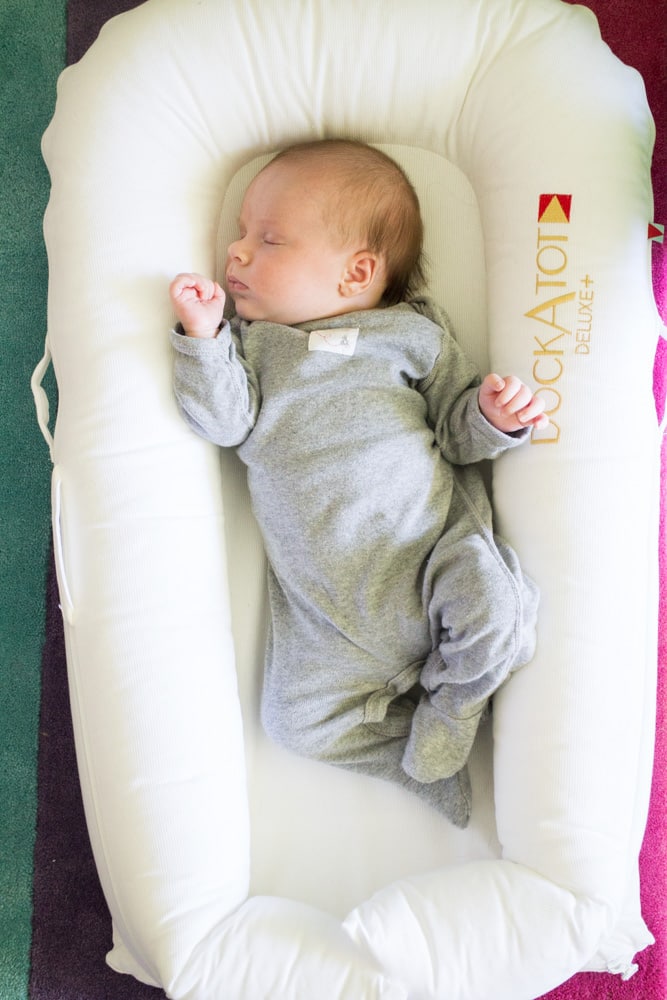 Since we were expecting Enceladus I had my eyes on the DockATot! So many parents gave rave reviews that this solved all their sleep issues so I had to get one! What I was most excited about was that this could be traveled with. Unlike so many other loungers, this was light, didn't need to be plugged in and can be carried with one arm (really important!).
Enceladus took her first trip Upstate to the garden last weekend and I was so worried about what to bring for her to sleep in. The DockATot lets me not go overboard with a bunch of different beds and chairs, all I need is one thing that I can throw in a bag and go! We will be making a trip later this month to Maine and I'm thrilled to know that this is the only bed that I'll have to bring for her!

Right now we're using the DockATot Deluxe which is perfect for 0-8 months. Once she grows (which she's doing quickly) we'll upgrade to the Grand which will last her until 36 months. The DockATot is handmade in Europe, all natural 100% cotton and tested for breathability. Doesn't it look so soft with her cute little toes? Throw your foot up if you are comfy Enceladus!

It functions as a co-sleeper and lounger so it does everything you need, especially when traveling! When traveling Upstate to the garden I was also worried about it being too hot for her but the micro-climate is perfect for babies and tots.
Seriously, look at how comfortable she looks!

We have the DockATot in white, but we also got a backup cover because accidents happen (often! How does baby have so much laundry?!).
Even though Enceladus is only 1 month old (can you believe it?) and doesn't exactly "play" much, she loves black and white contrast objects so I was excited to learn that DockATot has arches and toy sets that you can attach to it! Now her lounger can turn into a play gym too! How cute are her "Fuzzy Pals" dangling toys?

So get comfy Enceladus and nap the afternoon away! But watch out… there's some dinosaurs behind you! 🙂