A little Halloween hello from my clown family to your family!
You know we can't resist a reason to dress up, so we had to break out the clown costumes and makeup!
Enceladus's schedule included a few Halloween events happening over the past week, so I was pretty happy when she announced she wanted to be a clown witchy. What is a clown witchy you ask? Well it's a clown who rides a broom. I thought it was brilliant when she told me!
A few years ago Matthew and I directed a film that took place in a vintage inspired carnival, so let's just say that we have a few clown costumes in our closet. Actually that's a understatement. We have totes filled with clown supplies in storage so it was nice to take a trip down memory lane and go through all the old costumes. Enceladus loves playing dressup, so she was ecstatic to help us pick out all our costumes, while trying everything on.
How to Be a Clown Family
Get clown costumes. I'd skip Amazon and department stores, but instead look for vintage clown costumes on eBay, Etsy or your local thrift store. This might actually save you money, and your costume is going to look a lot more authentic. Don't forget the accessories, like colorful socks, a hat with a jingle ball and some big pom pom balls (get crafty if you can!).
Every clown needs clown makeup. I recommend a quality makeup like Ben Nye or Mehron in "clown white" that you can apply with your fingers or a sponge. Add a white powder on top to set it. Now let the fun begin – add some color on your cheeks, mouth and eyes! For this, I like to google inspiration photos of vintage clowns. PS. Makeup remover is the best way to remove clown makeup!
Now time to clown around! Go to a party and make people smile! Make sure to take a picture of your clown family too!
All of our clown costumes are vintage, worn by real clowns at some time. My dress says ALICE, and was worn by a clown named Alice in Forth Worth, Texas. There's a little bus patch on the dress that says Fort Worth, I wish I knew her whole story! I'm sure she made some kids very happy in the past!

When you live in NYC, you need to walk to and from your destination. There's no jumping in your car and remaining hidden with your costume on, so I hope our clown family caused some smiles on the street. We got quite a number of cheers and picture requests, so I think we did a pretty good job at making peoples days a little brighter.
A man chased us down and gave Enceladus $2 because he thought she was such a good little clown. Enceladus took it and bought a big bag of popcorn with it at the Halloween festival.
I love these 2 clowns. 🙂 Now if only we could dress up Xanadu, Goblin and Toes as cat clowns too! Maybe next year!
Hope you guys liked our Clown Family Halloween pictures, but now it's time to go because being a clown is exhausting!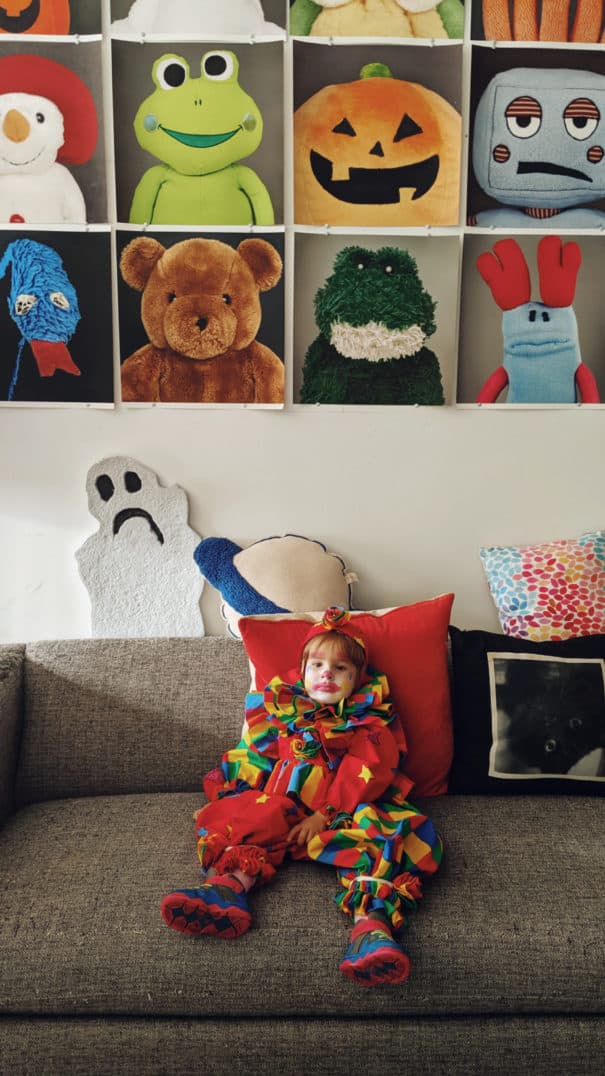 Love,
Pamela