Lunch Ideas In Mason Jars to Clip Money!
This shop has been compensated by Collective Bias, Inc. and its advertiser. All opinions are mine alone.
I work from a mixture of at home and a mixture of our shared work space. The work space is only about a 10 minute walk away which is great because it's close enough that you can get home quickly if a storm is coming but yet it's far enough from the cats to actually get work done. It's so hard to get work done when you have 4 pretty kitties crawling all over you! Meow! In the last few weeks I have been spending most days at our work space but there's been one thing bugging me about it – lunch! If you're a person who loves to cook (you probably do, you're here!) then you probably hate buying take out. We have been getting sandwiches almost every single day from this place across the street from our space but that is easily $10-$20 a day! I love saving money so I have been exploring some new apps on my phone to clip lunch time savings!
So I started going to the store once a week to stock up on lunch supplies which has been saving me so much money! It also has made me obsessed with Mason Jar lunches. They are just the perfect lunch time choice. They also look pretty cute. Mason jars work great because it's a vertical layered lunch. Instead of mixing it together like a salad, you stack it together. This allows you to keep some vegetables inside more crunchier instead of wilting at the touch of a salad dressing. I also love how quick it is to make a Mason Jar lunch. I can make the entire weeks worth in 30 minutes. Because you are packing all the ingredients together in the jar you are keeping the vegetables fresher longer.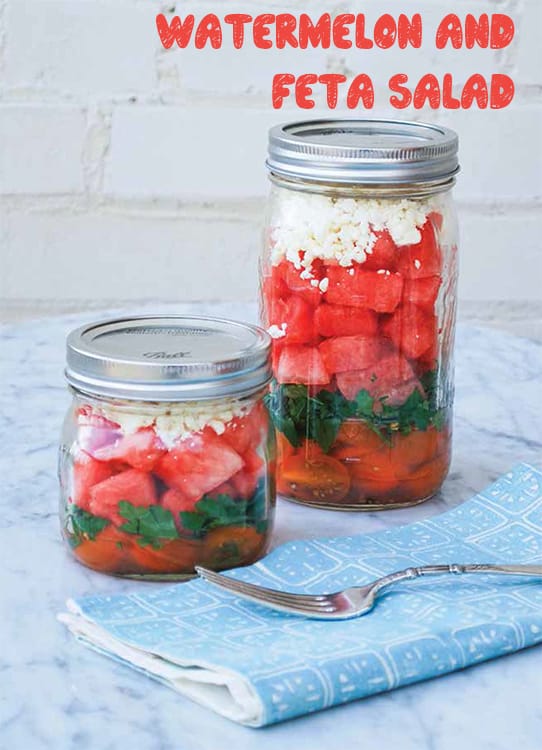 Watermelon and Feta Salad
Ingredients
2 to 3

tablespoons

Sherry Vinaigrette

1

cup

halved cherry tomatoes

⅓

cup

roughly chopped fresh parsley

2

cups

cubed seedless watermelon

2

ounces

crumbled feta cheese

1

pint-size Mason jar
Instructions
Layer the salad ingredients in the Mason jar, starting with the vinaigrette dressing and continuing with the tomatoes, parsley, watermelon, and feta cheese, in that order. Seal the jar and refrigerate until ready to use.
Caprese Salad
Ingredients
2

heirloom tomatoes

8

ounces

fresh mozzarella cheese

4

tablespoons

Balsamic Vinaigrette

6 to 8

fresh basil leaves

2

pint-size Mason jars
Instructions
Slice the tomatoes and the mozzarella cheese horizontally into ¼-inch rounds. Place 2 tablespoons of vinaigrette in the bottom of each Mason jar. Starting with the tomatoes, layer the salad — tomatoes, mozzarella, and basil leaves — repeating the layers until the jar is full. Seal and refrigerate until ready to use.
Green Bean and Feta Salad
Ingredients
3

cups

green beans

2½

tablespoons

Balsamic Vinaigrette

¾

cup

halved cherry tomatoes

¼

cup

thinly sliced shallots

6

or 7 basil leaves

2

ounces

crumbled feta cheese

1

quart-size Mason jar
Instructions
Trim the ends from the green beans; cut the beans in half crosswise. Bring a pot of water to a boil over high heat (don't salt the water), add the beans, and boil for 5 minutes. Transfer the beans to an ice-water bath for a minute to stop the cooking process and preserve their color. Drain. When the green beans have cooled, layer the salad ingredients in the Mason jar, beginning with the vinaigrette and continuing with the tomatoes, shallots, cooked beans, basil leaves, and feta cheese. Seal and refrigerate until ready to use.
Southwestern Salad
Ingredients
3

tablespoons

Lime Vinaigrette

½

cup

black beans

rinsed and drained

½

red vine-ripened tomato

diced

¼

red bell pepper

diced

¼

yellow bell pepper

diced

½

cup

diced avocado

optional

½

cup

corn kernels

fresh or frozen

2

cups

mixed salad greens

1

ounce

Cheddar cheese

grated

1

quart-size Mason jar
Instructions
Start by pouring the vinaigrette dressing into the Mason jar. Then layer in the black beans, tomato, bell peppers, avocado, and corn. Finish with the salad greens and, finally, the Cheddar cheese. Seal and refrigerate until ready to use.
These recipes come from the new amazing cookbook
Mason Jar Salads and More:
50 Layered Lunches to Grab and Go by Julia Mirabella. The book is 160 pages full of different ideas to pack your mason jar and go! It shows you how to create fun and easy layered lunches, snacks and more. This book will inspire endless on-the-go meal possibilities with its 50 recipes and gorgeous full-color photos. If you see it in a bookstore, check it out!
I have to tell you guys about the Walgreens Mobile App. I'm kinda obsessed. Why? I went to Walgreens on Friday and I saved $10! If I didn't know about the app I never would have saved $10. I browsed the app before I went to the store to see both Walgreens in store sales as well as brand coupons so I already had a idea of what could save me a few dollars but there was also a few surprises at the store. Pasta and salad dressing was on sale!? Well if that's not just perfect for some Mason Jar lunches I don't know what is! I loved the idea of clipping paperless coupons as I browsed the aisles. I think my new hobby is going to be walk the aisles of Walgreens to see how much I can save. Next week I'm hoping it's $11!

The way that it works is that Walgreens Paperless Coupons are manufacturer eCoupons that you clip straight from the app to your Balance Rewards account. You scan in your Balance Rewards Card straight to the App (by taking a picture of it) and then at checkout you simply just scan your card as usual. All the coupons that you clip on the App are automatically transferred to your card. It's like magic. Magic that saves you dollars and dollars! Each paperless coupon can only be used once, after that it will be deleted from your coupon list. I remember that my mom would sit down every Sunday and cut coupons from the weekly newspaper with scissors so I love the nostalgic of a good value but with new technology.
#WalgreensPaperless #CollectiveBias
Do you guys have any tips on how you save money with your lunch?
Do you usually pack a lunch or buy it?