Find out what's growing in our Brooklyn Community Garden space in June! We have a update on peas, tomatoes, onions, kale and peppers!
Hey everyone! Hope you had a great weekend! Ours was a hot one, with temperatures on the rise! We stopped by our Community garden space to check on our vegetables and I decided to take some photos to show you a update!
If you missed it, we decided to go back to our roots (no pun intended!) and grow in Brooklyn again this year. The last 2 years we grew Upstate, but the heart was heavy for urban city farming again!
This is our 4×4 garden space, with a little expansion with our sub irrigated containers! Like everything in the city, we use every inch of space we can get!
Happy Baby!
And here's one happy baby who's already trying to nibble on my kale and drag the hose around! A big reason why we decided to garden again in Brooklyn was to show her how fun it is to grow your own vegetables in the city!

First Sugar Snap Pea Spotted!
First up, let's look at what's growing up our pea fence! The peas aren't going to grow as tall as we hoped as we had a bird issue! This is the first year that birds swooped down to eat our peas! This sadly stunted their growth!
We covered them in fabric after a few days of bird chomping, but the damage was already done! Matthew is pretty bummed they won't be growing tall, but I'm thankful they're growing at all as some of our fellow community garden members peas didn't fair as well!

The peas did bounce back some and we just spotted our first sugar snap pea this weekend!

The tomatoes have exploded to new heights! It's not even the end of June and we're thinking we might have to double up their tomato cages!

My favorite, the kale, is doing beautifully. This past week we started picking kale, and I've been eating it for lunch everyday (kale and potatoes!).

To be honest, I am kind of kale obsessed, so I'm thinking next year we might need a entire box of kale just to withstand my hunger!

Next to the kale is the onions. They look great!

Outside of the box we have 2 window boxes filled with carrots. It's been very hot the last few days so during midday the carrots were looking a little floppy, but they will bounce back.

Next to the tomatoes we have a few bell pepper plants growing. Some years they grow great, some years they grow small, I'm hoping we'll have a nice green pepper harvest in August!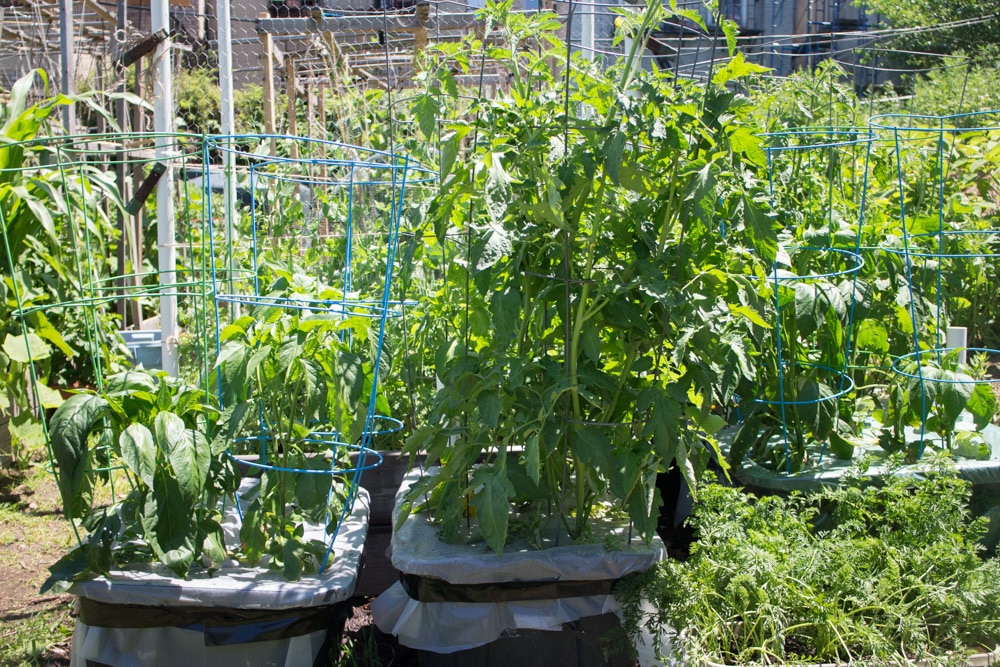 I hope you liked seeing what's growing in our Community Garden right now! I'd love for you to tell me in the comments what you're growing!
See you soon, but for now it's nap time in the garden…!