This is Halloween Week!
Halloween, Halloween, Halloween, Halloween!
La la-la la, Halloween! Halloween!
Boys and girls of every age
Wouldn't you like to see something strange?
Come with us and you will see
This, our town of Halloween!
The Nightmare Before Christmas is one of the best soundtracks, right? I'm glad you agree too!
October is my favorite month and even though I'm sad to see it go in just a few days, it ends with the best holiday! What's not to love about Halloween? You get to dress up, you get to be imaginative, you get to decorate with pumpkins all over your house, and noone looks at you weird at a parade when you knock over a kid to get that lollipop they threw out of that Halloween float.
I'll be doing 2 fun Halloween posts this week – this delicious dessert and our Haloween adventure we had at Disney World just a few days ago! Stop by for that on Halloween!
Now on to the Halloween Oreo Pudding! It's made up of the 3 of the best words.
Halloween – yes.
Oreo – yes please.
Pudding – oh goodness yes.
These little pudding cups are the perfect Halloween treat for dessert for adults and kids. They would be a hit for just you, for your family and for all the neighborhood kids.
To start with, we're using 18 Oreo cookies. Which automatically makes this swoon worthy. Don't ask me how many extra Oreos I ate. Don't ask. Please. Ok. 6. I lied. 7.
Then we need our vanilla pudding. To turn it extra spooky we're going to make it orange. Orange isn't a common color in food coloring sets so to get it use 2 dots red + 3 dots yellow dye.
Then swirl a little bit and watch it turn into a lovely orange..

The perfect orange color for our pudding!

After it sets a few hours, then you're ready to enjoy these cups! You could totally just spoon this into bowls but I love serving it Halloween cupcake holders with a cute little Halloween decoration on top.

I love this time of the year where you get to buy eyeball and skeleton cupcake toppers!

I made these for us and they lasted for 2 desserts and some snacking. It hit the Halloween sweet spot perfectly.

So go on and spook it up and enjoy your Halloween Oreo Pudding!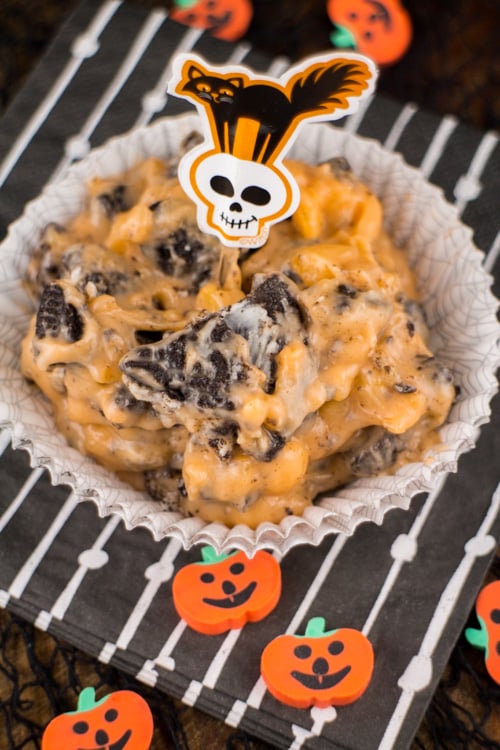 Halloween Oreo Pudding
Print
Ingredients
3 oz box of vanilla pudding
2 cups milk
Orange food coloring If you don't have orange: 2 dots red + 3 dots yellow
18 Oreos - broken up into pieces
Instructions
Put vanilla pudding and milk into saucepan and bring to a boil, stirring constantly.

Take off heat and add food dye, stirring so combined.

Put in refrigerator and let set.

After 3 hours, remove and add broken Oreo pieces, stirring so combined.

Serve in individual cups.
Hope to see you at my Halloween in Disney post later this week!