If you're anything like me, you might spoil your cats. My cats have heated beds, which doesn't mean anything because they sleep in bed with us. Not only do they sleep in bed with us, but I curl into a little ball so they can stretch out in the bed! During the day if they're sleeping on the couch I will sit on the floor because I don't want to disturb them! Occasionally they let me squeeze in between them on the couch for some good ear rubs!

So when it comes to dinner time, I only serve them the best! Meet Purely Fancy Feast Filets! AKA "My cats eat better than me!".


Purely Fancy Feast Filets are a new 100% natural way to feed and spoil your cats! They come in 5 varieties, Natural Chicken, Natural Chicken in a Tuna Broth, Natural Oceanfish, Natural Tuna and Natural Wild Alaskan Salmon. Doesn't each sound like something YOU would order at a restaurant?
And doesn't it LOOK like something you would order at a restaurant?

Come here Toes and Goblin! I have a surprise for you!
Toes's favorite Filets is the chicken! They're all made with 100% natural chicken and seafood, no artificial colors, flavor or preservatives, and no byproducts or fillers. It's food your cat is going to LOVE.

Here's the cool thing about Filets, you can serve them lots of ways! You can serve them whole, flaked or as a topper on some hard food. All the cats like when I serve it topped on their favorite chicken hard food.

And in typical Toes fashion, first she eats the Fancy Feast Filets!

They also love it served whole. Why does this look better than my own dinner? Why are my cats eating better than me? That's right, I love them!

As soon as Toes gets one whiff of the smell of a filet she starts meowing and pacing the apartment!

Please Mom, finish taking your photos! Hurry up already!

Finally, you can serve it flaked. Just shred it up on a cutting board and serve!

Goblin loves his Chicken Filets flaked on food, where he will use his little tongue to taste it all!

After eating his delicious dinner, I like to give Goblin a little hair brushing and then snuggle with him on the couch before he takes a nap.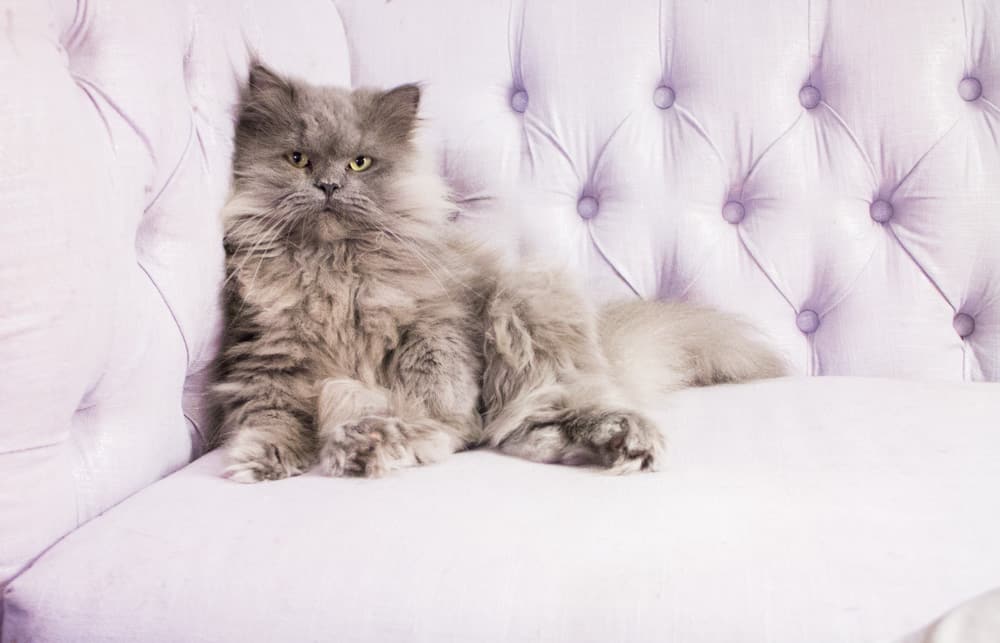 For more information on Purely Fancy Feast Filets, visit this link! If you have a cat, you have got to find these to spoil them!
This post was brought to you by the makers of Fancy Feast. I received compensation to write this post from Fancy Feast. All opinions expressed are my own.