Choosing the right bowl means knowing your cat. It also means making sure the bowl is full of the cat's favorite food. Because trust me, your cat will let you know. Your cat will also let you know if it's bowl is moved, the bowl is not the right shape or they want the bowl emptied so they can climb in.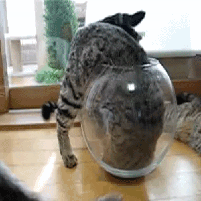 First can we talk food? If your FiFi Bofinkles you want to talk food all the time. That girl loves to eat, especially off a plate. Especially people food. Especially any type of food. She loves it all. She takes after her Mama.
Purina® Beyond® (@PurinaBeyond) is natural cat food with no corn, wheat or soy in it. It's also grain free which some owners who have cats with allergies will love! How special is this? It's the first natural pet food available at Walmart so I'm glad to see healthy options being available for everyone (every cat). Depending on the flavor you get real meat, fish or poultry is the #1 ingredient in dry and pate versions. It's also made with natural ingredients plus essential nutrients and contains no added artificial colors, flavors, preservatives or poultry by-product meal – what a great option to have, right? Immediately after bringing this home for my critters to try, I saw a difference in their fur in just a few weeks – it was more shinier and more fuller. They all adjusted to this food rather quickly (even though I did transition them) and we had no problems. If your cat has allergies or you notice them licking or sneezing more, you might want to visit the vet as soon as you can. It's possible your cat needs a grain free diet and this is one of the best economical healthy deals for grain free food.
And don't think it's only for cats Beyond® Simply 9, Beyond Superfood Blend and Beyond® Adventure Grain Free are all dog food options. For cat lovers that prefer wet food options (isn't that every cat?) there is Beyond® Pate cat food as well as Beyond® In Gravy cat food (cats love this) and for dry food try Beyond® cat food, Beyond® Superfood Blend and Beyond® Grain Free cat food. Does anyone else put cat food cans in their cats stockings for the holidays? Wait, your cat has stockings right? Good, mine too.
Because it's the holidays – I wanted to do a fun gift guide for my cat ladies (and cat guys) out there. We all buy our cat presents every year (I can't tell you what I bought mine this year because FiFi Bofinkles is on my lap right now reading this and she will tell everyone) so here are some food bowls that I love. Who says a cat can't eat in style?
All the cats will be jealous when they see your cat's food area with this. Actually I'm jealous of this stylish setup. Link to buy on Etsy.
I love this stoneware bowl, perfect for food or water. Link to buy on Etsy.
Every Siamese cat should have it's own Siamese Bowl. Siamese are the best. If you have a Siamese you already know because they rule you. Link to buy on Etsy.

I like to believe my cats can read, but in this case you have a pretty good chance that yours will look like they can too. Link to buy on Etsy.
I love these bowls because they are personalized and fun colors. You can choose one of these phrases or pick your own! Link to buy on Etsy.
And last but not least, one of my favorite bowls I've been eyeing up forever. You have to have humor with cats.. Link to buy on Etsy.
But always remember.. Cats are always right.