The coldness suddenly hit last weekend. One week it was fine with a thin sweater, then suddenly it's tights, long sweater, winter coat and hat.
One thing that comes with the Winter is lack of fresh fruits and vegetables. For us, the garden will still be growing a few vegetables under greenhouses, but there will be no peas, no corn and no carrots. Farmers markets will be closed, or only selling hearty greens. Grocery stores will have vegetables, but they won't taste fresh as they've been shipped and prices will raise. You'll suddenly see raspberries for $7 instead of the $1.50 you were paying in June. Oh and corn on the cob? If you're in a cold location, good luck seeing it until next Summer.
So how do you get your vegetables during the Winter? Here's what I suggest, frozen vegetables!
The University of California, Davis, in partnership with the Frozen Food Foundation, conducted a study that revealed that frozen fruits and vegetables are most often (or generally) nutritionally equal to – and in some cases better than – their fresh counterparts. For the study each fruit and vegetable was analyzed under the following conditions: frozen (analyzed within 24 hours of harvest and after 10 and 90 days of storage in a freezer) and fresh-stored (analyzed within 24 hours of harvest and after three and 10 days of storage in a refrigerator). Freezing fruits and vegetables is nature's pause button and an easy way to combat things like the cost of fresh produce, the cost of fresh 'out of season' produce and issues like fresh fruits and vegetables spoiling before you're able to prepare and eat them. Did I mention frozen vegetables are extremely convenient and affordable? Think frozen in Winter!
I usually bring my own lunch to our studio. Lately I've just been craving fresh food, I just don't want anything super hearty to weigh me down in the afternoon. I just finished a big bowl of warm broccoli, carrots and peas. Combined with a warm cup of green tea, I got the perfect lunch. The vegetables cost me $1.22. The meal warmed me up. It also made me feel great afterwards. Win, win situation.
Want some cold hard facts? Nearly 80 percent of Americans fail to consume the recommended amounts of fruit, with nearly 90 percent failing to meet dietary recommendations for vegetables. Fruits and vegetables are major contributors of essential nutrients in our diets, and consuming fruits and vegetables is associated with reduced risk of many chronic diseases. Given the increase in the rates of chronic diseases among all age groups, eating a diet rich in a variety of colorful fruits and vegetables is more important than ever. Again, think frozen!

You see those frozen peas up above? Throw them in a stir fry, a pasta, a soup, a slow cooker recipe. The possibilities are endless. Below I'm listing some of my favorite recipes using frozen vegetables. These are some of my year long staples, many of them being comfort foods that hit the right spot during the cold months.
Creamy Chicken Noodles – uses corn

Slow Cooked Tomatillo Salsa Roja Chicken Tacos – uses corn

One Pan Taco Casserole – uses corn

Easy Tamale Taco Soup – uses corn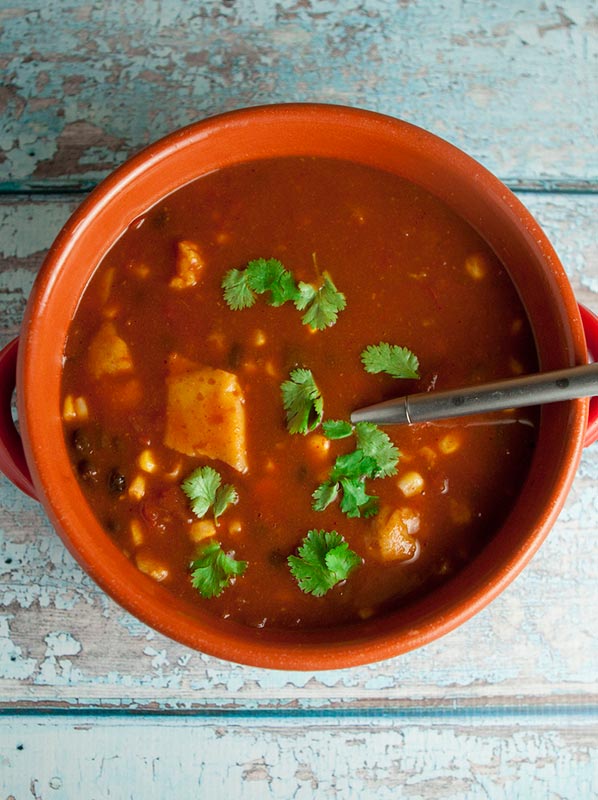 Creamy Cheesy Broccoli Soup – uses corn

Creamy Mashed Cauliflower – uses cauliflower

Homemade Chinese Pork Wonton Soup – uses peas
Chinese Fried Rice With Lettuce – uses peas