Happy Monday everyone!
First of all, do you have World Cup fever? I get so darn excited every 4 years. If you're from America, did you watch the USA vs Portugal game yesterday? Did you scream, yell, cheer, cry, then become confused why you are crying because after all tying Portugal 2-2 is actually ok? Yeah, me too. The game had so many ups and downs and the last 30 seconds.. oh man. I can't even talk about it! Let's get psyched for USA vs Germany on Thursday though! Here in NYC they have been showing all the World Cup games on a big screen under the Manhattan Bridge in DUMBO (part of Brooklyn). Being a Sunday evening, the game was packed with USA USA USA chanting fans. We went and it ended up being such a blast. Large groups of people cheering with positivity and little negativity (basically only when Ronaldo is on the screen) is always a good time.
Now let's talk Cold Peanut Butter Pasta Salad! I made this recipe for my favorite friends over at Peanut Butter & Co and I thought it was a perfect time to post it that it's now officially Summer! When it gets hot here I crave a cold dinner, so this pasta salad hits the spot! Peanut butter not only is a great ingredient in sweets, but you can also make savory dinners with it. In this make-ahead recipe, this chilled pasta salad includes peanut butter, fresh vegetables, noodles and spices. Because of the red pepper flakes, this salad has a good kick to it, so use 1-2 teaspoons depending on the amount of heat you prefer (I'm more of a 2 teaspoons girl myself). If you've never tried peanut butter and noodles before, give it a shot! It has become one of our favorite dinners.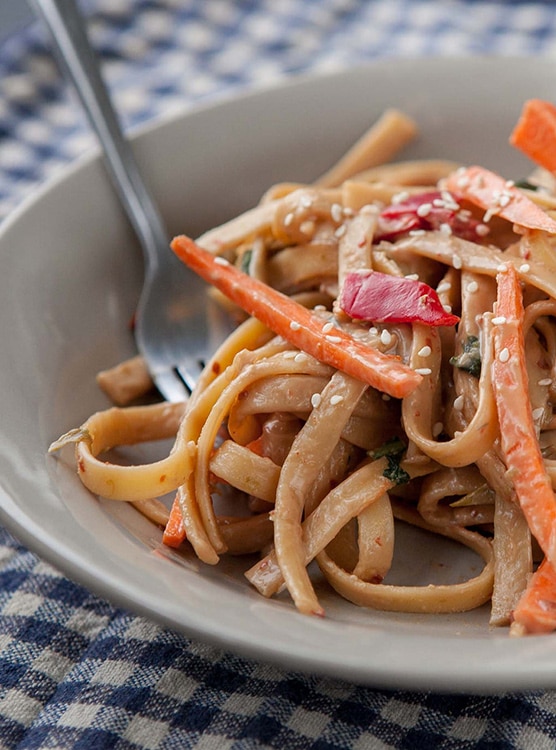 Check out the full recipe here.
Tell me in the comments:
Are you watching the World Cup?
Have you tried peanut butter in dinner dishes?
Wouldn't soccer games be more fun with cats in them?