Celebrating Xanadu's 11th Birthday with lots of cat food! Show your cats you love them by throwing them a birthday party feast! This is a sponsored conversation written by me on behalf of The J.M. Smucker Company. The opinions and text are all mine.
A few weeks ago Xanadu Pluto turned 11 years old. Oh my, 11 years old already…?! Is this what it feels like when suddenly your daughter asks to buy lip gloss on her 11th birthday? Heart break. I consider Xanadu my baby. We adopted Xanadu when she was 3 months old in 2006. At that time we were a 1 cat household (Essy was the only one) and we only lived in NYC for a year. We had no experience with Siamese cats, but decided after a visit we were going to bring her into our home. Matthew went and got her while I straightened up the house to await her arrival. I had everything ready for her – new toys, a new bed, cat food and plenty of treats. Why wouldn't she fall in love with her new family? When she arrived at our apartment, we took her to the bathroom for a transition period. Essy was outside the door listening as this new cat meowed her way out of the travel carrier. Have you ever heard a Siamese cat meow? It sounds just like a baby, and it's slightly terrifying when you hear it at first. I can only imagine what Essy was thinking!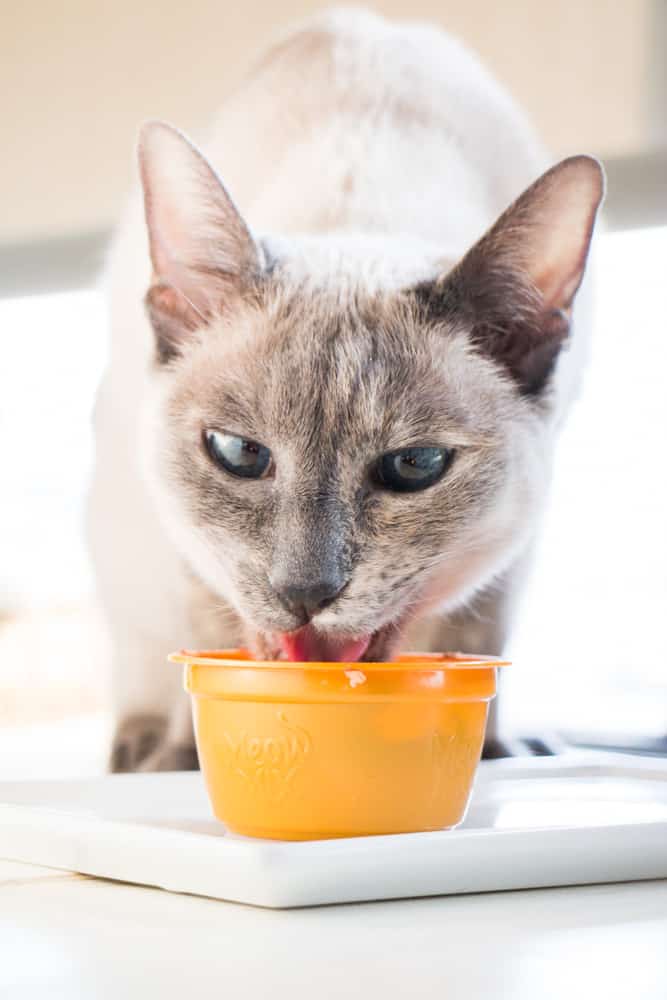 As Xanadu meowed after leaving the carrier, she quickly let her Siamese cat traits be known. Within 5 minutes she was standing on 2 legs, clawing at the bath towels, wrapped in them, tearing them down. Matthew and I looked at each other, both love in our eyes, realizing she was going to be a handful.
11 years later, and Xanadu has seen a lot. She's seen her family grow and has been a caring cat through the rough times. She spent years with Essy before she died in 2014. In 2009 she saw FiFi Bofinkles and Brother move in. In 2014 Goblin moved in. In 2015 Toes moved in. With every new cat who moves in, they quickly learn that Xanadu is Queen Bee. Follow Xanadu's rules and your life will be ok. Break Xanadu's rules and you should sleep with one eye open.
With the arrival of a new sister (this time in human form), I wanted to celebrate Xanadu's 11th Birthday with something special. I've learned that cats think nothing is a better gift than some delicious food, an empty cardboard box, a piece of string that noone wants and good evening lap snuggles. So it's time for me to get out her favorite food and throw her a brunch set for a Queen! Open up the Meow Mix… it's her favorite! Meow Mix is made with wholesome ingredients and an irresistible taste that our cats can't get enough of. They have a big selection of different textures and flavors so Xanadu's appetite is satisfied!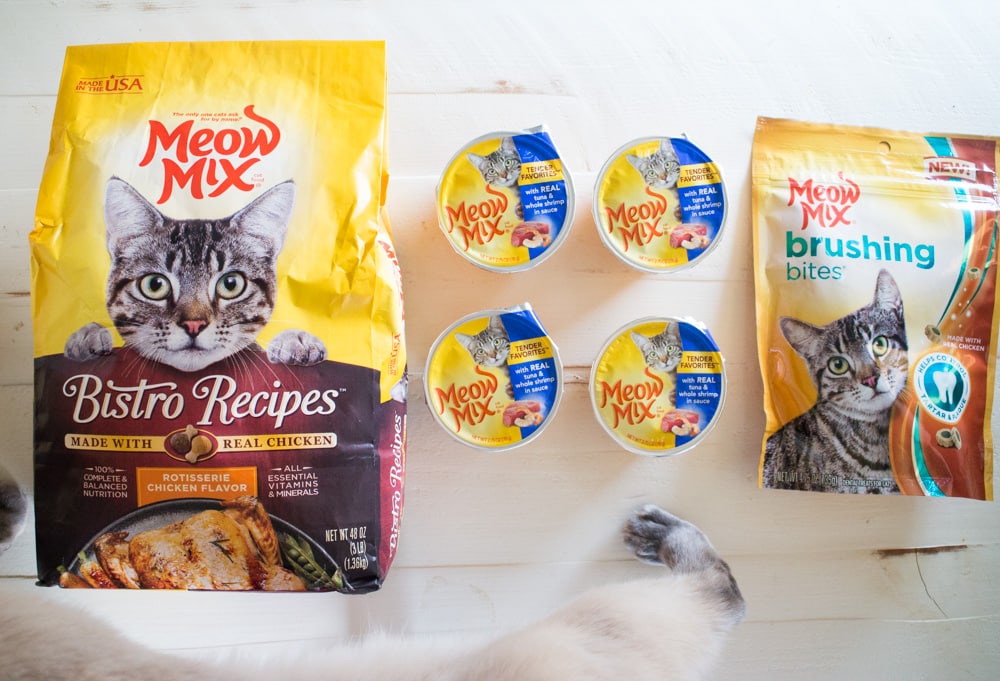 If you've read some of my social media accounts you know that Xanadu has a special way of eating. Basically she eats alone on a throne. She likes eating up high, preferably with a small bowl placed on a towel, as the other cats eat below her. Yeah, that's a Queen complex alright. Every morning and night when it's wet food time, I feed the cats, with Xanadu getting her food last as she jumps up high on the kitchen island to wait for her food. Toes looks at her from down below, a big food monster, jealous. Toes, one day, you might be Queen of the house but for now it's Xanadu's Kingdom to rule.

On her plate I give her Meow Mix Tuna & Shrimp Lovers wet food which I picked up from Walmart, her top favorite. I mean look at this food – it has whole pieces of shrimp in it! What's not to love?

First, she eats the Brushing Bites treats, they're made with chicken so they quickly disappear one at a time. From a Cat Mom perspective, I love these Brushing Bites because they help control tarter and plaque on cats' teeth without having to brush them. Have you tried brushing your cats' teeth? I bought a cat tooth brush last year and tried. I tried once. It was a failure. Never again.

After the treats she moves on to her main course, Meow Mix Tuna & Shrimp Lovers wet food. She needs some alone time as she gets her birthday grub on.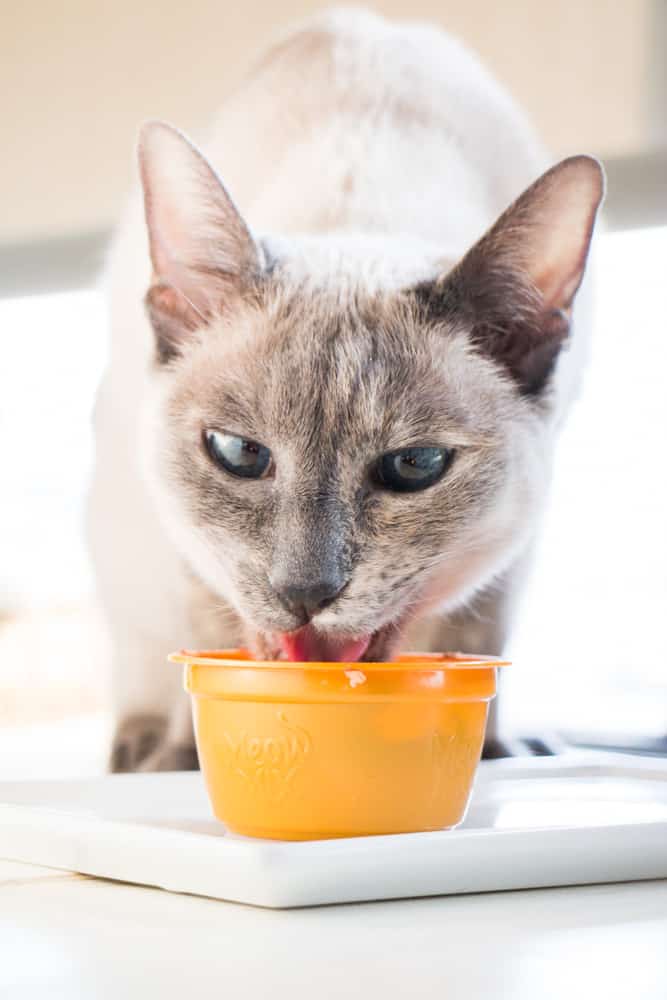 After she's done eating, she spends a few minutes cleaning herself up, before jumping down and finding me. Then she jumps up next to me, gives a little purr and lets me know her meal was good. I rub her ears, her cheeks, her body and give her a kiss. Happy 11th Birthday Xanadu, we love you so much!

Want to strengthen the bond between you and your cat? Buy it yummy Meow Mix! Head to Walmart and purchase them all the food I talked about here and get ready for cat kisses coming your way! As a bonus enjoy this Ibotta offer, earn $1.50 when purchasing Meow Mix Dry, $1.00 when purchasing Meow Mix Wet, $0.25 when purchasing Meow Mix Treats. You can also earn an additional $1.00 when you redeem two or more of the Meow Mix rebates.