Betty Draper's Swedish Meatballs Recipe – classic dish straight from Mad Men!
"Hot or cold? Swedish meatballs or chicken salad" asks Betty Draper when Don comes home late from work one evening. Don chooses the chicken salad, but in my opinion he misses out. Betty's Swedish Meatballs are where the magic is at.
If you're reading this and wondering who Betty Draper or Don it, let me grab you for a quick hug and tell you what you're missing out on. The Drapers (or previously were – no spoilers!) are 2 of the main characters on the hit show Mad Men which I've been obsessed with since the beginning. On Sunday night they will air the first episode from the final season – weep weep. If you're a Mad Men fan, do you have predictions? How's it going to end? How's Don going to end up? Are you rooting for him? Do you think Don Draper is amazingly sexy no matter what horrible things he does? Me too, I can't help it. Smoking, drinking, overtly sexual, heart breaker, etc. "Don Draper cheats on his wife, never does any housework, hardly spends time with his kids—he shouldn't be sexy, but he is." All the things that your mother told you to stay way from. Except with Don he chases you in and you're like "Ok". Why do you have to be so complicated Mr. Draper?
I'm rooting for Don. He's living the American dream that he's earned since his not so great upbringings. I'm not sure if he'll ever be able to get rid of the demons in his closet, but I hope we get some clarity for him. After all, this is the guy who pitched the Kodak Carousel, one of the greatest memories of the show.
Now back to Betty Draper, or Betty Francis if you want to be official. Betty's Nordic heritage might mean she knows a few things about Swedish meatballs so in this recipe we're celebrating the Drapers and Mad Men. These Swedish Meatballs are covered in a delicious cream based sauce that will have you licking your plate. Serve them over some egg noodles, with some mashed potatoes on the side and you have the perfect dinner!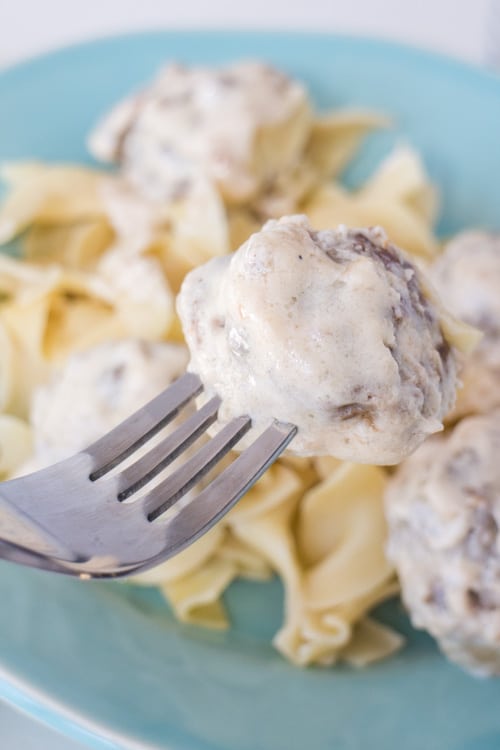 Betty Draper's Swedish Meatballs Recipe
Print
Betty Draper's Swedish Meatballs Recipe - classic dish straight from Mad Men!
Ingredients
1 cup soft bread crumbs
1/3 cup milk
1 pound ground beef
1/2 cup finely grated onion
1 egg beaten
3/4 teaspoon salt
1/8 teaspoon ground black pepper
1/2 teaspoon ground nutmeg
2 tablespoons butter
2 tablespoons all purpose flour
1 beef bouillon cube dissolved in 1 cup of boiling water
1/2 cup light cream
Instructions
Soften bread crumbs in milk in a mixing bowl. Drain excess milk. Add beef, onions, egg, salt, pepper and nutmeg and mix and combine with hands.

Shape into balls about 1 inch in diameter. Melt butter in a large skillet; add meatballs and brown over medium low heat. Remove with a slotted spoon to a baking dish.

Whisk flour into pan drippings and blend well. Cook, stirring constantly, until bubbly. Gradually add beef broth to the flour mixture, stirring constantly until smooth. Add cream. Continue cooking or approximately 3 minutes, stirring constantly, until sauce thickens.

Add meatballs to sauce, and simmer for 10-15 minutes, stirring occasionally until sauce is of desired consistency. Serve warm.
Notes
Serve these over egg noodles for dinner.