Quick and easy, extra saucy General Tso's Cauliflower recipe. This tastes like takeout but it's so much more healthy because it's baked, not deep-fried in oil!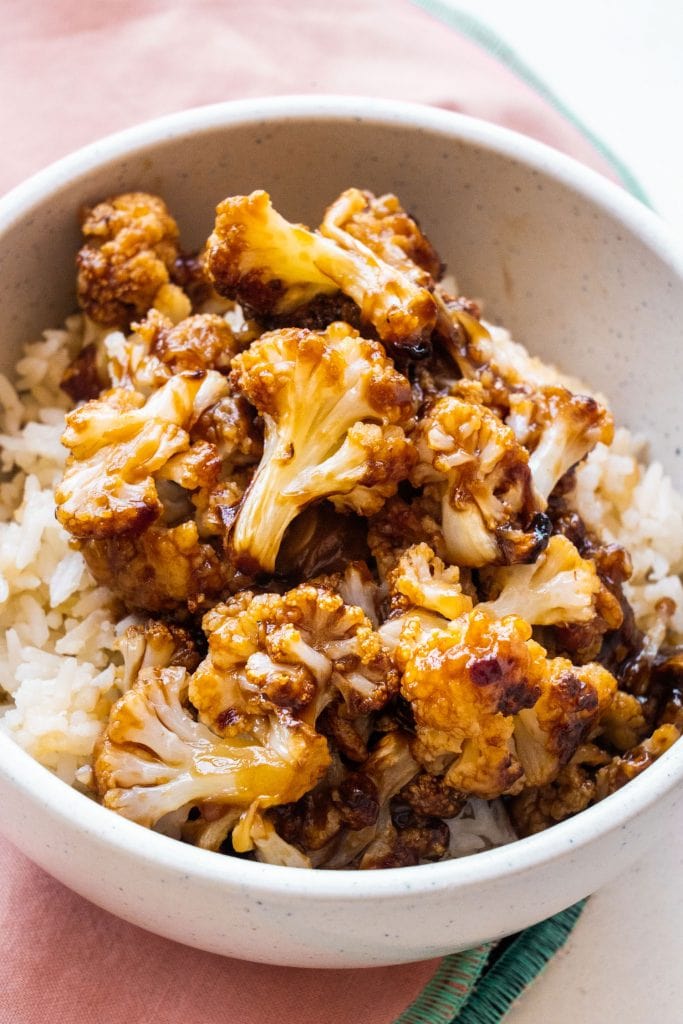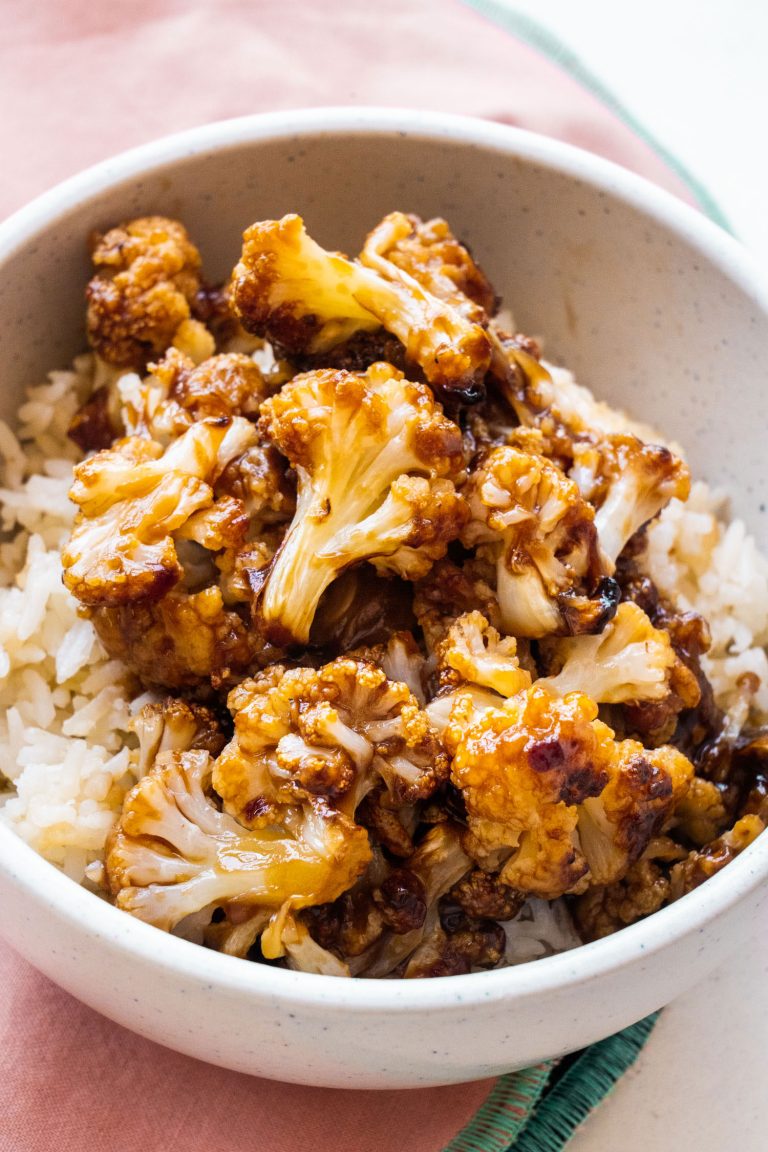 Healthy General Tso's Cauliflower
First of all, this General Tso's Cauliflower is delicious and has quickly become one of my family's favorite meals! Not only is it extra saucy (everyone always loves the sauce!), but it's easy to make!
So many General Tso's Chicken and Cauliflower recipes call for deep-frying, but I wanted to skip that step (and those extra calories) by making a more healthy baked version. And trust me, you are going to looooooooooooove it!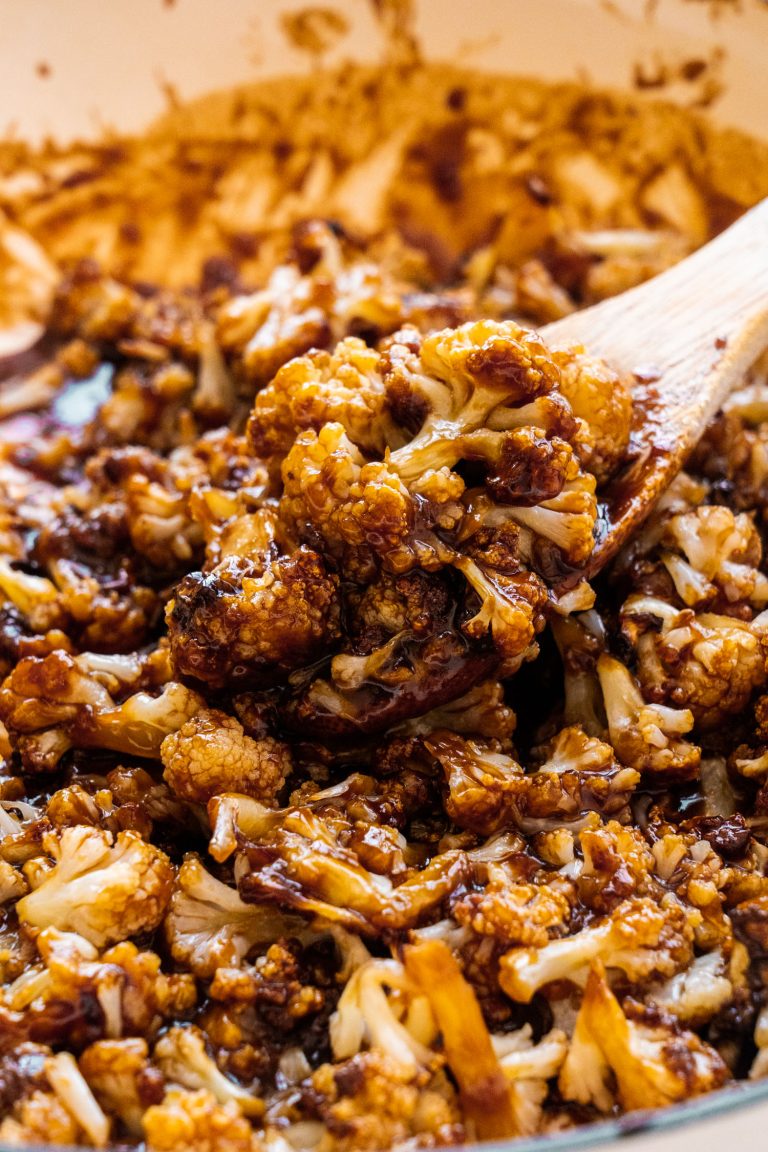 How to Make General Tso's Cauliflower
Place the cauliflower on a cookie sheet covered in parchment paper (easy cleanup) and coat with grapeseed oil (or olive oil) and cornstarch. Bake.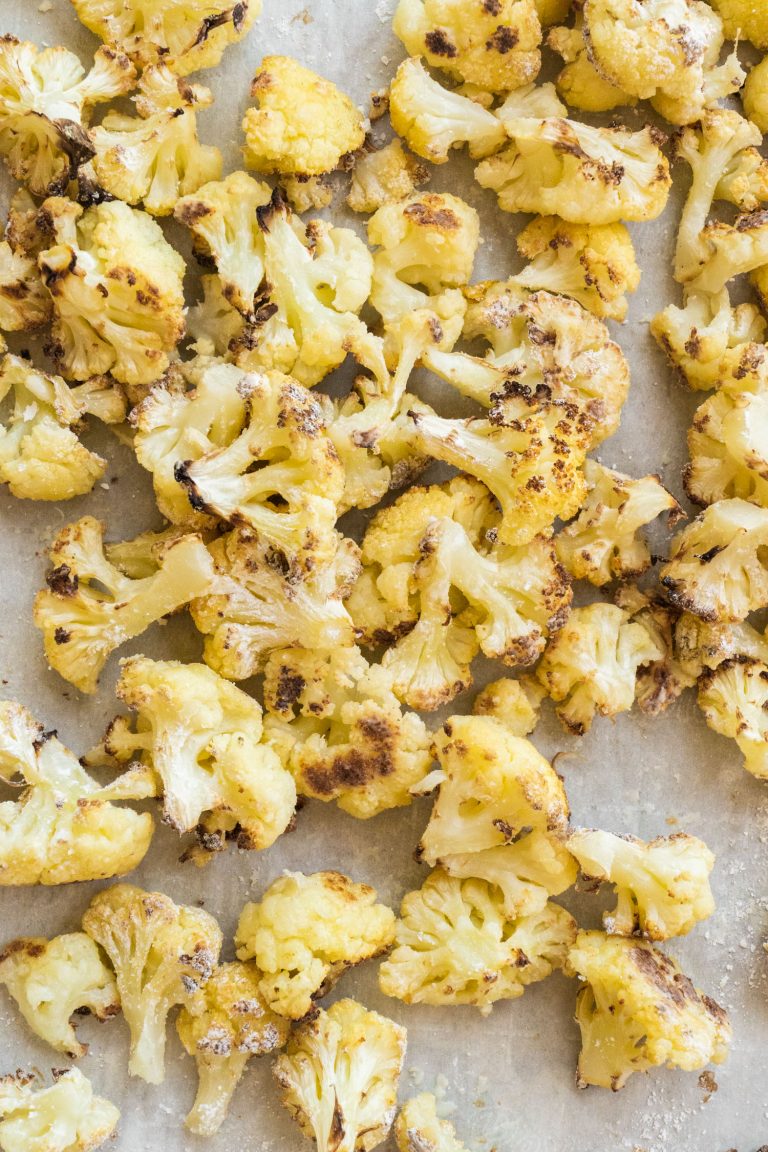 Heat grapeseed oil (or olive oil) up in a large skillet with minced garlic and cook a few minutes until garlic is fragrant.
Add in the homemade General TSO's sauce ingredients, bring to a boil and let simmer for a few minutes.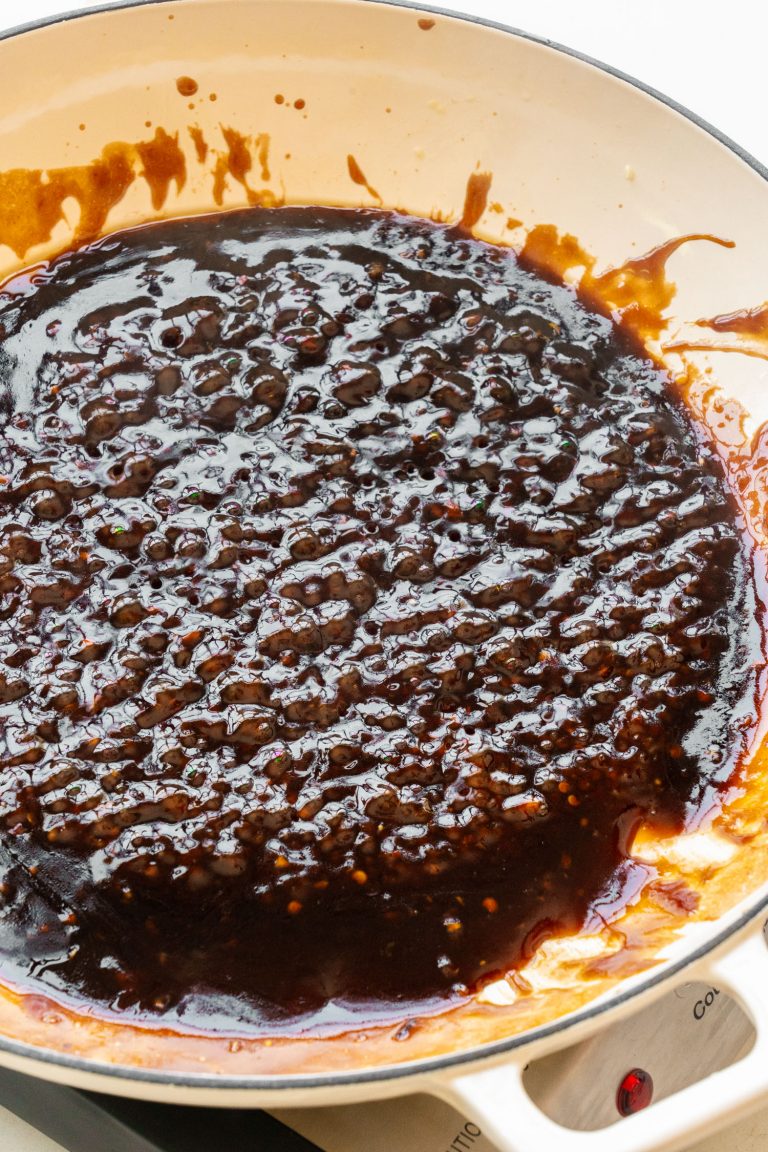 Once the cauliflower is done, put it into the skillet with the sauce and stir to completely cover.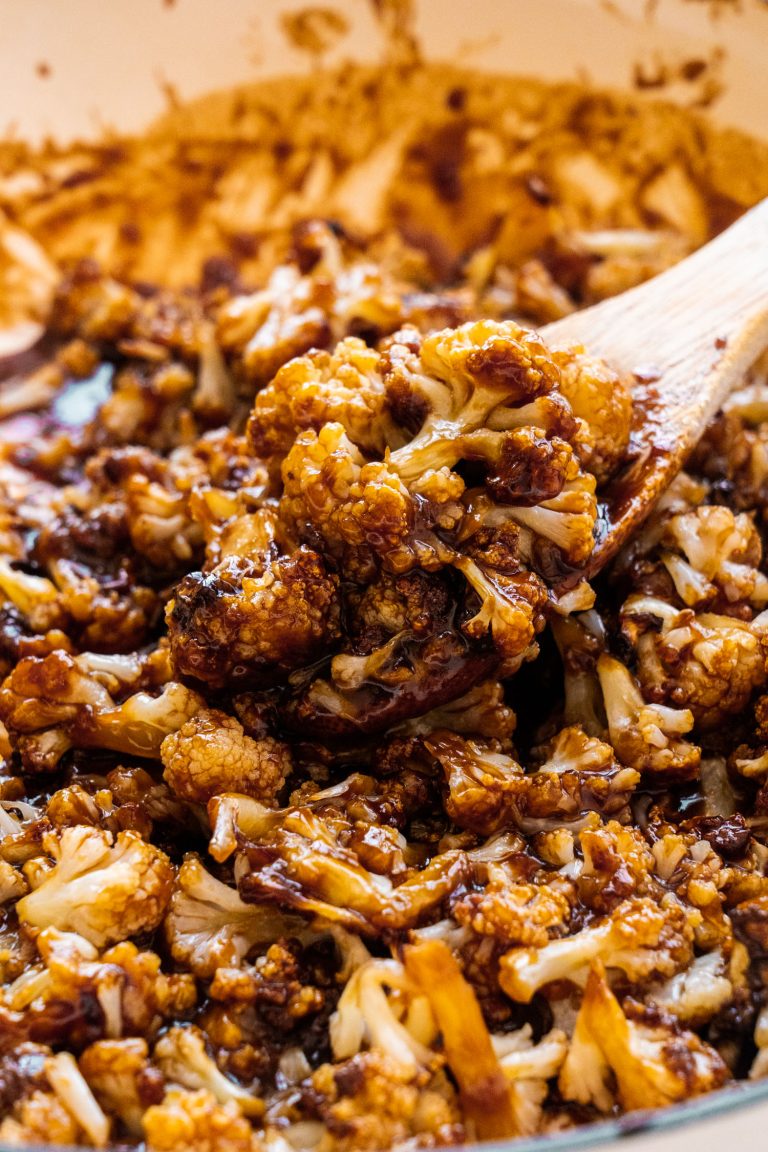 Serve with rice or on top of Vegetable Lo Mein! YUM!
How to Make General Tso's Sauce
You will need hoisin sauce (this is the best kind!), soy sauce, rice cooking wine, honey, sesame oil, cornstarch and red pepper flakes to make General Tso's sauce.
For easy prep, I like to add these ingredients into a bowl first, stir to fully combine the cornstarch and then add into the skillet. Alternatively, you can skip dirtying a bowl and just add everything directly into the skillet and stir in there.
Recipes Tips
How to serve: We usually always serve this over rice. I add white rice to the rice cooker, with a bouillon cube (chicken or vegetable) and it always makes the tastiest rice. Start the rice cooker right when you put the cauliflower in the oven.
General Tso's Broccoli: You can easily swap out the cauliflower for broccoli for this recipe. You will make it the exact same way, but adjust the bake time for 20 minutes total, making sure to flip half way.
Add In Chicken: If you want to add in chicken, you absolutely can. Cook chicken breast, chop up into bite size pieces, and then add into the sauce when you add the cauliflower. Note: If you are adding in chicken, you might want to make a little extra sauce to make sure everything gets coated.
Add in Greens: I love to add in some green vegetables to dishes whenever I can. I often add bok choy, pea shoots, sugar snap peas, chopped green peppers or even spinach. I add the greens at the same time I add the cauliflower into the sauce on the skillet.
Top With Sesame Seeds: Most likely your takeout General TSO's dish has sesame seeds on top. These are totally optional, but you can pick up a small jar for $2-$4 at the grocery store and then sprinkle them on the cauliflower when you serve it.
More Chinese Takeout Recipes:
CHINESE Chicken and Broccoli
Beef and Broccoli
Chicken Chow Mein
Homemade Wonton Soup
General Tso's Chicken
Hot and Sour Udon Noodle Soup
Bok Choy Stir Fry in Brown Sauce
Pin for later:

Baked General Tso's Cauliflower
Print
Quick and easy extra saucy General Tso's Cauliflower recipe. This tastes like takeout but it's so much more healthy because it's baked, not deep-fried in oil!
Prep Time: 5 minutes
Cook Time: 40 minutes
Total Time 45 minutes
Ingredients
1 large head cauliflower chopped into small florets (equals about 8 cups)
1 tablespoon grapeseed oil or olive oil
2 tablespoons cornstarch
For the sauce
2 teaspoons grapeseed oil or olive oil
3 cloves garlic minced
½ cup hoisin sauce
¼ cup soy sauce
2 tablespoons rice cooking wine
1 tablespoon honey
2 teaspoons sesame oil
1 teaspoon cornstarch
½ teaspoon red pepper flakes
Optional: sesame seeds
Instructions
Preheat oven to 425 degrees F.

Cover a baking sheet with parchment paper and spread the cauliflower out on it. Pour grapeseed oil and cornstarch on top of the cauliflower, stirring to fully coat each piece.

Bake for 30 minutes, flipping it half way.

Time to make the sauce! Heat up oil in a large skillet over medium high heat, add the minced garlic, and cook until garlic is fragrant and browned, about 2-3 minutes.

Add hoisin sauce, soy sauce, rice cooking wine, honey, sesame oil, cornstarch and pepper flakes into the skillet, stirring to make sure all the ingredients are fully combined.

Bring sauce to a boil and then reduce heat and simmer for 5 minutes, stirring often.

When cauliflower is finished baking, remove from the oven and pour directly into the skillet. Stir the cauliflower so the sauce completely covers it.

Serve cauliflower over white rice, and top with sesame seeds. (optional). Enjoy!
Bonus: check out my Web Story video for this recipe.