EASY Italian Pasta Salad recipe! This vegetarian recipe uses Italian dressing, tri color pasta, fresh cherry tomatoes, celery and arugula! It's the perfect garden Summer salad!
Best Pasta Salad for Summer
When it's hot out all I crave is fresh vegetables. That's why this Italian Pasta Salad is one of my favorite meals in the Summer!
When it's hot out, I don't want to think about turning our oven on. I also don't want to even think about drinking or eating anything hot, instead I like to rely on chilled recipes, like Chilled Strawberry Soup and this Pasta Salad!
That's why my family loves this recipe during the Summer months!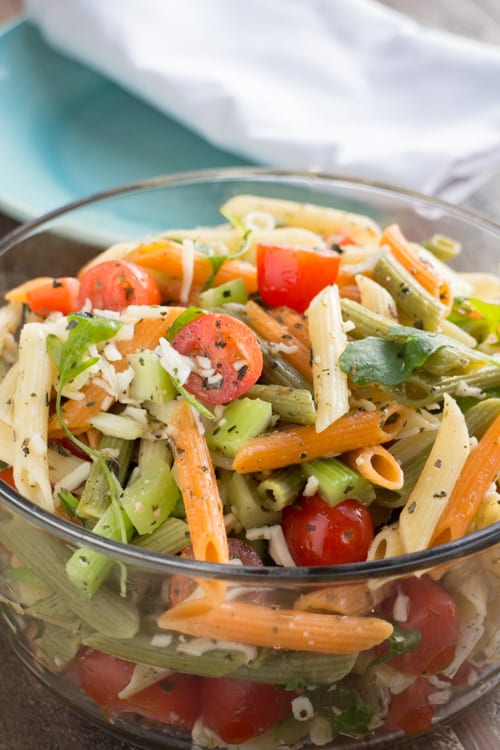 One thing that I do enjoy about the Summer is that it means fresh vegetables are being picked in the garden by the handful. And because this recipe is bursting with fresh cherry tomatoes, arugula and celery – it's a garden lovers dream recipe! I get so excited when we start to fill our basket with garden tomatoes, that means we'll making this pasta salad often!
If you wanted to add some more Summer time vegetables, you could even chop up some onions or green peppers to throw into this salad!