EASY Moist Banana Muffins Recipe made with yogurt! These healthy muffins only need 2 tablespoons of butter and 1/4 cup brown sugar! My entire family thinks these are the best muffins for breakfast and dessert!
These banana muffins might be my proudest baking moment this Fall – they're so soft and delicious! They're made with simple ingredients that you probably already have in your kitchen! The addition of yogurt in the batter makes them moist and tasty. They have become my favorite breakfast and afternoon snack (to be served with some tea/coffee as an afternoon "pick me up!").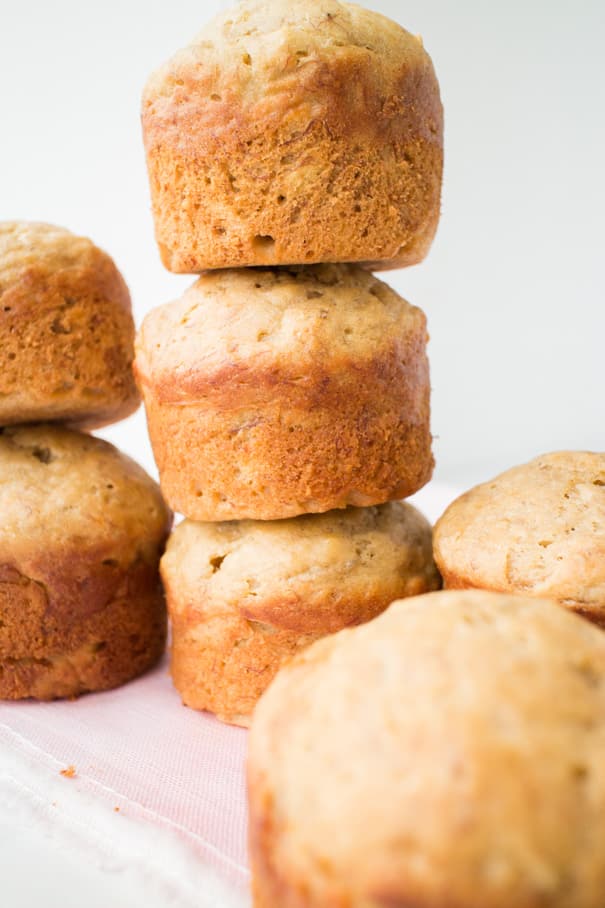 If you loved my mini banana muffins and mini coffee cake muffins, then you're going to love these full size Moist Banana Muffins!
Moist Banana Muffins Recipe
Not only can yogurt be your favorite breakfast food, but did you know you can easily combine it into baking to make baked foods lighter? That's right, think moist cakes, cookies and muffins – all good candidates to make with yogurt! Because these are banana muffins, I used Stonyfield Organic Banilla yogurt which has the perfect combination of banana and vanilla for this dessert!