Slow Cooker Sausage and Cabbage is a easy crock pot recipe ready in 6 hours! Add Sweet Italian Sausage links and vegetables (potatoes, cabbage, carrots and onion!) into your slow cooker for a delicious comfort meal!
It's Fall! It's really fall! The leaves are changing, I need to wear a jacket in the morning, I prefer my coffee hot now. What else does Fall mean? Time to bring out the crockpot for my family's favorite crock pot recipes!
You guys have been telling me that I need to share more of my slow cooker recipes, since you've enjoyed my Cabbage and Kielbasa and Cabbage Roll Casserole. So here I am – now it's time to share Slow Cooker Sausage and Cabbage!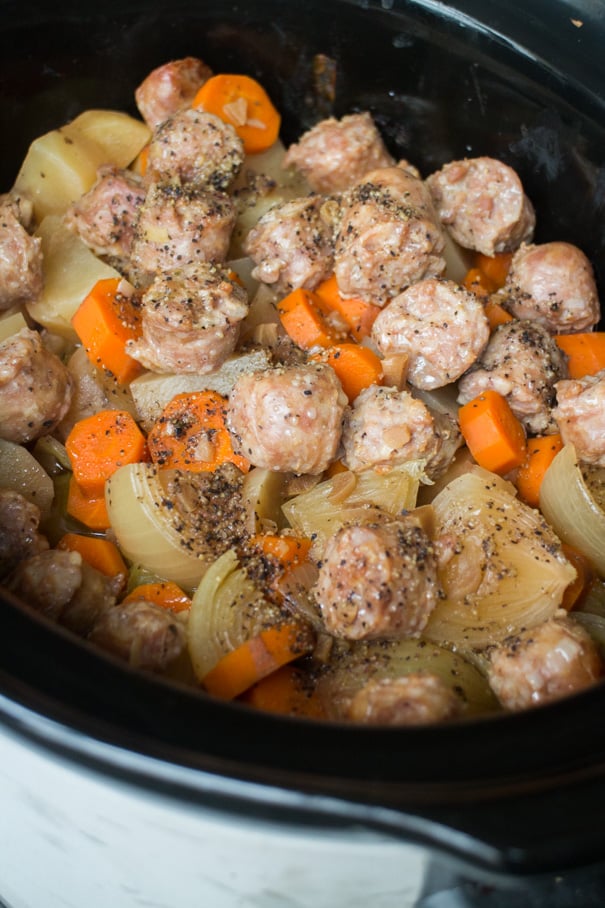 Slow Cooker Sausage and Cabbage
I love this crock pot recipe becase of the ingredients and the directions.
The ingredients are basic, you might have everything in your kitchen already! The stars of the show are Sweet Italian Sausage, cabbage, potatoes, carrots and a onion. Close your eyes. Imagine the smell of your kitchen while this cooks. It's going to smell SO GOOD!
Whenever I make this cabbage recipe, my husband can smell it in our hallway as soon as he steps off the elevator. He gets a little strut in his step because he knows it's going to be a good dinner.