EASY White Chocolate Toffee Recipe with rainbow sprinkles! This tastes just like vanilla fudge! You're going to love this sticky homemade candy that has a base of crushed up pecans. Cut into squares or break up into bark!
White Chocolate Toffee
Have you ever made a recipe that gets eaten so quickly you wonder "How did that happen"? Yup, that's what happened with me and this White Chocolate Toffee. I had no idea it was going to be such a hit! When I first made them I had no idea Matthew and I were going to be fighting each other for the last one – they're that good!
This easy to make toffee is made with 5 simple ingredients that you most likely already have in your kitchen! The ingredients are pecans, brown sugar, butter, white chocolate chips and sprinkles. I love it because it's a no bake dessert that also includes rainbow sprinkles – which is my favorite type of treat!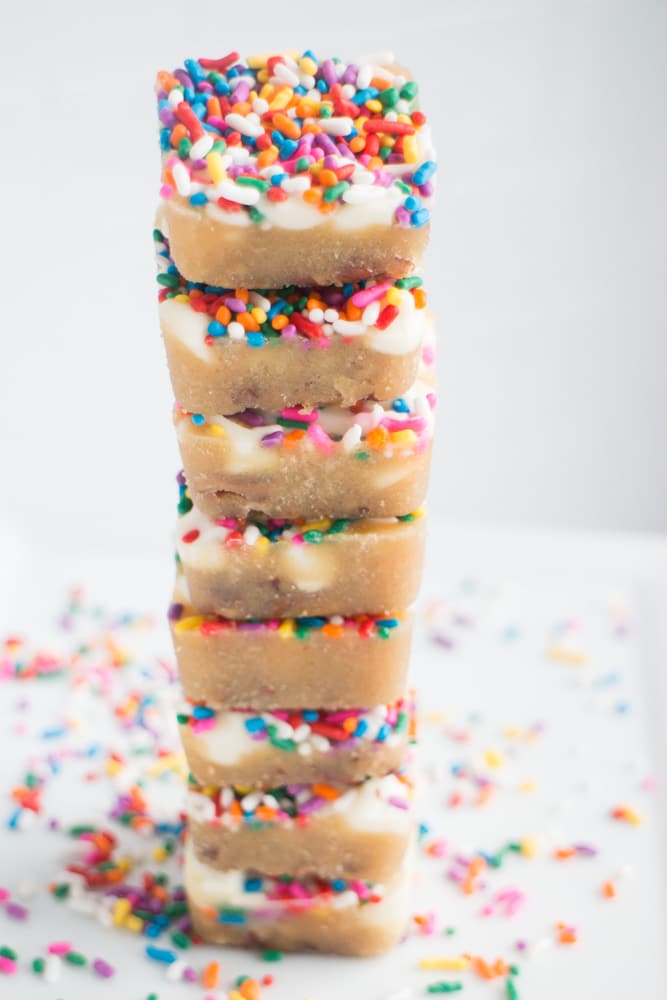 What is Toffee?
Toffee is a type of hard candy, made by boiling sugar and butter together. If often has a nut based bottom and chocolate top. For this recipe, we're going to use pecans for the base and white chocolate for the top! Lots of people confuse toffee and caramel, but toffee is more crunchy while caramel is more sticky!