HEALTHY Tuna Cucumber Tomato Salad with olive oil dressing! This super easy salad recipe is a Summer favorite! I love using fresh tomatoes, cucumber and onions from the garden! It's completely dairy free too! This is a sponsored post written by me on behalf of Blue Harbor.
This Tuna Cucumber Tomato Salad is the perfect fresh Summer salad. Or if it's not summertime, then it's the perfect close your eyes and pretend it's Summer salad! It's one of my favorite picnic side dishes! It includes a few garden favorites; tomatoes, cucumbers, red onion and fresh parsley so it's ripe with flavor. It also includes Albacore tuna which has a delicious, mild and clean flavor. Trust me, you're going to love it!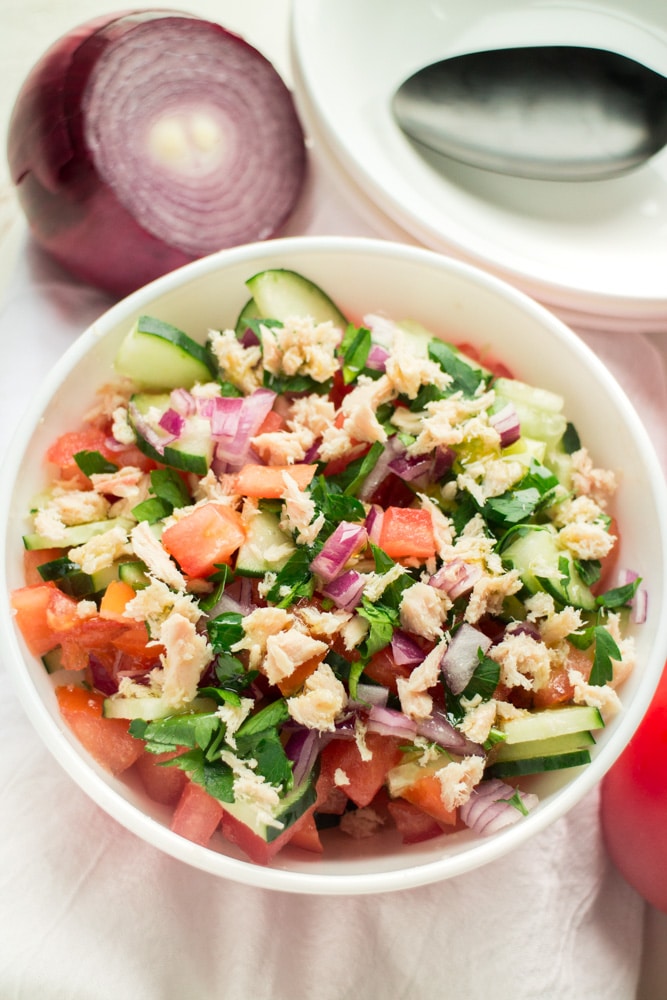 Tuna Cucumber Tomato Salad Recipe
It's still Winter here in NYC and I feel like we've had a colder than average last few months. I'm sick of wearing my big Winter coat and pushing the stroller through the windy streets. To comfort my need for wishing for a warmer day, I made this Summer feeling salad that has me dreaming of picking tomatoes in our vegetable garden.