CHOCOLATE BANANA CAKE with THE BEST PEANUT BUTTER FROSTING! This homemade from scratch cake is MOIST, easy to make and slides out of the 8×8 pan perfectly! The peanut butter frosting on top is what I consider the best frosting of all time – my family can't get enough! If you're looking for a chocolate birthday cake or holiday gift – make this cake!
The season of gift giving is upon us and what's a better way to say "I think you're great, Happy Holidays!" than sending someone the gift of Chocolate Banana Cake With Peanut Butter Frosting?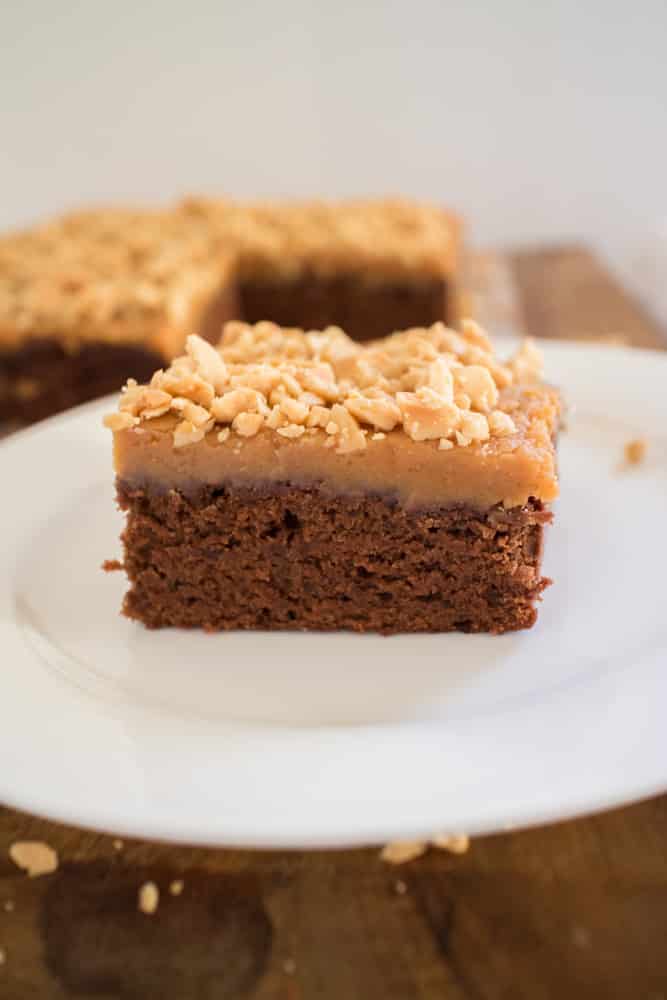 I think sometimes the gift of homemade food is overlooked when it comes to the holidays. Sure, you can brave the holiday lines at the department store to buy your sister those cashmere gloves you saw her eyeing up, but I can almost guarantee you that giving her a homemade cake will make her feel like the best (and loved) sister of all time! A homemade cake is not only a physical gift, but there's lots of emotional thought that goes into making it too!
Did you know that psychologists have found that baking for loved ones promote a sense of well being not only for the recipient but for the baker as well? Whenever someone gifts me a box filled with homemade cookies I still get weak in the knees and feel like it's the most special gift ever!
First, let's talk about this cake before we get to my favorite peanut butter frosting.
This is a Chocolate Banana Cake. I want to tell you up front it is not "too banana-y". So if you have someone in the family that isn't a big banana fan don't be scared of this cake. The cake is made with semi sweet chocolate chips and cocoa powder so it's very decadent with chocolate.