I LOVE this SLOW COOKER Salisbury Steak With Cream of Mushroom Soup! This CROCKPOT recipe is easy to make and is ready in 5 hours! It's made with dry onion soup mix and cream of mushroom soup to make a comforting gravy your entire family is going to love! I always serve on egg noodles or with mashed potatoes! This is one of my favorites simple weeknight meals!
I hope you had a great weekend! This past Sunday we cheered the runners on outside our apartment during the NYC Marathon! The weather was chilly and the raindrops were falling so I knew we were going to have a comforting slow cooker Sunday night meal!
I made this Slow Cooker Salisbury Steak with Cream of Mushroom Soup and it was the perfect dish to say goodbye to the weekend with. This Slow Cooker meal is creamy, comforting, hearty and just warms the heart in the way that home cooked meals should.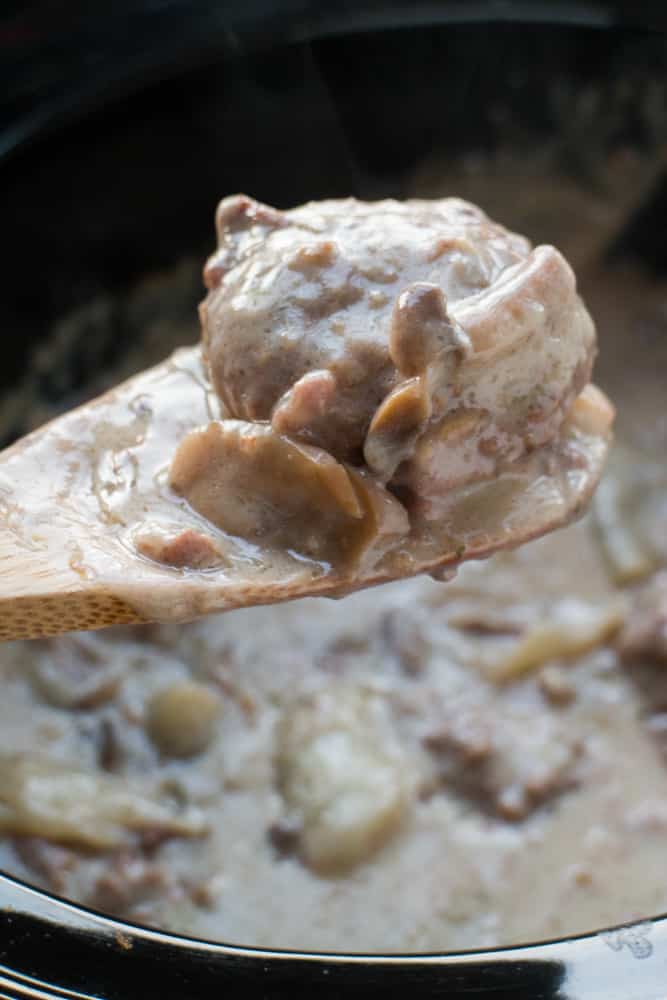 Salisbury Steak has been one of my favorites since I was a child but I wasn't in the mood to do a baked version, instead I wanted something to throw in the Slow Cooker and make dinner easy. I love creamy slow cooker meals, like Meatball Potato Casserole, and Sweet Potato and Ham Soup, so I gave this a extra creamy gravy made with cream of mushroom soup!
Slow Cooker Salisbury Steak Recipe
The actual Salisbury Steak patties are easy to make. Throw ground beef, dry onion soup mix, bread crumbs and milk in a bowl and mix around with your hands, and then form the patties.
A helpful hint: use lean, less fat ground beef. If you don't use a lean beef, it's going to make your creamy gravy more on the greasy side. This can totally be made with non lean beef, but I think it overall tastes better with a 90/10 blend. After you shape your steak patties then roll around in a dusting of flour.