EASY 1 PINT 10 MINUTE Raspberry Jam! This simple recipe uses 1 pint of fresh raspberries, honey and lemon juice to make delicious jam! This homemade jam is healthy and requires no pectin and no sugar! I always make 2 jars – one to store in the refrigerator and one to store in the freezer!
When Summer gives you fresh raspberries you stuff them in your mouth. Immediately. When Summer gives you so many fresh raspberries you can't fit anymore into your mouth then you make 1 Pint 10 Minute Raspberry Jam!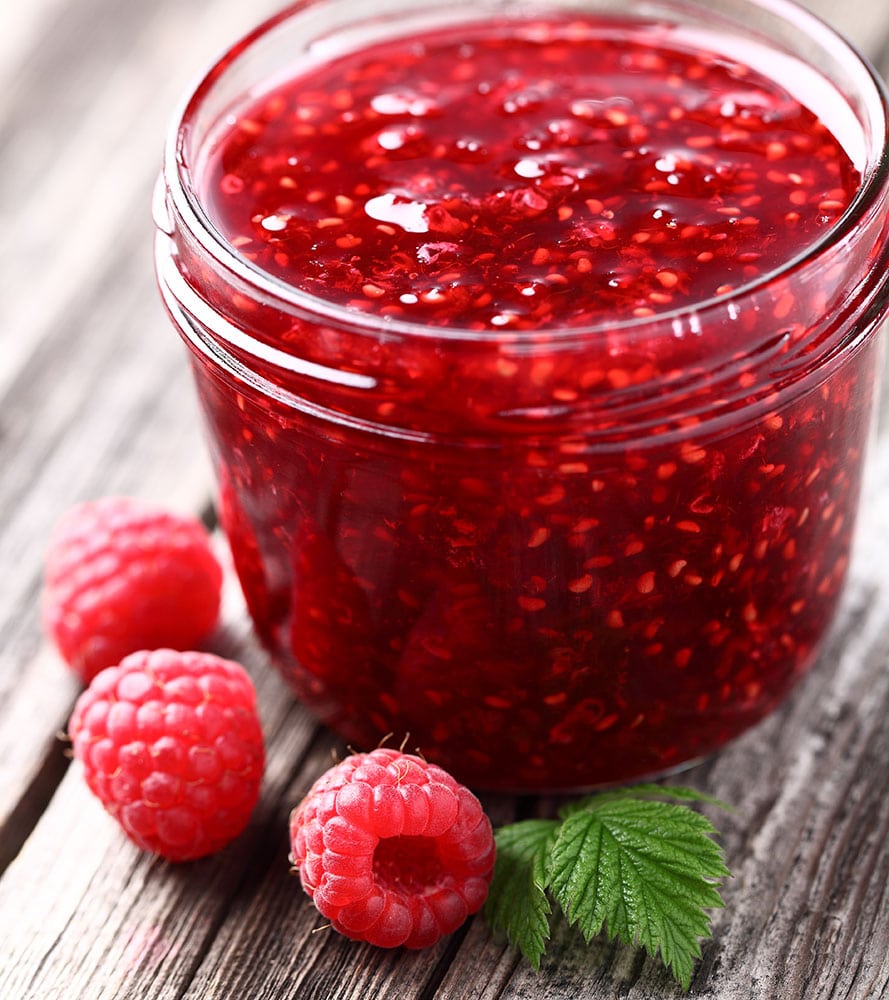 I love "1 Pint" recipes because often people aren't picking or buying 8 cups of raspberries at one time. If you see a deal on raspberries at the farmers market usually they are by the pint. Same goes for garden harvest, often you pick 1 pint here, 1 pint there, berries are so picky (no pun attended) so I'm not often picking them all at once. This recipe only requires 1 pint of fresh raspberries which is approximately 2 cups worth.

All you have to do is throw all your ingredients into a saucepan and let simmer for about 10 minutes. I like to give my jam a few stirs during the process to make sure it isn't sticking to the pan, and also to check the consistency. If you feel like the jam isn't thick enough, raise the heat a little bit and continue heating until you get the thickness you'd like.
Raspberry jam is our favorite and we use it almost everyday on toast, pancakes and peanut butter sandwiches. This recipe tastes just like the store version but it's better because it's fresh!
I hope you enjoy this 1 Pint 10 Minute Raspberry Jam!
Tip: If you buy jam in the store, save the glass jar (and lid!) for the Summer and recycle it for this Raspberry Jam! The jar works great in the freezer too!
1 Pint Raspberry Jam
Ingredients
1

pint

raspberries

approximately 2 cups

1/4

cup

honey

or 1/2 cup sugar

1

tablespoon

lemon juice
Instructions
Put all ingredients into a saucepan and stir.

Bring to boil, then simmer 10 minutes until jam consistency.

Keep in jar refrigerated.