CREAMY TOMATO SOUP using fresh roma plum tomatoes! This easy homemade recipe is perfect for when you are picking fresh tomatoes from the garden! You will never buy canned tomato soup again! This is kids favorite tomato soup!
We're back for Day 2 of tomato week! Yesterday was Marinated Italian Diced Tomatoes, today is all about one of my favorite comfort meals: tomato soup!
There's something romantic about tomato soup isn't there? Maybe it reminds you of curling up with a warm bowl in Fall and Winter. Maybe it gives you memories of Mom opening a can of it as a kid. Or maybe you associate it with with the peak of garden season when you're picking tomatoes by the basket. For me, it's all 3 of these.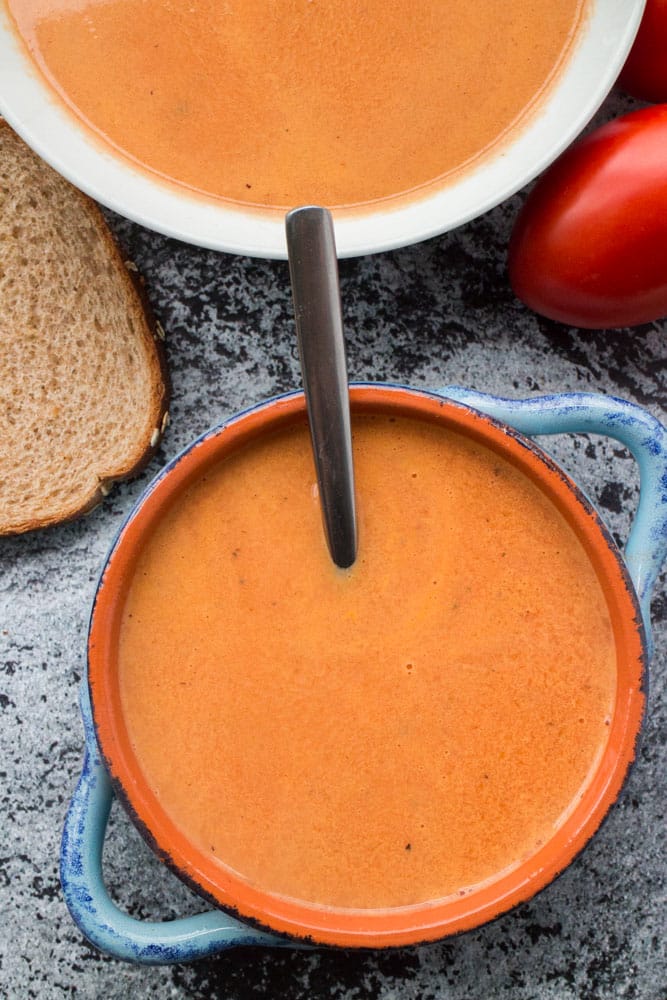 Tomato soup is a favorite of mine, it's one of those dishes that when you see on a menu you immediately know what you're ordering. But the best tomato soup is homemade. It's made with fresh tomatoes (preferably Roma/plum tomatoes), onions and a little bit of heavy cream with bread served on the side for dipping.
The first step to making homemade tomato soup is getting the tomatoes peeled and diced. If you've never made tomato soup from scratch, don't worry, this is easy. Cut a small X in the stem end of each tomato. Drop the tomatoes into the boiling water and blanch them for about 1 minute. Using a slotted spoon, transfer them to a pot of cold water to cool. When cool enough to handle, remove and discard the skin from the tomatoes (you can use tomato skins to make tomato powder!), remove the core, and coarsely chop the flesh.