Slow Cooker Mexican Vegetarian Tomatillo Soup is a comforting recipe filled with healthy vegetables. Unlike other Fall comfort soups this one is low calorie. Soup ingredients include fresh tomatillos, tomatoes, onion, jalapeno, corn and black beans!
I didn't plan on posting 2 tomatillo recipes this week but when you have a 10 pound basket full of tomatillos staring at you from the kitchen counter you might be persuaded. It finally feels like Fall in NYC and I wanted to use the tomatillos in a Fall recipe instead of the usual salsa I make.
henever I think of tomatillos my mind always goes to soup so I decided to follow this path and come up with a Mexican inspired soup that uses tomatilos, as well as other garden fresh veggies: black beans, tomatoes, onion, jalapeno and corn.
This tomatillo soup tastes delicious and has a deep flavor due to the vegetables and spices. It's a comforting soup but doesn't feel heavy like many other Fall soups. I suggest serving this alongside some rolls or biscuits for dipping.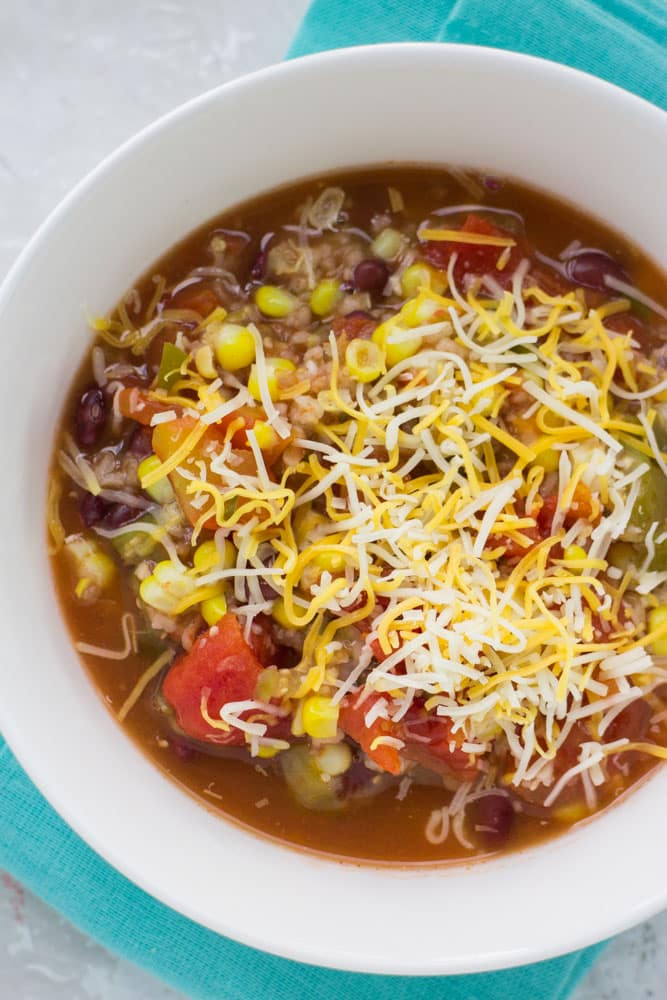 It warms my heart (literally) to see so many of the vegetables we grew in this soup. The stars of this soup are the tomatillos which are filled with tasty juices that are going to be released in the slow cooker.
The other personal star in this soup are the black beans. Last year we started growing our own dry beans and since then I've been hooked. We grow a few different dry beans during the Summer so we can enjoy them in the Fall and Winter.
This recipe calls for 1 cup dry black beans but if you don't have the time to soak them you can also use 1 can of black beans.