Vegetarian Mexican Burrito Bowl that includes rice, refried beans, corn, tomato, pepper and salsa. Perfect for work lunches or quick dinners as it only takes 5 minutes to make!
Burrito Bowl Recipe
Day 3 of Tomato Week! Monday was Italian Diced Tomatoes. Tuesday was Roma Tomato Soup. Now I want to show you how to easily use fresh tomatoes in this 5 Minute Burrito Bowl!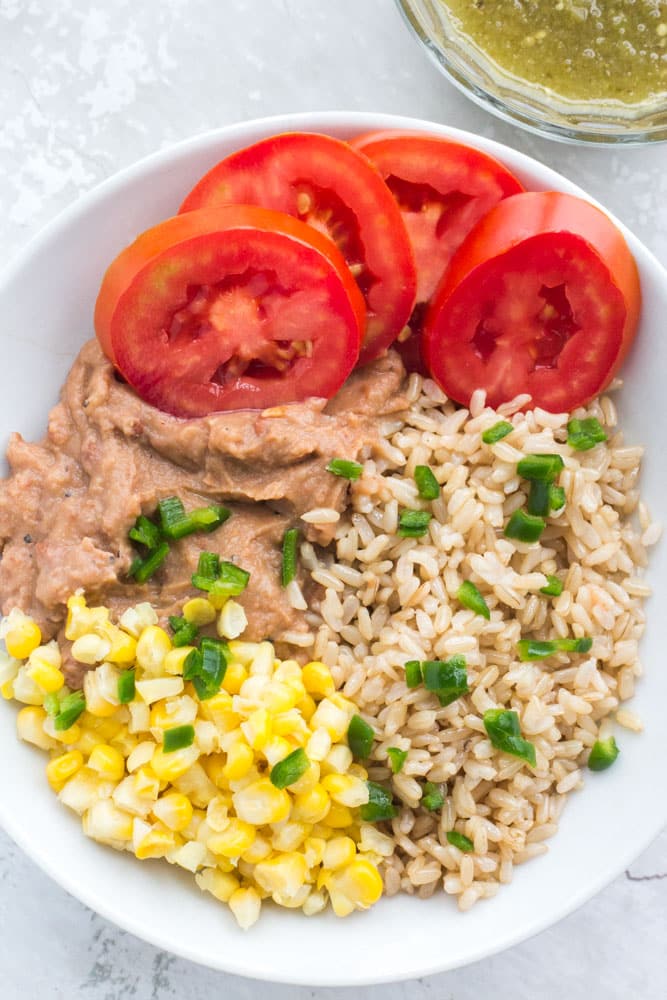 I am loving this 5 minute burrito bowl right now because it's quick, filling, delicious and uses fresh vegetables from our garden. It's perfect for lunch (at home or take to work) because it's so fast to make.
Vegetarian Burrito Bowl
I like preparing 2-3 bowls worth of ingredients in the beginning of the week, so I can just throw everything in a container, head to work and then microwave it once it's lunch time. If you're craving a quick Burrito Bowl for dinner, this is the recipe for you too! You could even add some extra protein to it, such as chicken or more beans.