Delicious Vegetarian Chili made in 45 minutes that even meat eaters will love!
Vegetarian Chili
Last weekend we had some pretty amazing chili for lunch while we were out of town. The chili was filling, tasty with great spices and had that very important texture that ground meat gives in dishes. The thing is though, this was vegetarian chili.
After I exclaimed for the 20th time how great this chili was (everyone agreed – vegetarians and meat eaters) I then made it my goal to make similar style homemade chili in my kitchen. This 45 Minute Vegetarian Chili recipe was born!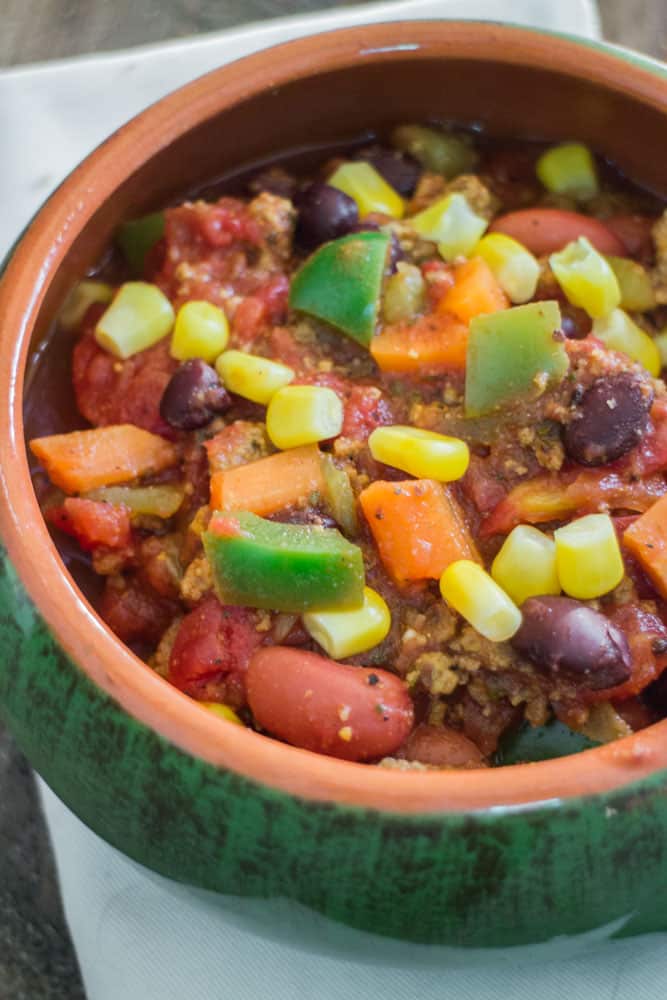 Vegetarian Chili Recipe
The chili is made up vegetables: tomatoes, bell pepper, corn, carrot, jalapeno and diced green chilies. Now comes the beans: black and kidney beans. There's plenty of spices: garlic, bay leaf, cumin, oregano, chili powder salt and pepper. We're going to give it that texture that ground meat gives it with meatless crumbles.
If you're a meat eater and you're thinking "yuck" you better check yourself because these are good (I promise!). It has the same texture consistency of meat while being tasty. I recommend using Neat or Morningstar brands for crumbles. Matthew (husband) is a meat and potatoes guy. His dream meal is a pot roast with mashed potatoes and he even says how good this recipe is, so you can trust me (and him).