This Stovetop Broccoli Macaroni and Cheese is made with 1 pot, 3 ingredients and only takes 15 minutes to make. Grab your pasta, Velveeta cheese and broccoli and make this easy creamy homemade mac and cheese for dinner soon! Kids will love how delicious it is! Adults will love how simple it is to make!
You guys, you're going to love this Broccoli Macaroni and Cheese. It's a real 1 pot, 3 ingredient, 15 minute meal and it's one of my favorite cheesy pasta dishes.
1 pot – seriously.
3 ingredients – Noodles, cheese and broccoli. Boom, easy.
15 minutes – A real 15 minute meal. Not 15 minutes plus prep time. You might even finish in 13 minutes!
With recent chilly nights where I wrap a blanket around me, I crave comfort food. I want it hot. I want it cheesy. But I also want some vegetables because a garden girl always want some freshness. Plus I like to think that when you add vegetables to recipes it makes them healthy. Like Glazed Carrot Donuts, Red Bean Brownies, Sinful Chocolate Black Bean Brownies or Pumpkin Macaroni and Cheese. See, all healthy recipes. You agree, right? Ok, great.
So Broccoli and Macaroni and Cheese was the only way to go. But with comfort food, I want it quick. That way I don't have to get out of my warm blanket for more time. I could wear my pink house robe while cooking to stay warm, but trust me, noone wants to see that.

Like I mentioned above you'll need 3 ingredients.

Now your beautiful broccoli and loaf of cheese is next. I use Velveeta because it's the best.

Throw the pasta in your pan for 10 minutes, add the broccoli with 3 minutes left to go, then throw the cubed cheese on top and boom! Ready in less than 15 minutes.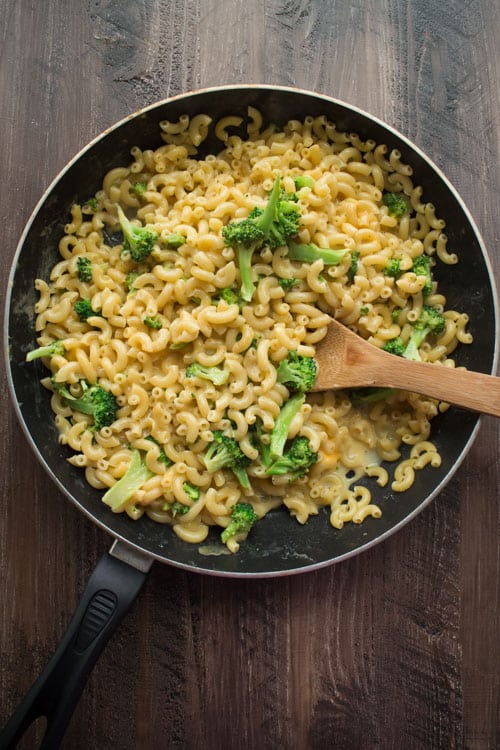 Now it's time to get extra yummy in here. Star serving!

Serve this with some warm corn bread and you're all set for a comfort food dinner.

Go and enjoy… see you on the cheesy side!

1 Pot, 3 Ingredient, 15 Minute Broccoli Macaroni and Cheese
2015-11-01 16:32:51
Ingredients
1 box Barilla Pronto Elbow Noodles
8 oz Processed Cheddar Cheese Loaf (I used Velveeta), cut into cubes
1 small broccoli head,cut up into small florets
salt + pepper to taste
Instructions
Pour elbow noodles into medium sized pot and cover with 3 cups of water. Mix noodles so water covers them all. Heat on high for 10 minutes.
With 3 minutes left to go on the noodles, add broccoli florets to the pot, stir.
Once noodles are done, lower heat to medium and add cheese cubes to the top. Sprinkle with salt + pepper. Let cheese melt and stir occasionally, about 2-3 minutes.
Serve, enjoy!
Brooklyn Farm Girl https://brooklynfarmgirl.com/