EASY Chocolate Chip Carrot Bread recipe! This homemade loaf uses fresh carrots and takes 1 hour to bake! The bread tastes just like cake – it's so moist! This is one of my BEST carrot recipes! Serve for breakfast, dessert or snack!
There's something magical about a warm piece of homemade carrot bread, isn't there? Maybe it's the love that goes into making it. Maybe it's the smell of cinnamon, nutmeg and clove that fills your kitchen. Maybe it's the feeling of Fall being around the corner. Or maybe it's just the great feeling of knowing there's a bunch of vegetables in this bread and that makes it healthy, right? I love this carrot bread recipe!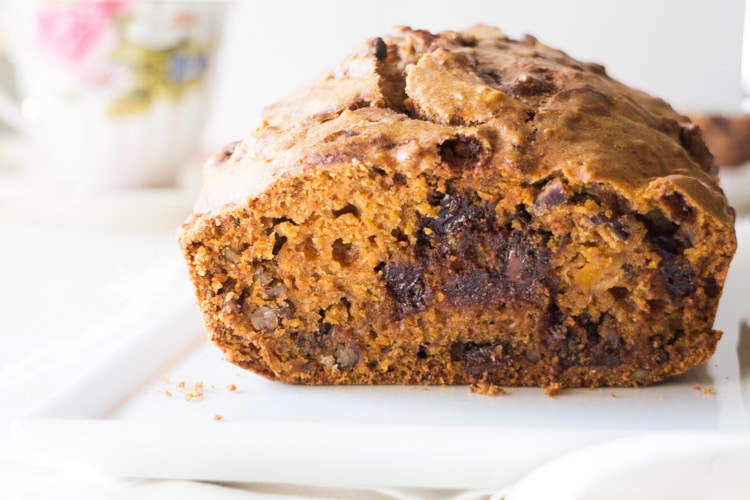 With a whole bunch of carrots just picked from the garden and a whole bed of seeds just planted I'm stocked with carrots. We've been eating some processed junk for dessert lately so I was on the mission to bake something delicious that could use our batch of just picked vegetables. My mind immediately went to the carrots, what could I make?
What's your favorite carrot dessert?
There's carrot cake, carrot cake cupcakes but I wanted something a little more savory without the frosting on top, so carrot bread was what I started daydreaming about.
This bread is delicious and really hits that Autumn dreaming spot. I can imagine this would be a Fall or Winter favorite on those chilly days where you'll curl up with a blanket, book and a hot cup of tea. This can be a delicious breakfast or a dessert and it would be a perfect hit at holiday dinners, potlucks and friendly get togethers.