If you have a cat your goal in life is to probably wow them. If it isnt, then you should get on it right away. There's a cat waiting!
Ways to wow them? You can try:
Singing and dancing to them, or even better with them. Most likely they won't be wow'd at all and will ask you to put them down.
Buying them a new toy. They might get wow'd, but most likely they are going to like the box it came in better.
Buying them a new bowl. They don't care, it only matters what goes in it.
Dressing up like a cat. Ok, I did this over the weekend and the cats were just weirded out by it.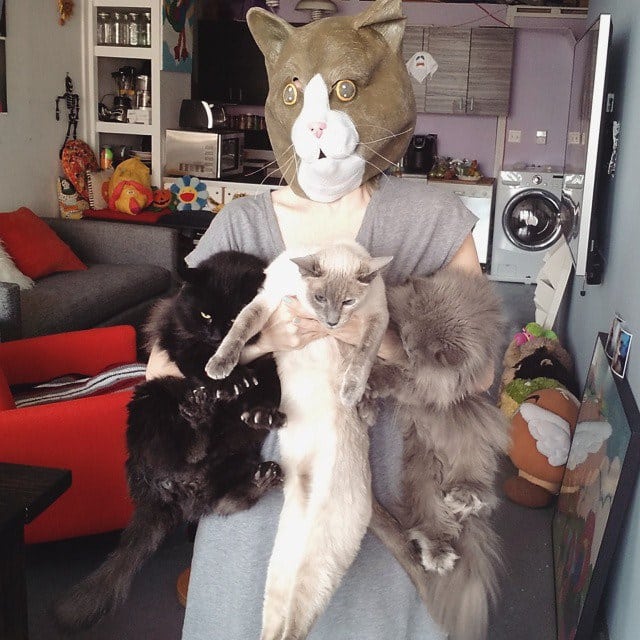 What I found is that the best way to wow them is to make them feel special. Rub their bellies when they provide it, rub under their chin for a few seconds longer than expected, or next time you're reading snuggle up with your cat and let them sprawl out as big as they want.
What else do they love? Entertainment that doesn't involve a human. Sure, they love when you play "chase the fly"(best toy ever) with them but you aren't always home. They love to sleep while you're going (so they can store up all their energy for when you're trying to sleep) but they also love to play by themselves.
Shelves better than a DIY cat tree!
Instead of a cat tree, we decided that we were going to build cat shelves on our wall. This would be a spot for the cats to climb, sleep and let the cats show each other who's boss (answer always: Xanadu).
The outcome is a series of brightly colored shelves for our kitties to climb up. Goblin loves relaxing on the shelves. He's a little guy so he doesn't go very high.