Extra Cheesy Meatball Texas Toast Casserole is a delicious, quick meal to serve your family. Everyone will want seconds! Use precooked meatballs to make it even faster!
These meatballs are delicious. D-E-L-I-C-I-O-U-S.
What else is delicious? Texas toast.
What else? Cheese.
What if you add them all together for a quick easy weeknight casserole? You'll love it!

While your meatballs are cooking, you should start baking your Texas Toast. Happiness is a good piece of garlic bread, don't you think? Cook as instructed on box, but make sure that bottom gets a little brown. YUMMY!
So now let's start organizing this easy Extra Cheesy Meatball Texas Toast Casserole! Rip your Texas Toast (careful, it's hot!) into smaller pieces so you can fill the entire pan.

Then take your meatballs and sauce and pour on top.

Take a little dried basil and sprinkle over the meatballs.
Now let's grab some quality slices of cheese. I used Provolone but if you want to use another kind, go for it.
Cover the meatballs with the cheese.

Into the oven it goes.. When it comes out.. OH MAMA! I'm in love..
.
This is one of those casseroles you'll pull out of the oven and want everyone to rush into the kitchen to see it's cheesy saucy beauty!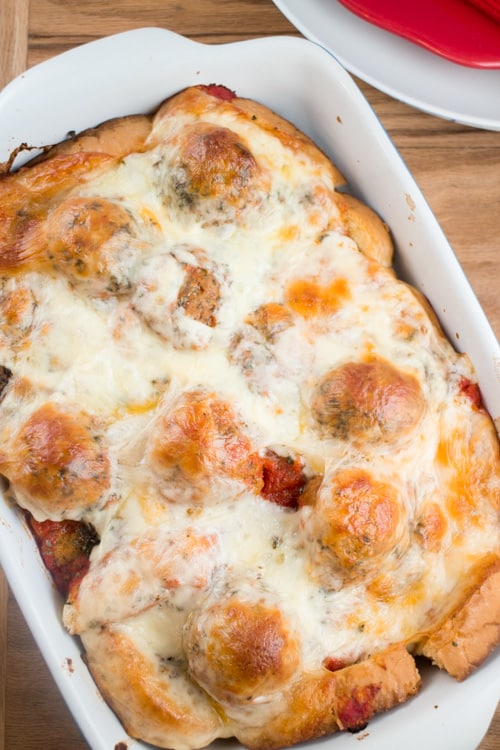 When you're done admiring it then get a spatula and start pulling slices out!

Enjoy friends, I hope you'll love this Casserole as much as we do!

Pin for later: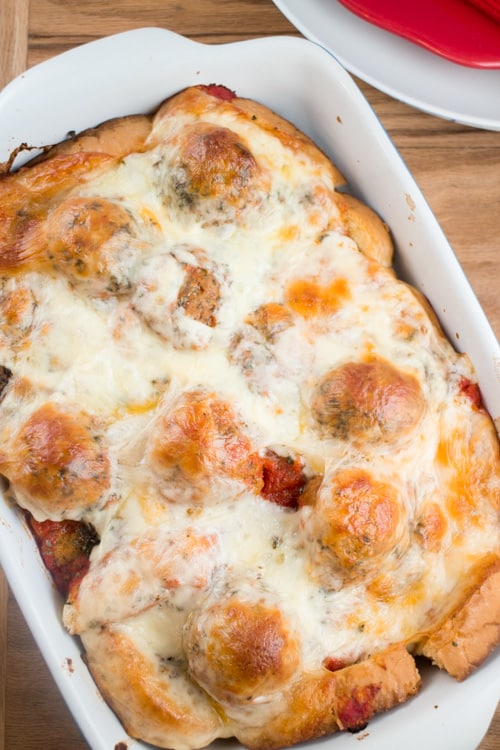 Cheesy Meatball Texas Toast Casserole
2014-12-08 02:03:06
Ingredients
6 pieces Texas Toast
22 oz package of precooked meatballs (I used Mama Mancini's)
1 tablespoon dried basil
6 pieces Provolone Cheese
Instructions
Cook Texas Toast in oven as instructed on package.
Microwave meatballs as instructed on package.
Heat oven to 350 degrees.
Cut up Texas Toast in pieces and layer in bottom of 9x13 casserole dish.
Add meatballs and all sauce on top of toast.
Sprinkle basil on top of meatballs.
Layer 6 pieces cheese on top.
Bake for 30 minutes and serve.
Brooklyn Farm Girl https://brooklynfarmgirl.com/